| Year | Population |
| --- | --- |
| 1970 | 5,957 |
| 1980 | 6,243 |
| 1990 | 6,355 |
| 2000 | 6,381 |
| 2010 | 6,668 |
Geographic Data
N. Latitude
44:25:33
W. Latitude
69:01:37
Maine House
District 97
Maine Senate
District 11
Congress
District 2
Area sq. mi.
(total) 38.4
Area sq. mi.
(land) 34.0
Population/sq.mi.
(land) 196.1
County: Waldo

Total=land+water; Land=land only
Seaman's Bride–1856
Sportsman–1856
[BELL-fast] is a city in Waldo County and its county seat, incorporated as a town on June 29, 1773 and as Maine's eighth city on April 3, 1852. In 1845 it set off land to form part of Searsport. It was named by James Miller, an early settler, for his native city in Ireland.**
In an early vote for separation from Massachusetts in 1807, it was only one of three coastal communities (along with Lincolnville and Bath) to vote "YES." Seven years later, partly due to the failure of Massachusetts to send help, Belfast was occupied by the British during the War of 1812.
Its 19th century rail line and steamboat service provided critical transportation links. Later the shoe industry emerged with a factory off Main Street.
Belfast's historic district features an interesting variety of architectural styles, primarily the product of the booming economy of the 19th century.
With its location on Penobscot Bay, its shipping and shipbuilding brought a population growth of 1,000 per decade between 1810 and 1850.
In 1856 the shipyards of Carter & Co. and David & Pierce each produced a clipper ship, then at the end of the clipper's domination of the seas.
The harbor was filled almost exclusively with working vessels until the late 20th century, when fading industry was replaced with a revitalized downtown, increased tourism, and pleasure boats in the harbor.
On March 14, 1925 the first international radio broadcast was relayed from London to Belfast and through Searsmont to New York City.
During the 1950's, 1960's and 1970's, Belfast was home to the chicken broiler industry and two of Maine's larger processors: Maplewood and Penobscot Poultry companies.
In the 1990's the city was a site for a large credit card processing company, MBNA (later owned by Bank of America), which once employed over 1,500 workers in Belfast, and many more in other Maine locations. It provided welcome jobs to a community emerging from the decline of the poultry industry.
MBNA is now gone, along with its jobs. Some of its facilities are occupied by other businesses, but the big boom it offered has cooled substantially.
Belfast Municipal Airport is a general aviation facility with over 13 acres of land adjacent to the Belfast Airport Business Park. The administrative building is located at N44° 24′ 34.0″ W69° 0′ 28.6″.
---
---
---
Belfast was home to William G. Crosby, sometime poet, a practicing attorney,  writer, and governor of Maine in 1853-1855. In the 19th century, it was also home to Seth L. Milliken, a U.S. Representative and clerk of Maine's Supreme Judicial Court.  Live Oak Taylor, born here in 1851, played baseball for the Hartford Dark Blues in in 1877 and the Pittsburgh Alleghenies in 1884.
Congressional Medal of Honor winner:
HERBERT LOUIS FOSS
Form of Government: Council-Mayor-Manager.
Additional resources
* Broiler Festival image from the George W. French Collection, Maine State Archives.
**See Glossary, source number 7.
"America to Hear British Waves Relayed Nightly Next Winter." New York Times. March 22, 1925.http://query.nytimes.com/mem/archive/pdf?res=F70711F838581A738DDDAB0A94DB405B858EF1D3 (accessed March 14, 2012)
Banks, Ronald. Maine Becomes A State.
Belfast, Maine [videorecording] A Zipporah Films release; Belfast Film, Inc. Cambridge, MA. Zipporah Films. c1999.
Chatterley, Cedric N. I Was Content and Not Content: the story of Linda Lord and the Closing of Penobscot Poultry. Carbondale IL. Southern Illinois University Press. c2000.
Crosby, William George. Annals of Belfast for Half a Century. Belfast, Me. W.G. Crosby. 1875.
Davis, Jay. History of Belfast in the 20th Century. Belfast, Me. Belfast History Project. c2002.
Durham, J. C., Mrs. Old Houses of Belfast. Written for the Women's Alliance of the First Parish, Unitarian, Belfast, Maine. Belfast, Me. Traveler's Club. 1982. J. A. Black Co.
Early Histories of Belfast, Maine. Camden, Me. Picton Press. 1989.
Footnotes of Belfast History: issued by the Ladies' Circle of the Congregational Church, Belfast, Maine. Belfast, Me. Congregational Church. 1913.
Libby, Gary W. Early Chinese Residents of Belfast, Maine. Maine. G.W. Libby. c2006. [Maine State Library]
***Maine. Historic Preservation Commission. Augusta, Me.   Text and photos from National Register of Historic Places: http://pdfhost.focus.nps.gov/docs/nrhp/text/xxxxxxxx.PDF and http://pdfhost.focus.nps.gov/docs/nrhp/photos/xxxxxxxx.PDF
Belfast Commercial Historic District: 80000257.PDF
Belfast Historic District: 86002733.PDF
Belfast National Bank: 73000148.PDF
Black Horse Tavern: 82000783.PDF
Church Street Historic District: 78000331.PDF
First Church of Belfast: 76000115.PDF
Hayford Block: 77000087.PDF
Masonic Temple: 73000246.PDF
Primrose Hill Historic District: 73000150.PDF
White, James P., House: 73000245.PDF
Parrish, Libby. "Belfast Gets Rolling: Historic Main Street Award and 28 New Businesses and More, More, More." The Free Press. June 30, 2011. From http://www.freepressonline.com/main.asp?SectionID=52&SubSectionID=78&ArticleID=13630. (accessed September 12, 2011)
Shute, Elena B. Diary, 1920-1924. Orono. University of Maine. Raymond H. Fogler Library. Special Collections. Cataloger note: "Elena B. Shute was born in 1909 in Belfast, Maine and died there in 1999. She was an actress. A five-year diary of a young girl in Belfast, Maine who later became an actress. The diary provides insights into early twentieth century childhood life in rural Maine. Topics range from recreational (skating and sledding) to serious (a family friend dying in an insane asylum), focusing not on the daily routine but on the special events which distinguish each day from the last. Included also is a photograph of Elena and a picture postcard sent by Elena showing the New York skyline."
Williamson, Joseph. History of the City of Belfast in the State of Maine. Portland. Loring, Short and Harmon. 1877-1913.
The Williamson Family Papers. Rockport, Me. Picton Press. c2003. [Letters written by Joseph Williamson and other family members now held by the Belfast Free Library, Belfast, Me.]
National Register of Historic Places – Listings
Belfast Commercial Historic District
[Main Street between Church and Cross Streets] The Belfast Commercial Historic District is comprised of 47 architecturally significant, primarily commercial buildings dating 1823 to 1909. The district spans two blocks on both sides of Belfast's Main Street as well as entering side streets. It contains the major styles of the period and the work of several important architects. The buildings include the Post Office/Custom House (photo above) and the Waldo County Courthouse. They are all well maintained and little altered with the exception of typical first floor modern overlays.
The district retains its late 19th century character when Belfast ranked as the major seaport in Penobscot Bay. With possible exception of Portland's Waterfront Historic District, no other uninterrupted concentration of worthy 19th century commercial architecture exists in Maine.*** [See downtown images in the video.]
Belfast Historic District
[roughly bounded by High, Grove and Elm; Congress, Main and Market and Imrose; 59–63 Anderson Street] This District contains one of Maine's most architecturally important concentrations of 19th century buildings. Many date from before the Civil War, Belfast's most important period of development. Consequently, many examples of Federal, Greek Revival and Gothic Revival style buildings are represented.
Like other coastal communities, the town's early growth was dependent on fishing, shipbuilding and commerce. Industrial development in the last half of the century brought continued growth and the construction of buildings in Italianate, Queen Anne and Renaissance styles. After 1910 construction in the city center was virtually non-existent leaving that area largely intact.*** [See video.]
Belfast National Bank
[Main and Beaver Streets] The Belfast National Bank is one of the finest and more elaborately decorated commercial buildings in the state. Unusual is the fact that it is roughly triangular. Built in 1878-79, it was designed by George M. Harding of Boston and built Israel Wood Parker of Belfast, the same two people who designed and built the Belfast Masonic Hall.
This superb piece of commercial architecture is in the midst of many other early and late 19th century commercial buildings in the City. They represent the commercial growth of a city that grew as a seaport in the heyday of Maine's commercial power and importance.***
Black Horse Tavern
[Searsport Avenue] The first tavern on the east side of the river in Belfast, the Black Horse was opened in 1800 and became the better known of the two which opened that year. Its owner, Jerome Stephenson, was well-known locally for his activities as a citizen of Belfast. Stephenson came to Belfast in 1784, after serving in the Revolutionary War; by 1785 he was one of Belfast's selectmen. Because he, his wife, and most of his twelve children (two more were to be born in Belfast) had settled on the east side of the Passagassawakeag River, he was continually working for partial separation from Belfast in the 1790's.
In 1800, when he was 62 and his youngest child was 12, Stephenson converted part of his home, built in the mid-1790's, to a public house. He called it the Black Horse Tavern and he had a sign painted with that decoration. After his death the tavern was operated by Stephenson's youngest son and a grandson (Jerome, Jr. and Jerome III) until about 1852. The signboard with the black horse is still in the Cape Cod style house before which it hung.***
Church Street Historic District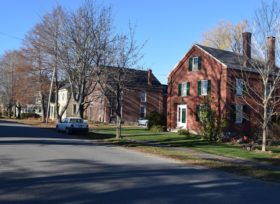 [Irregular pattern along Church Street from High to Franklin Streets] Anchored by an individual National Register building at either end, the Church Street Historic District is a remarkably unchanged residential section reflecting the economic prosperity that the City of Belfast experienced during the first three quarters of the 19th century. With almost all the buildings spanning three successive styles, Federal, Greek Revival and Italianate, the district has an architectural unity and scale expressive of the period as well as an ambiance suggesting the prevailing mood of comfortable security.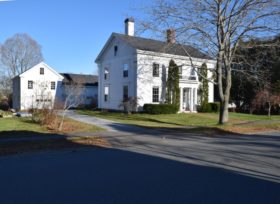 The First Church of Belfast of 1818, a beautiful Federal structure, is located at the north end of the district. In addition to fishing, shipbuilding and shipping, the town had also begun to develop a wide variety of industries. In 1825 the distilling of rum was begun and became an important part of Belfast's economic base.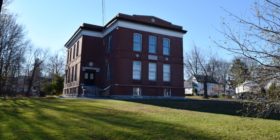 The district contains homes built by sea captains, shipbuilders, industrialists and businessmen, all of whom rode the wave of Belfast's 19th century prosperity. At the southern end of the district is the 1840 James P. White House, a magnificent and highly sophisticated Greek Revival interpretation by architect Calvin Ryder. White was a highly successful businessman who served as Mayor in 1861-63 and concurrently as State Senator.***
First Church of Belfast
[Church Street; N44° 25′ 28.82″ W69° 0′ 24.13″] The 1818 First Church in is a fine example of the large frame structures used for religious purposes at the turn of the 1800s. Based largely on the influential "Design for a Meeting House" which appeared in Asher Benjamin's handbook The Country Builder's Assistant, 1798, it is one of the earliest church buildings in Belfast.
A Paul Revere bell was hung in 1820 and the very distinctive belfry clock arrived in 1836. With its roots in the Neoclassical tradition, the church is important in Maine's architectural history.*** [Also see the two next-to-last images in the video.]
The First Church is one of a relatively small number of surviving Federal style religious buildings in Maine that are characterized by a central pavilion which projects from the main block, and a tower that either rises through or straddles both sections.
Among the most notable examples of the group are the Union Church of Durham (1818), the First Parish Church in Kennebunk (1770s, with pavilion and tower added c.1800) and the First Parish Church in Portland (1825-26). Late examples of the form, including the Old Union Meeting House in Farmington Falls (1826- 27), and the Union Church in Buckfield (1832).
Hayford Block
[47 Church Street] One of the first commercial structures erected after the fire of 1865, the Hayford Block, with its impressive transitional Greek Revival and Italianate features, reflected the determination of Belfast citizens to achieve an architectural and cultural level beyond anything that had gone before.
The finely appointed opera house, coupled with the most up to date commercial and business space design, seemed to point the way. Financed and owned by Axel Hayford, a prominent businessman and mayor, the three story portion was completed in 1866 at the sharply angled corner of Church and Main Streets. The four story addition, including the opera house (then called Hayford Hall), was built in 1869. Dedication of the hall was on the evening of May 12, 1869 at a "Grand Fancy Calico Dress Ball."*** [Earle G. Shettleworth, Jr. photo]
Considered the finest structure of its kind in 1888, it displayed the first five electric arc lights lit in the city. The opera house stage hosted leading figures of the legitimate stage and vaudeville in an era when traveling companies flourished and community theatres provided almost the only public entertainment.
Masonic Temple
[High Street (U.S. 1)] Four Masonic Lodges were in Belfast in 1871, the oldest having been founded in 1817. All met in the Masonic Hall, at the time the third story of the High School on Church Street. Fire destroyed the Hall 1875. By 1878 a new multi-purpose building was completed.
It was one of the largest and more elaborately decorated buildings in Belfast meant to serve as the focal point for Masonic activity. Now at the hub of the commercial district, it was also to serve the business needs of the City. It is the only building of its type in Belfast and one of the few elaborately decorated commercial buildings in the state. It is a fine example of a late 19th century commercial architecture, and remains as a memorial to Masons who have lived and worked in Belfast since 1817.***
Primrose Hill Historic District
[High and Anderson Streets] The development of this area began shortly after High Street was laid out in 1805. Primrose Hill was the site selected by the leading men of Belfast for their houses. It reflected the growing economic prosperity of Belfast as it emerged as a bustling seaport in the first quarter of the 19th century.
Like Broadway in Bangor or Washington Street in Bath, this was a spot where the upper 5% looked out over their domain after weighing, measuring and directing it during business hours. Most buildings in the District qualify for National Register designation on their own merit. Taken as a unit, they visually define the meaning of an historic district, giving the viewer as sense of time and place. The architecture denotes not only the tastes of wealthy Maine citizens in the first half of the 19th century, but denotes as well their commercial and psychological connection with the sea.***
White, James P., House
[1 Church Street; N44° 25′ 14.90″ W69° 0′ 2.21″] This house was built for Belfast native James Patterson White. He had a long and successful business career and was Mayor of Belfast from 1861-1863. White was also a State Senator from 1862-1863.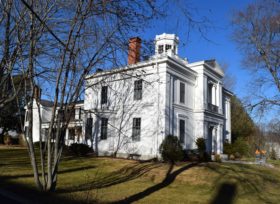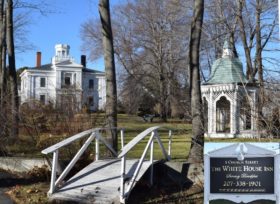 James P. Taliaferro, a U.S. Senator from Florida, purchased the house as a summer home in 1912, but its significance lies with its architecture. It is an outstanding example of high style Greek Revival architecture in Maine as designed by a native architect, Calvin A. Ryder of Orrington.
Besides designing many great houses in Belfast, Ryder left his mark in Bangor, and the surrounding communities before moving to Boston in the mid-19th century. In Bangor, Ryder designed the William Blake House: one of the first and best Second-Empire Houses in the State. When all of his work has been documented, Ryder will no doubt rank as one of 19th century Maine's leading architects, possibly the best interpreter in Maine of the Greek Revival style.***