| Year | Population |
| --- | --- |
| 1970 | 271 |
| 1980 | 373 |
| 1990 | 437 |
| 2000 | 384 |
| 2010 | 369 |
Geographic Data
N. Latitude
44:38:34
W. Latitude
70:35:50
Maine House
District 115
Maine Senate
District 18
Congress
District 2
Area sq. mi.
(total) 44.1
Area sq. mi.
(land) 42.9
Population/sq.mi.
(land) 8.6
County: Oxford

Total=land+water; Land=land only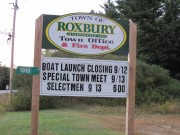 [ROX-bury] is a town in Oxford County, settled about 1809 and incorporated on March 17, 1835 from the township T7.
Some early settlers were from Roxbury, Massachusetts.
In the late 19th century, with a population of less than 200, Roxbury was an agricultural area in which hay and livestock fueled the logging industry (hay for the horses working in the woods).
It had one shoe shop that produced a box of shoes a day, and three public schoolhouses.
Several miles north of the Rumford-Mexico area on Maine Routes 17 and 120, the community is known for its mineral deposits, especially accessible for amateur rock hunters.
It has substantial frontage on Ellis Pond (also known as Silver Lake and Roxbury Pond) accessible from Route 120 north from Rumford. Four mountains of about 2,000 feet in elevation are located in the town.
In 2012 a 22 turbine wind farm, began generating power to the electric grid and revenue to the residents of Roxbury.
The project has been controversial for the potential environmental and visual impacts it may have.
The turbines cover almost the full the length of Roxbury, north to south, from the town boundary with Byron to Partridge Peak in the south.
The Swift River, along with the Swift River Falls, are attractions for people with recreational and fishing interests.
Form of Government: Town Meeting-Select Board.
Additional resources
"400 Roxbury residents get first payment from wind farm." Bangor Daily News. May 11, 2012. http://bangordailynews.com/2012/04/11/news/mid-maine/400-roxbury-residents-get-first-payment-from-wind-farm/ (accessed May 11, 2012)
U.S.  Department of Energy. Loan Guarantee Program Office. FINAL ENVIRONMENTAL ASSESSMENT. ENVIRONMENTAL ASSESSMENT FOR DEPARTMENT OF ENERGY LOAN GUARANTEE TO RECORD HILL WIND LLC FOR CONSTRUCTION OF A WIND ENERGY PROJECT IN ROXBURY, MAINE. Washington, DC. July 2011. http://energy.gov/sites/prod/files/nepapub/documents/EA-1824_FEA_2011.pdf (accessed May 11, 2012)
Varney, George J. A Gazetteer of the State of Maine. 1881. pp. 482-483.