Hirundo Wildlife Refuge, Alton, Old Town. The site of an archaeological project along the Pushaw Stream, where evidence suggests occupation by prehistoric Indian cultures dating back approximately 7,000 years. Although no excavation is presently going on, and much of the excavation site has been back-filled, there is written information about the project posted in a shelter on the site. The refuge includes 1,004 acres, and is open to the public year-round for observation of plant and animal life. Hours are 9 to 5, or until dark, daily. Visitors are asked to register at one of the gates. The refuge is located 4 miles west of Interstate 95 on Route 43 in Alton.
Mullen Woods Preserve, Newport. Grove of old-growth white pines and hemlock on overgrown farmland with stone walls, granite foundations, and remnants of old brickyard. The Nature Conservancy. Off Rutland Road.
Orono Bog. The 616 acre bog is a kind of wetland called a peatland because of its deep layer of peat. The one mile boardwalk loop trail begins at the forested wetland edge in the Bangor City Forest. After 800 feet it crosses the town line into the University of Maine owned part of the bog in Orono.  Begin at the Tripp Drive parking area, off Stillwater Avenue in Bangor. N 44 51″ 45.63′ W 068 43″ 43.10′.
Scraggly Lake Public Preserved Land, T7 R8 WELS, is located just northeast of Baxter State Park. The area comprises 10,000 acres of gently rolling, heavily forested land, with numerous ponds, brooks and bogs. The lake has a campground and boat launch for visitors, while Ireland Pond offers a more remote recreational experience. Fishing, hunting, camping, and hiking are popular activities. The lake shore, combined with the well forested uplands and the presence of a number of small marshes and wetlands, provides a diverse range of habitats that host more than 200 of Maine's indigenous species of wildlife. Access is by the Route 159 extension out of Shin Pond, then by the Scraggly Lake Road.
Seboeis River Gorge, T6R7, T5R7 WELS. Over eight miles on the Seboeis River, and wild uplands. Popular canoeing area during spring high water, though there are some dangerous rapids which should be bypassed. There are a number of Maine Forest Service campsites along the river.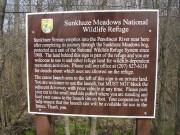 Sunkhaze Meadows National Wildlife Refuge, Milford. Bog, marsh, floodplain forest and the state's second largest peatland. 11 different ecosystems, and frequented by upwards of 140 bird species. Its 11,000 acres includes Carleton Pond, in Troy, which is the only waterfowl production area east of the Mississippi River. Established in 1988, it is managed by the U.S. Fish & Wildlife Service.
Wassataquoik Public Reserved Land, T3 R7 WELS, is a 2,340 acre area featuring several miles of scenic shoreline on the East Branch of the Penobscot River and Wassataquoik Stream. Primitive campsites are available on the stream shore. A popular snowmobile trail crosses the unit connecting East Millinocket and Shin Pond. Access is by gravel road off Route 11 in Stacyville.