| Year | Population |
| --- | --- |
| 1970 | 1,126 |
| 1980 | 1,368 |
| 1990 | 1,256 |
| 2000 | 1,111 |
| 2010 | 1,017 |
Geographic Data
N. Latitude
45:59:11
W. Latitude
68:29:06
Maine House
District 143
Maine Senate
District 2
Congress
District 2
Area sq. mi.
(total) 38.5
Area sq. mi.
(land) 38.4
Population/sq.mi.
(land) 26.5
County: Penobscot

Total=land+water; Land=land only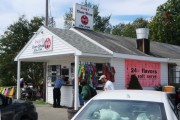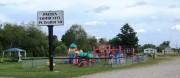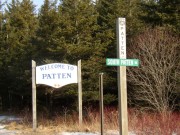 [PAT-ehn] is a town in Penobscot County, incorporated on April 16, 1841 from the township T4 R6 WELS and named for Amos Patten, a wealthy Bangor lumberman who bought the township about the time it was first settled in 1830.
According to Irene Olsen,
"Through his land agent, Ira Fish, a resident of Lincoln, several people were induced to settle in this area, among them Samuel Wiggin and Elijah Kellogg. The earliest settlers came by boat up the Penobscot River to Mattawamkeag, thence up the Mattawamkeag River to what is now Island Falls, and from Island Falls by way of Fish Stream to the foot of Mars Hill in Patten. [Not the same "Mars Hill" in the town of Mars Hill near Presque Isle.]
By 1830 a spotted trail extended from Mattawamkeag to Patten, over which the first white woman, Ellen Blake, and her three-months-old daughter, Sarah, made the trip on horseback. Her husband, Henry Blake, had preceded her and had a cabin well under construction. Ellen Blake's son, Ezra F. Blake, was the first male child to be born in Patten."
In 1835 Samuel Leslie from Lincoln established a sawmill and a grist mill. Since the nearest mill was many miles from Patten, it was a boon to the growing community.
By 1840 the settlement had grown enough to organized it as a plantation. Shortly thereafter it was incorporated as a town.
In 1847 the legislature authorized the creation of the Trustees of Patten Academy.
The Academy opened on the 2nd Monday in September, 1848 with 61 students: 33 boys and 28 girls who came from Pittsfield, Enfield, Lincoln, Benedicta, Masardis, Golden Ridge Plantation (now Sherman), and Belfast Plantation.
In 1887, the Industrial Journal reported
Patten is the center of extensive lumbering operations. The lumber cut in that vicinity will be very much above the average and probably never before have the woods thereabouts been the scene of so much business as now.
The town has continued its focus on lumbering since early settlement, including its interesting Lumberman's Museum on the Shin Pond Road (Route 159).
Patten is served by Route 11 (its Main Street) and Route 159. Their intersection is the site of the popular "Clam Shop" and the playground (above left). The museum on the Shin Pond Road is not far from the Clam Shop.
The Stetson Memorial United Methodist Church (above left) anchors the southern end of the main street of the small community that has witnessed a dwindling population over the past several decades with the loss of jobs in farming, lumbering, and the paper industry.
The heritage of lumbering by woodsmen is preserved at the Patten Lumbermen's Museum on Route 159.
Ruins of an old dam on Fish Stream (N45° 59′ 36.58″ W68° 26′ 46.16″) lie near more recent industrial enterprises on Mill Street. In 1886, George Varney reported,
The manufactories are at this point; and consist of one lumber-mill, a sash, door and blind factory, a grist-mill with two sets of stones, a tin-ware factory, a wheelwright shop, a tin-shop, etc.
Where Mill Street and Station Street meet (N45° 59′ 37.46″ W68° 26′ 32.36″), the remains of railroad tracks are now recreational trails and unoccupied buildings recall better days. Patten Junction was once part of the Patten & Sherman Railroad, eventually acquired by the Bangor & Aroostook Railroad, then discontinued. [2014 photos]
Patten is the northern gateway from Interstate 95 to Baxter State Park.
South Patten Road (actually north of the village) is home to a private airstrip and "The Hangar" restaurant specializing in pizza.
Form of Government: Town Meeting-Select Board-Manager.
Additional resources
Chadbourne, Ava Harriet. Maine Place Names and The Peopling of its Towns.
Banks, Russell. The Invisible Stranger: The Patten, Maine photographs of Arturo Patten. New York; HarperCollins Publishers. c1999.
Hackett, William C. Letters Written to Eugene Thorn by William C. Hackett from Bangor, Me. and Beaufort, S.C. while he was serving with the 8th Maine Regiment. 1862-1863. [Maine State Library]
The Industrial Journal. January 21, 1887.
Miscellaneous Letters sent to Eugene Thorn. 1862-1873. [Maine State Library]
Olsen, Irene A. The History of Patten Academy, 1847-1947. Patten, Me. The Trustees. 1947? Bangor, Me. Printed by Furbush-Roberts.
Patten, Maine. Compiled by L. A. Rogers Patten, Me.? I. B. Gardner & Sons?. 1898? (Old Town, Me. Record Print)
Patten Lumbermen's Museum. 61 Shin Pond Road, Patten, ME. http://www.lumbermensmuseum.org/ (accessed February 14, 2012)
Patten's Bradford House. [moving image recording] Presented by Aroostook County Historical Center, University of Maine at Presque Isle Presque Isle, Maine. The Center. 1985.
Rogers, Mary E. Barker, 1853-1942. Down East. Between 1922 and 1942. [University of Maine, Presque Isle. Special Collections].
Varney, George J. A Gazetteer of the State of Maine. 1881. p. 430.
National Register of Historic Places – Listings
Bradford Farm Historic District, 100 Main Street