| Year | Population |
| --- | --- |
| 1970 | 317 |
| 1980 | 328 |
| 1990 | 305 |
| 2000 | 255 |
| 2010 | 249 |
Geographic Data
N. Latitude
46:30:56
W. Latitude
68:21:53
Maine House
District 151
Maine Senate
District 1
Congress
District 2
Area sq. mi.
(total) 39.9
Area sq. mi.
(land) 38.7
Population/sq.mi.
(land) 6.4
County: Aroostook

Total=land+water; Land=land only
[mus-AHR-dis] is a town in Aroostook County incorporated on March 21, 1839 from the township T10 R5 WELS. The Aroostook River winds through the middle of the town.
Thomas Goss of Danville (Auburn) arrived with his family in 1833 and became the first settler, creating a homestead on the west bank of the Aroostook River opposite the mouth of the St. Croix stream. Others followed during the 1830's. Masardis village is located there in what was called the "Disputed Territory" which led to the Aroostook War.
In 1839 a fort or breastwork, with artillery was built where the St. Croix joined the Aroostook. During the Aroostook War, troops were stationed here. They made a brief foray above Fort Fairfield, then retreated back to Masardis with no casualties.
The Aroostook River flows northward through the middle of the township. The small Pollard Flat Wildlife Management Area, a site used by bird watchers, lies on the west bank of the river. Hunting and camping is popular in the area, regulated by the wardens of the Maine Forest Service. Busy Route 11 travels many miles through wooded areas.
Access to Scopan (formerly Squa Pan) Lake is available by boat launch.  Most of the Lake is in nearby Scopan Township.
Masardis village, where the Harry C. Hafford Public Boat Launch is located, is a small community on the banks of the Aroostook River where Route 11 and the Blackwater Road intersect.
The boat launch, two churches, the park and the municipal building containing the town office and the fire department, all are within a mile of each other on or near the main street, Route 11.
Two of Maine's unsolved homicides have links to Masardis:
Lila Drew was found lying on the floor of her residence in 1977 by her son Maxwell Drew. Her home was on Route 11. She had been beaten with a wooden chair leg the previous night. A retired school teacher from the neighboring Ashland school system, she lived alone at the time of her death.
Joseph Savitch and Louis Alexander had been reported missing in 1994. Their bodies were discovered in a wooded area of Masardis, Maine in August 1997.
North of the village, Fraser Timber operates a substantial facility and wood yard.  A freight rail system serves the facility.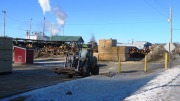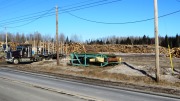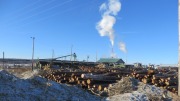 The town is just south of Ashland on Maine Route 11 (a 19th century stage route). Access to the North Maine Woods is by way of the Garfield Road off Route 11 near an extensive lumber yard.
Form of Government: Town Meeting-Select Board-Manager.
Additional resources
Chadbourne, Ava Harriet. Maine Place Names and The Peopling of its Towns.
Maine. Department of Public Safety. "Unsolved Homicides." http://www.maine.gov/dps/msp/criminal_investigation/unsolved_homicides.shtml (accessed March 21, 2014)
Maureau, Paul M. The Masardis Saga: Nineteenth Century Life in Aroostook County, Maine. Woolwich, Me. TBW Books. c1984.