| Year | Population |
| --- | --- |
| 1970 | 802 |
| 1980 | 1,117 |
| 1990 | 1,627 |
| 2000 | 2,171 |
| 2010 | 2,851 |
Geographic Data
N. Latitude
44:53:17
W. Latitude
68:59:12
Maine House
District 102
Maine Senate
District 10
Congress
District 2
Area sq. mi.
(total) 30.0
Area sq. mi.
(land) 30.0
Population/sq.mi.
(land) 95.0
County: Penobscot

Total=land+water; Land=land only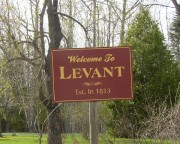 [Leh-VANT] is a town in Penobscot County, incorporated on June 14, 1813 from township T2 R3 NWP. In 1852 it gave up land, as did Glenburn, to create the town of Kenduskeag.
The general area had been known as Kenduskeag Plantation in the 18th century.
The first settler was Joseph Clark, a Revolutionary War refugee from Nova Scotia, who arrived in 1789. Some settlers came from the Levant Plateau region of Nova Scotia, thus the name.
The importance of water power on the town's economy in the 1880's was noted in the Gazetteer of Maine:
The Little Kenduskeag, or Black Stream, is the principal water-course, pursing a widely winding way from west to east through the town.
The powers on this stream are known as Wiggin's Mill, at Levant village, where there are board, shingle and lath machines; Weston's Mills, at South Levant, where there are board, clapboard, shingle and lath machines, and a grist mill; White's Mill, at West Levant, where there is a board and shingle mill; Emerson's Mill, in the west part of the town, where there is a saw-mill.
The Minerva Grange #383 of Levant was formed on January 20, 1902 when 54 people voted to do so. It is still used for community meetings.
In the 1990-2000 decade Levant, just 8 miles from Bangor, was one of the fastest growing towns in the area with population growing by more than 25%.   The next decade it grew by over 31%.
Form of Government: Town Meeting-Select Board-Manager.
Additional resources
Chadbourne, Ava Harriet. Maine Place Names and The Peopling of its Towns.
Chisholm, John F. Frost Heaves, or, A Year of Farming in Levant, Maine. Levant, Me. Levant Heritage Library. 2003.
Levant, Maine, 1813-1963: Sesquicentennial Celebration, August 3, 1963. [University of Maine, Raymond H. Fogler Library, Special Collections; Bangor Public Library]
Rogers, Lynn. Levant, Maine: A History. Levant? Levant Historical Society. 1995.