| Year | Population |
| --- | --- |
| 1970 | 157 |
| 1980 | 169 |
| 1990 | 243 |
| 2000 | 122 |
| 2010 | 121 |
Geographic Data
N. Latitude
45:49:04
W. Latitude
67:58:44
Maine House
District 144
Maine Senate
District 2
Congress
District 2
Area sq. mi.
(total) 41.5
Area sq. mi.
(land) 41.5
Population/sq.mi.
(land) 54.6
County: Aroostook

Total=land+water; Land=land only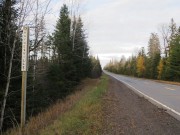 [HAYNS-vil] is a town in Aroostook County, incorporated on February 18, 1876 from the plantations of Greenwood, Haynesville and Leavitt. Each was formed from the unorganized townships of T2 R2 and T3 R3 respectively. Leavitt was deorganized in 1877.
Haynesville's first permanent settler, William Wilson, arrived in 1828, the year a military post was established in Houlton.  A military road built to supply the Houlton post was completed in 1832, provided easyier access to the town.
The road through the Haynesville Woods was immortalized in the hit song sung by Fort Fairfield's Richard "Dick" Curless in 1965 – "A Tombstone Every Mile." Written by Dan Fulkerson, it told the story of this very dangerous stretch of highway through the mountain range of the Haynesville Woods, where so many truckers had died.
The plantation and town took their named from Alvin Haynes an early settler who lived below the fork of the Mattawamkeag River. In the village known as Forksville he operated a store; about 1835 he and a partner built a hotel.
Maine's Department of Inland Fisheries and Wildlife describes the East Branch of the Mattawamkeag River from Oakfield to Haynesville and the West Branch of the Mattawamkeag River from Mattawamkeag Lake to Haynesville, as scenic stretches for canoeing and good fishing for wild brook trout. The Mattawamkeag River from Haynesville to the Town of Mattawamkeag is considered an "incredible wildlife river," "a scenic canoe trip," and "fast fishing for smallmouth bass.
The photos above of the Mattawamkeag River were taken in October, 2014 near where it crosses U.S. Route 2A at N45° 49′ 49.83″ W67° 59′ 8.29″.
If you are feeling adventurous, and the weather has been dry, take the Skagrock Road to Orient.  This narrow dirt road may be washed out a few miles in if the rains have come.  Not recommended in mud season!
This wooded community has recently experienced a decline in population.
Form of Government: Town Meeting-Select Board-Manager.
Additional resources
Chadbourne, Ava Harriet. Maine Place Names and The Peopling of its Towns.
Haynesville (Me.) Annual Report Town of Haynesville, Maine … for the year ending .. Haynesville, Me. : The Town, 1876?-
Karsberg, Lenorma Ellis. The Ellis family of Haynesville–Dyer Brook, Maine. Worcester, Mass. L.E. Karsberg. c1983.
Maine Department of Inland Fisheries and Wildlife. "Fishing Opportunities in the Katahdin Region. https://www.maine.gov/ifw/fishing/opportunities/katahdin.htm (accessed March 15, 2014)
Miscellaneous Business Records from Haynesville, Maine. 1895-1926. [Maine State Library]