| Year | Population |
| --- | --- |
| 1970 | 4,781 |
| 1980 | 5,863 |
| 1990 | 6,905 |
| 2000 | 7,800 |
| 2010 | 7,879 |
Geographic Data
N. Latitude
43:50:40
W. Latitude
70:06:02
Maine House
District 48
Maine Senate
District 24
Congress
District 1
Area sq. mi.
(total) 46.5
Area sq. mi.
(land) 34.7
Population/sqmi
(land) 227.1
County: Cumberland

Total=land+water; Land=land only
Clipper Ship Built Here
[FREE-port] is a rapidly growing town in Cumberland County, incorporated on February 14, 1789 from part of North Yarmouth and Prout's Gore. On four subsequent occasions it ceded land to Brunswick, once to Pownal.
Before its incorporation, the Means Massacre at Flying Point in 1756 was one of many Indian attacks.
A former one-room schoolhouse on Flying Point Road is now home to the Thomas Means Club, named for one of the victims of the massacre. The Flying Point Cemetery is the resting place for many early settlers.

The town was named, according to some, for Sir Andrew Freeport, a character in Addison's Spectator Papers. Appropriately for its later development, Freeport represented the merchant class.
During the War of 1812, Edward Soule, from Freeport but living in Parkman, was captured three times by the British, and spent fourteen months in Dartmoor prison.  Although Freeport voted against Maine independence from Massachusetts at least five times, the unsubstantiated legend that the Jamison-Codman Tavern played a role in the movement continues.
South Freeport on the Harraseeket River was a center for ship building. Its Freeport-built vessels Lafayette and Blen were captured and burned by Confederate raiders during the Civil War. South Freeport was the main settlement until a stage route was instituted in the 1790s along what is now Main Street.  Gradually, Freeport Corners as it was known, became the primary business district, spurred on by the arrival of the railroad in 1849 and an electric railway in 1902.
Arctic explorer Donald B. MacMillan lived in Freeport and graduated from Freeport High School. The town was also home to a young John Gould, later an author, humorist, and newspaper editor.  He developed a close friendship with outdoor outfitter company founder L.L. Bean.
Currently, it is a popular center of "outlet" stores, including the legendary L. L. Bean, which has a virtual campus of retail buildings in addition to its own outlet store. Freeport  also hosts Bean's corporate headquarters and catalog order site.
The huge 1828-1829 Federal Style Belcher House anchors the southern end of the Main Street Historic District (see below). The house and barn, built by Freeport lawyer Richard Belcher, initially were threatened with demolition but were renovated to serve as retail space by gutting the interior. The exterior was preserved but its garden became a parking lot.
The Maine Idyll Motor Court, as its quaint name suggests, was established in the 1930's. Its sign has been seen by millions of travelers from U.S. Route 1 in the early days, and from Interstate 95 in recent times. Freeport is a stop on the Downeaster AMTRAK train with service between Brunswick and Boston.
The town hosts two nature preserves. Mast Landing Sanctuary, on Upper Mast Landing Road, is operated by the Maine Audubon Society and has self-guiding nature trails through fields, woods, salt marsh, and along streams with beavers in residence. The remains of and old mill dam recalls its earlier human residents.
Wolf Neck Woods State Park also has self-guiding nature trails through picturesque woods fronting the Harraseeket River and Casco Bay, along with a picnic area and an active osprey nest on a small island just offshore.
Form of Government: Council-Manager
Additional resources
Cummings, Ronald. Freeport, Maine Trolleys, 1902-1929 : Most Unique in the U.S.A. During 1920's. Freeport, Me. Village Press. 199-?
**Anderson, Patricia M. and Sally Rand. "Main Street Historic Survey, Freeport, Maine: September 1997-August 1998." The Dash: Newsletter of the Freeport Historical Society. Winter 1999. http://freeporthistoricalsociety.org/wp-content/uploads/2014/12/1999-Winter.pdf (accessed 3/9/15)
Freeport, Maine: Its Progress and Prosperity. Portland, Me. Portland Board of Trade. 1904. [University of Maine, Fogler Library, Special Collections]
*Maine. Historic Preservation Commission. Augusta, Me.   Text and photos from National Register of Historic Places: http://pdfhost.focus.nps.gov/docs/nrhp/text/xxxxxxxx.PDF and http://pdfhost.focus.nps.gov/docs/nrhp/photos/xxxxxxxx.PDF
Freeport Main Street Historic District: 77000064.PDF
Harraseeket Historic District: 74000160.PDF
Mallett, E. B., Office Building: 82000747.PDF
Pettengill Farm: 70000041.PDF
Pote, Captain Greenfield, House: 70000042.PDF
Rand, Sally W. "Freeport's Role In Maine's Statehood." Freeport Historical Society. http://freeporthistoricalsociety.org/freeport-history/freeports-role-in-maines-statehood (accessed February 19, 2013)
Sullivan, Lynn Katherine. The Economic Transformation and Historical Invention in 20th century Freeport, Maine. Thesis (M.Ed.)–University of Southern Maine, 2002. [University of Southern Maine (Portland). The Albert Brenner Glickman Family Library.]
Thurston, Florence G. Three Centuries of Freeport, Maine. Freeport, Me. 1940. (Portland, Me. Southworth-Anthoensen Press)
Wiley, Sarah. The Freeport Bicentennial Commemorative Journal. Freeport, Me. Printed by Village Press. 1989.
National Register of Historic Places – Listings
Freeport Main Street Historic District
[Main Street] "The Main Street Historic District, Freeport, comprises nine architecturally significant buildings which line both sides of the street. Dating from the late 18th to the early 20th centuries, the district's buildings have not undergone major alteration. The district is strictly residential in nature and contains no intrusions. From the earliest to the latest, the buildings are stylistically very compatible and represent the prosperous and self-assured society which built them. The Main Street Historic District's good state of preservation is remarkable, given its position on a much-used U.S. Route 1."* [Frank A. Beard photo 1977]
However, since 1977 when the Maine Historic Preservation Commission described the District, some alterations have been made.  The 1922 Gould House with a gambrel roof has been demolished and replaced by a massive retail building that, in 2015, housed the Gap clothing store. The Bartol Library building now houses an Abercrombie & Fitch outlet store. Along with other changes, backyards of the original building have become parking lots.**
Harraseeket Historic District
Roughly both sides of the Harraseeket River, including South Freeport, Porters Landing, and Mast Landing
South Freeport, the largest of the three villages, had its greatest period of development during the ship building boom of the 1850s. Its affluence is reflected in its many Greek Revival style homes.
Porter's Landing is on the western shore of the Harraseeket River, below Mast Landing and the Pettengill Farm. The Landing developed between the late 18th and mid-19th century. Although its homes are contemporary with those at Mast Landing, many are large Federal or Greek Revival in style.
Mast Landing, at the head of the river, is a small community with most homes dating from 1808 to 1850. They reflect the simple beauty of architecture typically found on the Maine coast. The predominant house style in the village is the 1½ story, central chimney cape. Only the doorway sometimes hints at the Federal or Greek Revival periods.
Mallett, E. B., Office Building
[Mill Street] E.B. Mallett Office Building (2016) Perhaps more than anyone, Edmund Buxton Mallett, Jr. (1853-1923) shaped the town's character. In 1883 he moved from Pownal to launch his empire. Between 1884 and 1892, he built and operated two shoe factories, a saw mill, grist mill, coal yard, brick yard, lumber yard, granite quarry and the Freeport water system.
This changed Freeport from an agricultural crossroads, with shipbuilding along the shore, to a commercial-industrial center. Mallett met the demand for workers' housing largely by building tenements and single family Queen Anne style "cottages." The 1888 Mallett Building contains granite from his quarry, bricks from his yard, and lumber from his mill.* [Frank A. Beard photo]
Pettengill House and Farm
South of Bow Street
Few lean-to or salt box houses were built in Maine and fewer survive. The Pettengill House is an excellent example of this architectural type. Because it was never modernized (it has no plumbing, running water, electricity, or heating system) the House appears in its original form, a valuable example of late 18th century construction.
The house, the fertile fields, woodlands, and salt marsh have changed little, leaving an unblemished example of saltwater farms that were common to the Maine coast and are often destroyed by coastal development.
A brickyard, first located on the flats in front of the Pettengill House, moved to the flats at Mast Landing. Steamers ran between the Landing and Portland, carrying wood products and passengers. Firewood was shipped down the Harraseeket River. The House and its inhabitants were witnesses to all this. Ships that passed by the front door are recorded in plaster etchings in the upstairs room.
Pote, Capt. Greenfield, House
[Wolf Neck Road; approximately N43° 49′ 51″ W70° 5′ 58″] The oldest house on Wolf's Neck is a lean-to (saltbox) wood-colored dwelling knows as the Pettengill House (not the house at Pettengill Farm). Built in Falmouth about 1760, it was owned by Captain Greenfield Pote, a characteristic Yankee skipper.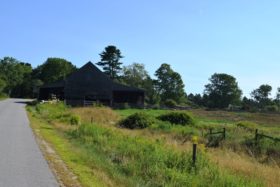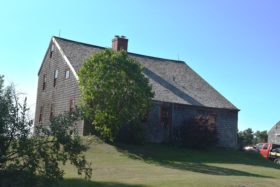 After a Sunday sail, he found that a complaint had made against him in Falmouth for setting out on the Sabbath. He declared that he would live no longer in such a town nor would he pay its taxes. So he purchased a farm on Wolf's Neck, loaded his house on a flat boat and set it where it now stands. The reputed date of this move is around 1765. Excluding the time the house was located elsewhere, it has been two hundred fifty years, in 2015, that it has occupied the present site. [Photo not attributed]*