| Year | Population |
| --- | --- |
| 1970 | 5,684 |
| 1980 | 6,113 |
| 1990 | 6,718 |
| 2000 | 6.573 |
| 2010 | 6,735 |
Geographic Data
N. Latitude
44:38:14
W. Latitude
69:40:12
Maine House
District 108
Maine Senate
District 16
Congress
District 2
Area sq. mi.
(total) 54.6
Area sq. mi.
(land) 53.8
Population/sq.mi.
(land) 125
County: Somerset

Total=land+water; Land=land only
[FAAR-field] formerly Fairfield Plantation, is the southernmost town in Somerset County, incorporated on June 18, 1788.
The early name for the main village was Kendall's Mills after the prominent resident General William Kendall.
In 1886, according to the Gazetteer of Maine, the town seemed confident in its economic activity, thanks in large part to the fast flowing Kennebec River, which supplied water power:
at Kendall's Mills, at the south-eastern extremity of the town, and Somerset Mills, about two miles above. . . . There are in the town eight saw-mills, three planing-mills (one of which is also a framing and finishing mill) two door, sash and blind factories, a sled, lap-board and flower-stand factory, a grist and plaster mill, three carriage-factories, a tannery, a canned-corn factory, a clothing factory, cabinet, box, picture-frame, coffin and casket makers, marble-works, etc. . . . The Somerset branch of the Maine Central Railroad, connecting Waterville and Skowhegan, runs along the river through the town.
The Fairfield Savings Bank and the Fairfield Journal newspaper served the business and general community. Its high school was unusual for a town its size in 1880 with a population of 3,044.
Fairfield also supported seventeen public schools in 1886.
Though many towns have a large number of villages, Chadbourne noted that Fairfield certainly had its share:
"Other centers of settlement are Shawmut, formerly Somerset Mills, three miles up the river; Hinckley [formerly] Pishon's Ferry, eight miles above Fairfield [village], where the Hinckley Bridge leading to Pittsfield and Bangor has replaced the old ferry; and Fairfield Center, three miles west of Fairfield . . .; North Fairfield, northward of [Fairfield Center], and Larone (Winslow's Mills), in the northwest corner of the town."
Fairfield Center is at the crossroads of Maine routes 23 and 104.  Its impressive church and a grange hall oversee the junction of the two.  A small fire station is nearby.
This area of town is basically rural with operating farms.
The area where the Shawmut Manufacturing Company was located, south of Hinckley on U.S. Route 201, changed its name to Shawmut in honor of the new company, which was chartered in 1904.
Pishon's Ferry area is shared with Clinton, across the Kennebec River, and is just north of the Goodwill School.
The northern rural portion of the town is well-known for The Apple Farm, a popular destination in the fall for apples and pumpkins alike. The barn store at the Apple Farm is a draw, with free wagon rides for all.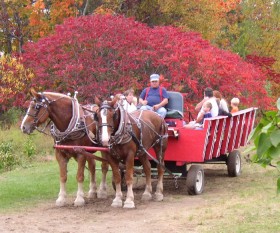 Civil War General and Governor Seldon Connor was a prominent resident of the town. The Hinckley School, founded in 1889 by George W. Hinckley, and its L. C. Bates Museum, has been a major community institution for more than a century. Fairfield is also home to Kennebec Valley Community College.
In the main village, outside the downtown, Fairfield's residential area is rich in classic buildings and residential amenities. The old Lawrence High School is now a primary school; the veterans park attracts people with its gazebo and shade trees.
Form of Government: Town Meeting-Council-Manager.
Additional resources
Allen, Gideon. Gideon Allen's Book. 1764-1814. (Cataloger Note: Items listed suggest a general store; Entries numbered, not alphabetical list but partially chronological; Includes names mentioned in 200 anniversary history town of Fairfield, Maine, 1788-1988; Part of a collection of miscellaneous manuscripts related to Fairfield, Maine, 1748-1899.) [Maine State Library]
Bowerman, Elihu. "Letter relating to the early settlement of Fairfield, Maine." Fairfield, Me. E. Bowerman. 1848. [Maine State Library]
Chadbourne, Ava Harriet. Maine Place Names and The Peopling of its Towns: Kennebec and Somerset Counties.
Fairfield (Me.) Charter of Town of Fairfield, Maine: ratified by vote of the town, Oct. 16, 1945. Fairfield, Me. Town of Fairfield. 1945. [University of Maine, Raymond H. Fogler Library, Special Collections]
Fairfield Historical Society (Me.). Book Committee. 200th Anniversary History: Town of Fairfield, Maine, 1788-1988. Fairfield, Me. The Society. 1988. (Farmington, Me. Heritage Printing Co.)
Gleanings of the Past and Present of Fairfield, Maine. (compiled by Gladys Duren; assisted by Ray Tobey and Clifton Horne) Fairfield, Me. 1963.
Shawmut Manufacturing Company. Records, 1913 Dec. 1-1924 July 1. (Cataloger Note: A ledger of a lumber company in Maine listing trial balances beginning Dec. 1, 1913. The Shawmut Manufacturing Company in Fairfield, Maine was chartered December 24, 1904. It owned mill buildings and water rights and manufactured dimension lumber but specialized in such items as pine clapboards.) [University of Maine, Raymond H. Fogler Library, Special Collections]
Winslow, Will P. Early History of Larone: Events of Interest Related: notable incidents in the life of the first inhabitants : old landmarks. Maine. 1918.
Varney, George J. A Gazetteer of the State of Maine. 1886. pp. 225-226.
National Register of Historic Places – Listings
Connor-Bovie House,
22 Summit Street

Cotton–Smith House,
42 High Street

Amos Gerald House,
107 Main Street

Lawrence Library,
33 Lawrence Avenue
Bates, Asa, Memorial Chapel, 2 Ten Lots Road
Hinckley Good Will Home Historic District,  US 201
Quincy Building, south of Hinckley