| Year | Population |
| --- | --- |
| 1970 | 5,684 |
| 1980 | 6,113 |
| 1990 | 6,718 |
| 2000 | 6.573 |
| 2010 | 6,735 |
Geographic Data
N. Latitude
44:38:14
W. Latitude
69:40:12
Maine House
District 108
Maine Senate
District 16
Congress
District 2
Area sq. mi.
(total) 54.6
Area sq. mi.
(land) 53.8
Population/sq.mi.
(land) 125
County: Somerset

Total=land+water; Land=land only
[FAAR-field] formerly Fairfield Plantation, is the southernmost town in Somerset County, incorporated on June 18, 1788.
The early name for the main village was Kendall's Mills after the prominent resident General William Kendall.
In 1886, according to the Gazetteer of Maine, the town seemed confident in its economic activity, thanks in large part to the fast flowing Kennebec River, which supplied water power:
at Kendall's Mills, at the south-eastern extremity of the town, and Somerset Mills, about two miles above. . . . There are in the town eight saw-mills, three planing-mills (one of which is also a framing and finishing mill) two door, sash and blind factories, a sled, lap-board and flower-stand factory, a grist and plaster mill, three carriage-factories, a tannery, a canned-corn factory, a clothing factory, cabinet, box, picture-frame, coffin and casket makers, marble-works, etc. . . . The Somerset branch of the Maine Central Railroad, connecting Waterville and Skowhegan, runs along the river through the town.
The Fairfield Savings Bank and the Fairfield Journal newspaper served the business and general community. Its high school was unusual for a town its size in 1880 with a population of 3,044.
Fairfield also supported seventeen public schools in 1886.
Though many towns have a large number of villages, Chadbourne noted that Fairfield certainly had its share:
"Other centers of settlement are Shawmut, formerly Somerset Mills, three miles up the river; Hinckley [formerly] Pishon's Ferry, eight miles above Fairfield [village], where the Hinckley Bridge leading to Pittsfield and Bangor has replaced the old ferry; and Fairfield Center, three miles west of Fairfield . . .; North Fairfield, northward of [Fairfield Center], and Larone (Winslow's Mills), in the northwest corner of the town."
Fairfield Center is at the crossroads of Maine routes 23 and 104.  Its impressive church and a grange hall oversee the junction of the two.  A small fire station is nearby.
This area of town is basically rural with operating farms.
The area where the Shawmut Manufacturing Company was located, south of Hinckley on U.S. Route 201, changed its name to Shawmut in honor of the new company, which was chartered in 1904.
Pishon's Ferry area is shared with Clinton, across the Kennebec River, and is just north of the Goodwill School.
The northern rural portion of the town is well-known for The Apple Farm, a popular destination in the fall for apples and pumpkins alike. The barn store at the Apple Farm is a draw, with free wagon rides for all.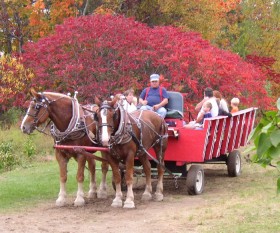 Civil War General and Governor Seldon Connor was a prominent resident of the town. The Hinckley School, founded in 1889 by George W. Hinckley, and its L. C. Bates Museum, has been a major community institution for more than a century. Fairfield is also home to Kennebec Valley Community College.
In the main village, outside the downtown, Fairfield's residential area is rich in classic buildings and residential amenities. The old Lawrence High School is now a primary school; the veterans park attracts people with its gazebo and shade trees.
Form of Government: Town Meeting-Council-Manager.
Additional resources
Allen, Gideon. Gideon Allen's Book. 1764-1814. (Cataloger Note: Items listed suggest a general store; Entries numbered, not alphabetical list but partially chronological; Includes names mentioned in 200 anniversary history town of Fairfield, Maine, 1788-1988; Part of a collection of miscellaneous manuscripts related to Fairfield, Maine, 1748-1899.) [Maine State Library]
Bowerman, Elihu. "Letter relating to the early settlement of Fairfield, Maine." Fairfield, Me. E. Bowerman. 1848. [Maine State Library]
Chadbourne, Ava Harriet. Maine Place Names and The Peopling of its Towns: Kennebec and Somerset Counties.
Fairfield (Me.) Charter of Town of Fairfield, Maine: ratified by vote of the town, Oct. 16, 1945. Fairfield, Me. Town of Fairfield. 1945. [University of Maine, Raymond H. Fogler Library, Special Collections]
Fairfield Historical Society (Me.). Book Committee. 200th Anniversary History: Town of Fairfield, Maine, 1788-1988. Fairfield, Me. The Society. 1988. (Farmington, Me. Heritage Printing Co.)
The Good Will Homes and Schools.  [Maine State Library]
Gleanings of the Past and Present of Fairfield, Maine. (compiled by Gladys Duren; assisted by Ray Tobey and Clifton Horne) Fairfield, Me. 1963.
Hinckley, G. W. (George Walter), 1853-1950. In Sunset Park. Hinckley (Fairfield), Me. Good Will Publishing Co. 1932. [Maine State Library]
*Maine. Historic Preservation Commission. Augusta, Me.   Text and photos from National Register of Historic Places: http://pdfhost.focus.nps.gov/docs/nrhp/text/xxxxxxxx.PDF and http://pdfhost.focus.nps.gov/docs/nrhp/photos/xxxxxxxx.PDF
Bates, Asa, Memorial Chapel: https://npgallery.nps.gov/NRHP/GetAsset/246c6de2-8a3f-43b2-8b11-3e8269c16a5c?branding=NRHP
Connor-Bovie House: 74000321.PDF
Cotton-Smith House: 92000794.PDF
Gerald, Amos F., House: 80000252.PDF
Gerald Hotel: http://www.maine.gov/tools/whatsnew/index.php?topic=mhpc_recent_listings&id=516985&v=article
Lawrence Library: 74000322.PDF
Hinckley Historic District: 87000232.PDF
Quincy Building: 78000330.PDF
Nutter, Jennie L. (Jennie Louise). A history of the Founding and Development of the Good Will Homes and Schools. 1954. [University of Maine, Raymond H. Fogler Library, Special Collections]
Shawmut Manufacturing Company. Records, 1913 Dec. 1-1924 July 1. (Cataloger Note: A ledger of a lumber company in Maine listing trial balances beginning Dec. 1, 1913. The Shawmut Manufacturing Company in Fairfield, Maine was chartered December 24, 1904. It owned mill buildings and water rights and manufactured dimension lumber but specialized in such items as pine clapboards.) [University of Maine, Raymond H. Fogler Library, Special Collections]
Sturtevant, Lawrence M. Chronicles of Good Will Home, 1889-1989 at Fairfield, Maine.
Hinckley (Fairfield), Maine. Good Will Home Association. 1989.
Winslow, Will P. Early History of Larone: Events of Interest Related: notable incidents in the life of the first inhabitants : old landmarks. Maine. 1918.
Varney, George J. A Gazetteer of the State of Maine. 1886. pp. 225-226.
National Register of Historic Places – Listings
Connor-Bovie House,
22 Summit Street

Cotton–Smith House,
42 High Street

Amos Gerald House,
107 Main Street

Lawrence Library,
33 Lawrence Avenue
Connor-Bovie House
This house (see photo above), first to be electrified in Fairfield, was home to two prominent Maine residents. William Connor, a wealthy 19th century lumber baron and a partner in the Fairfield Land and Mill Association, built the house in 1858. The Association owned six saw mills on the Kennebec River, as well as extensive land holdings elsewhere in Fairfield. Connor was also the father of Seldon Connor, a Brigadier General during the Civil War and Maine's Governor for three terms, 1876-78.
Lumbering-contributed greatly to the growth of Fairfield during the 19th century and William Connor's part was of great importance. Unfortunately, lumbering declined in the early 20th century and many fortunes were lost. However, the house remained in the Connor family until 1939 when it was sold to William T. Bovie, M.D. Bovie was an inventor as well as a surgeon. In 1927-28 he invented the first surgical current generator. He developed pioneer methods for therapeutic use of radioactive substances. His invention of the "so called" electric knife which cauterized without surgery, referred to as bloodless surgery, is, though modified, still in use.*
Cotton-Smith House
Built around 1890, the Cotton-Smith House (see photo above) is a well preserved example of the Queen Anne style. Its notable exterior appearance is accompanied on the interior by varnished woodwork and wall/ceiling stenciling in the two parlors on the first story. Although often referred to as the Smith House, the original owner was John Cotton, a manufacturer of wood products. Cotton gained prominence as the founder (1882)/owner of Fairfield's Maine Manufacturing Company, which made wooden ice boxes. In 1894, Cotton sold his property and moved to Nashua, New Hampshire.
The second owner of the house was John H. Smith (1848-1925) a carpenter. After the death of Smith's wife Effie in 1946, the couples' only son, Aleson, inherited the property. The Cotton-Smith house was sold to the Fairfield Historical Society in 1983 by Aleson's wife.*
Lawrence Library
Built from designs by William R. Miller, the 1901 Lawrence Library (see photo above) is a substantial stone building in the Romanesque Revival style of H.H. Richardson. During the 1870s/80s, Richardson began to revolutionize American architectural design by the way he composed Medieval Romanesque forms. This Library is an adaptation of Richardson's style with a hint of the Beaux Artes influence, emerging in the late 19th and early 20th centuries.
It all began with a 19th century private library organization: the Ladies Book Club. Founded in 1895, it started with 24 members, 48 books, and a bookcase in a local confectioner's shop. By 1899 the Club had moved to two rooms in a bank block. During the Club's May 1900, meeting Edward J. Lawrence, a very successful lumberman, said he would give his native town a public library if a suitable site could be found. Mrs. L.E. Newhall donated a choice lot which faced the community park and was between her residence and Lawrence's.*
Bates, Asa, Memorial Chapel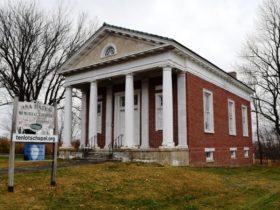 [2 Ten Lots Road] The Bates Memorial Chapel is a striking Classical Revival building on the corner of a country road in the Ten Lots area of Fairfield and Oakland; the boundary is at the southern edge of the Chapel parking lot. Surrounding the Chapel are 19th century farmhouses and mid-20th century low ranch houses.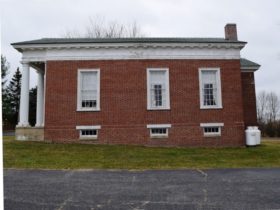 The Ten Lots community was settled in 1774 by Quakers from Massachusetts. The name refers to the original land division of ten lots of 200 acres each. A road was laid out from one end of the grant to the other, and eventually was called Ten Lots Road. As early as 1836 a Baptist Church was established on the corner where the Chapel was later built; across the street was a small school house. In 1915 the church was relocated to nearby Rome, and the school house was used both for education and other services for a few years. Eventually it too was moved and reused.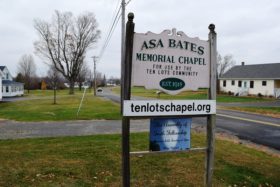 The Chapel, built in 1918, was funded by a former resident of Ten Lots. Milton Laforest Williams had been raised in the neighborhood by his Uncle, Asa Bates. Williams gained considerable wealth, gratefully remembering his old friends and with reverence for the memory of his grandfather, the "grand old man," who had been more than mother and father to him as an orphan. Williams built, furnished and endowed the Chapel at Ten Lots, where he with his grandfather attended meetings, usually led by his grandfather. He gave the fountain and iron fence in and surrounding Lake View Cemetery in Oakland.
Williams' gift was intended to enhance the life of the community on many levels, giving to the United Baptist Convention of Maine, all his property both real and personal to be devoted to Christian, Moral, Literary and Social purposes. Similar in scale and location to the Chapel is the Bradford Public Library. The refined, small brick building sits atop a high stone foundation, and features a fan-lighted central entrance with small Ionic columns.*
Amos Gerald House
[107 Main Street] The Amos Gerald House (see photo above) was built by the pioneer in the once vast trolley system in Maine. Its medieval castle design and possibly the first residence ever constructed of cement blocks in Maine make it an object of some interest. Born in Benton, Amos Gerald (1841-1913), after spending three years in his early twenties as a miner and lumberman in California, returned to Fairfield. In 1868 he invented, then the manufactured, a type of curtain fixture. A successful drop head sewing machine followed. In 1886 he founded  Maine's first electric light company in Fairfield.
After a brief visit to New York City in the early 1880s he decided to establish a Waterville-Fairfield street railway. At first horse drawn, it was electrified in 1890 and was the first of a dozen trolley systems he built. He was involved in the consolidation of several groups of local lines into larger, more efficient systems. To popularize trolley travel, Gerald developed a number of hotels, amusement parks, skating rinks and bandstands in scenic locations along his routes. The famed Casco Castle, a medieval style summer hotel in South Freeport, and the Hotel Gerald in Fairfield topped with three golden domes were examples. He is quoted as saying, "I had rather see the people riding on railroads I have helped build and enjoying them than to lay up money in the bank." On the day of his funeral in September, 1913, every trolley car in the state stood still for three minutes.*
Gerald Hotel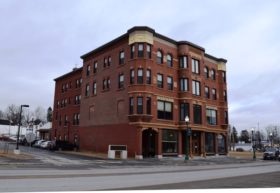 The Gerald Hotel is a small town hotel, built with a degree of extravagance and detail more common to larger hotels in major urban centers. The brick and terracotta hotel building was built by Amos F. Gerald in 1899-1900 to designs by Lewiston architect William R. Miller. An attached building at the rear was used as a furniture showroom for the Lawry Brothers, one of two commercial establishments that had store fronts on the first floor of the hotel.
Although much of the exterior architectural detailing is no longer, the Gerald Hotel is significant for its association with its builder Amos F. Gerald (1841-1913), a businessman whose life's work influenced commercial, industrial, recreational, and transportation development across Maine in the late-19th and early-20th centuries. It is also important as home to one of the longest lasting commercial establishments, Lawry Brothers furniture (and successors), in downtown Fairfield and as the town's premier hotel and community function facility for more than three decades.*
The building ceased to operate as a hotel in 1962.  In 2017 "The Gerald" was a senior housing facility.
Hinckley Good Will Home Historic District
[US 201] (see selected photos above left) A young minister, George W. Hinckley purchased the 125 acre Chase Farm near Fairfield in 1889. The Good Will Home and School and the Good Will Association emerged from a desire to help needy young people. Beginning with three boys in residence, the school opened its doors in September of 1889 and quickly grew, achieving a fine reputation as a home for boys. Girls were admitted a few years later.
The Hinckley Home/School/Farm was initially a group of 33 buildings over about 525 acres of rolling farmland and wood lots on the west side of Route 201. It is significant for the variety of unaltered buildings scattered over the rural landscape. They represent the first 35 years of the Good Will Home, designed by several architects. For example, the Moody School and the Bates Museum were both by William R. Miller of Lewiston who designed the Auburn Public Library.*
Quincy Building
[south of Hinckley] The Bates Museum in Hinckley was originally the Quincy Manual Training School for Boys on Goodwill Farm. The building was designed in the Romanesque Revival style by William R. Miller. Built 1903, it was dedicated as the Quincy Building after Mr. George Henry Quincy of Boston who had been a major benefactor in its construction. For several years it was used as a Manual Training School with classes in carpentry, iron working, mechanical drawing, basketry and other arts. During World War I its use as a Manual Training school ended from a lack funding and questions about its relevance.
Mr. L.C. Bates of South Paris offered $5,000 to be used in turning the Quincy Building into a museum. The L.C. Bates Museum came into being at its formal dedication on July 27, 1923. Ever since its outstanding exhibits have provided pleasure not only for the Good Will-Hinckley people but for children and adults of the surrounding countryside and out-of-state visitors as well. In addition to the outstanding collections, the background paintings in the ornithology room and for the wildlife in the lower center room, are of extremely fine quality, depicting actual scenes native to the area.* [See Bates Museum photo above.]