| Year | Population |
| --- | --- |
| 1970 | 1,218 |
| 1980 | 1,369 |
| 1990 | 1,402 |
| 2000 | 1,403 |
| 2010 | 1,213 |
Geographic Data
N. Latitude
46:52:40
W. Latitude
68:06:40
Maine House
District 146
Maine Senate
District 1
Congress
District 2
Area sq. mi.
(total) 35.3
Area sq. mi.
(land) 35.3
Population/sq.mi.
(land) 34.4
County: Aroostook

Total=land+water; Land=land only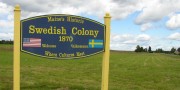 [WOOD-lnd] is a town in Aroostook County settled originally in 1860 and organized as a plantation on April 25, 1861, with its organization confirmed by the State Legislature in 1878. On March 5, 1880 it became a town.
As early as the 1850's wood was being cleared from the area. Ephraim Barnum arrived with his family in 1860. Its northern part was settled by Swedes in 1872. Unable to find enough land in New Sweden, members of the Swedish Colony were granted 100 acre lots in Woodland and became the largest group in the town.
The Lagerstrom House, built about 1896, was donated to the Woodland Historical Society by Priscilla Lagerstrom Walther and John Lagerstrom in memory of their Swedish grandparents, Carl and Emma Lagerstrom who had lived there in the early 20th century.
In the 1880's, the Gazetteer of Maine has these observations about the town:
The soil is very fertile. The yield of wheat is about 400 bushels to the acre, and of potatoes about 400 bushels. . . . Agriculture is the almost exclusive occupation of the people. The few frame houses in the town are in good repair, but the log houses have a decayed look. There is one shingle-mill capable of manufacturing about 20,000 shingles per day. A stave-mill here has a capacity of 2,000 staves per day. The nearest railway is in Caribou, six miles from the centre of Woodland.
At the time, Woodland had five public schoolhouses supported by a population of 679 in 1880. The Woodland Historical Society's Snowman School Museum,  on Route 228 at Thibodeau Road, recalls the towns early history.
This northern community, in the heart of potato and forest product country, is not to be confused with the village of Woodland in the Washington County town of Baileyville.
With little in the way of a central village, the town lies west of Caribou served by Maine Routes 161, 164 and 228. Woodland village in the north is on Route 228; the village of Carson in the south is on the Carson Road off Route 164. (photos 2015)
Form of Government: Town Meeting-Select Board-Administrative Assistant.
Additional resources
Chadbourne, Ava Harriet. Maine Place Names and The Peopling of its Towns.
Varney, George J. A Gazetteer of the State of Maine. 1886. pp. 602-603.