| Year | Population |
| --- | --- |
| 1970 | 4,335 |
| 1980 | 5,889 |
| 1990 | 5,968 |
| 2000 | 6,232 |
| 2010 | 6,092 |
Geographic Data
N. Latitude
44:19:04
W. Latitude
69:57:50
Maine House
District 81
Maine Senate
District 14
Congress
District 1
Area sq. mi.
(total) 38.0
Area sq. mi.
(land) 31.2
Population/sqmi
(land) 195.3
County: Kennebec

Total=land+water; Land=land only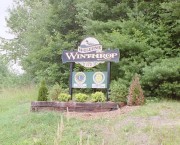 [WIN-thrup] is a town in Kennebec County, incorporated on April 26, 1771 from Pondstown Plantation.
Over the next 100 years it ceded to, or annexed land from, surrounding communities eleven times before its last transaction the annexation of land from Manchester in 1873.
The many lakes and ponds earned the community its early name.
The main village lies on the stream linking nearby Maranacook and Anabessacook Lakes. Cobbosseecontee Lake is about the length of the two aforementioned lakes and lies on the southeast side of the town.
During the 19th century, Winthrop was home to at least two newspapers reflecting its agricultural heritage: Kennebec Farmer and Journal of the Useful Arts, and Maine Farmer and Mechanic's Advocate. It is the birthplace of 19th century U.S. Representative Samuel Page Benson.

Moses Bailey was an industrialist and an active member of the Society of Friends. In 1856 he erected a large modern home at Winthrop Center, in which he lived until his death in 1882. Bailey built a factory at Winthrop Center in mid-century, and rebuilt it when it was destroyed by fire in 1870.
Charles M. Bailey  was a business partner of his brother, Moses Bailey.  Charles donated the building which is now the Charles M. Bailey Public Library.  In support of the Society of Friends ("Quakers"), he had earlier built a meetinghouse next to the future library site.  It later became a high school, then a Masonic Temple.  Owned by the town and vacant in 2013, it is expected to be demolished.*
From 1850 through 1920, the town's population hovered around 2,100. Beginning with the 1930 census and continuing through 2010, its population has shown consistent growth.
Like many small service centers, Winthrop's economy was built from a mercantile village to manufacturing based on water power. Today's economy is based on transportation and communications. Carleton Woolen Mills finally closed. Taking its place are many small businesses. Dozens of small restaurants, specialty stores, and professional offices for every major employer or franchise operation are on the main roads. The business climate is centered on local services, with some catering to tourism and recreation, a few hi-tech industries, and regional stores.
In addition to its recreational attractions, the town is a suburban community serving both the Augusta and Lewiston–Auburn areas.
Winthrop is the birthplace in 1899 of Delphia Louis "Del" Bissonette, who played baseball for the Brooklyn Dodgers (also known as the Robins) from 1928 through 1933, with a batting average of .303.

Congressional Medal of Honor winner:
Civil War
H. CLAY WOOD
Form of Government: Council-Manager
Additional resources
*Information from the staff of the Charles M. Bailey Public Library, August 19, 2013.
Cook, David S. Winthrop. Charleston, SC. Arcadia Publishing. c2003.
Horwitz, Richard. Anthropology Toward History: Culture and Work in a 19th Century Maine Town. [Winthrop] Middletown, Conn. Wesleyan University Press. 1978.
Kennebec Farmer and Journal of the Useful Arts. [electronic resource] Winthrop, Me. William Noyes & Co. 1833.
Little, George Thomas. Genealogical and Family History of the State of Maine; (Volume 3).  [Moses Bailey brief biography] http://www.ebooksread.com/authors-eng/george-thomas-little/genealogical-and-family-history-of-the-state-of-maine-volume-3-clt/page-84-genealogical-and-family-history-of-the-state-of-maine-volume-3-clt.shtml (accessed May 6, 2012); also, New York. Lewis Historical Publishing Company. 1909. [University of Maine, Raymond H. Fogler Library, Special Collections; University of Southern Maine (Portland), The Albert Brenner Glickman Family Library]
Maine Farmer and Mechanic's Advocate. Winthrop, Me. William Noyes, 1842-1843. [University of Maine, Raymond H. Fogler Library, Special Collections (microfilm)]
Parlin, W. Harrison. Reminiscences of East Winthrop. East Winthrop, Me. Banner Publishing Co.. 1891. [University of Maine, Raymond H. Fogler Library, Special Collections; Maine State Library]
Stackpole, Everett Schermerhorn. Winthrop, Maine with Genealogical Notes. Bowie, MD Heritage Books. c1994. [University of Maine, Raymond H. Fogler Library, Special Collections; Maine State Library]
Thurston, David. A Brief History of Winthrop, from 1764 to October 1855. Portland, Me. B. Thurston, Steam Printer. 1855.
Town of Winthrop. Draft Comprehensive Plan, 2010 Update. http://www.maine.gov/spo/landuse/compplans/plans/winthrop/plan.pdf (accessed May 6, 2012) [Economy summary above was condensed and edited from the plan.]
National Register of Historic Places – Listings
Bailey, Charles M., Library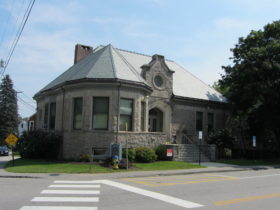 [Bowdoin Street] This substantial 1916 library marks the culmination of the philanthropic career of Winthrop's oilcloth magnate Charles M. Bailey. It was designed by John Calvin Stevens, and is similar to his 1900 Romanesque Revival Style  Brown Memorial Library in Clinton.
Charles Bailey, born in 1820, took over the oilcloth business founded by his father and greatly expanded it with plants in several Maine manufacturing towns. He amassed a considerable fortune that he shared throughout his life with various worthwhile institutions: the Hinckley School for needy boys, the Oak Grove School (Maine's only Friends preparatory school), and several colleges.
During the later years of his life he spoke frequently of a memorial, something worthwhile and enduring that he might leave to the town he had loved so well. In the ninety-sixth and last year of his life he presented this library building to the community.*
Bailey, Moses, House
[Maine Route 135 Winthrop Center] The Moses Bailey House (see photo above) is a well-preserved 1850s "gentlemen farmer's" house. The building's massing and plan are traditional, and the exterior is decorated in the Greek Revival style, with a later high-style Italianate cupola. It is among the best mid-19th-century houses in Winthrop. Moses Bailey (1817-1882), first with his father Ezekial and brother David, then with his brother Charles, was a principal in the pioneering Bailey family oil-cloth business.
About 1842 the Baileys were probably the first firm in the United States to produce and sell oil-cloth floor coverings, a standard item in 19th-century houses. Moses was briefly the sole owner in the mid-1840s, but in 1847 was forced to sell to his younger brother Charles, who is credited with being the sharpest and most articulate of the brothers. Moses soon opened a new oil-cloth factory directly across from the present house site. This, too, was eventually bought by his brother in the mid to late 1870s.
Charles M. Bailey, who lived two properties south of Moses (still standing, but unsympathetically altered), went on to become one of the largest oil-cloth manufacturers in the nation, with plants at Baileyville, Winthrop Village and Skowhegan.*
Cobbossee Lighthouse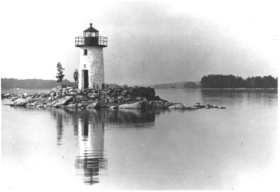 [Ladies Delight Island] The Cobbossee lighthouse was, at the time of its construction in 1908, the only lighthouse on an inland lake east of the Mississippi and today it is still the only one in Maine with her hundreds of lakes. Although partly decorative, it has served its purpose as a navigational aid at night. Located on a tiny island near the north end of Lake Cobbosseecontee, it is approximately 20 feet tall with a tapered cylindrical tower of rubblestone approximately eight feet in diameter at the base.
The lighthouse was built with funds donated by Daniel Robinson, the first commodore of the Cobbosseecontee Yacht Club,the owner. In 1908 the many hotels and restaurants on the lake used boats to transport people. When first built it was lit by two kerosene lamps that had to be tended every day. Later storage batteries lasting 13 days powered an electric lamp and more recently an underwater cable serves a revolving light. The light is extinguished in winter when the lake is frozen over. The island on which it is located is named Ladies Delight.* [Frank A. Beard photo]  More about lighthouses.
Lund, Jon, Site, Address Restricted