| Year | Population |
| --- | --- |
| 1970 | 1,097 |
| 1980 | 1,702 |
| 1990 | 1,895 |
| 2000 | 2,204 |
| 2010 | 2,575 |
Geographic Data
N. Latitude
44:19:01
W. Latitude
69:34:22
Maine House
District 80
Maine Senate
District 13
Congress
District 1
Area sq. mi.
(total) 35.6
Area sq. mi.
(land) 34.7
Population/sq.mi.
(land) 74.2
County: Kennebec

Total=land+water; Land=land only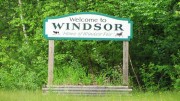 [WINZ-uhr] is a town in Kennebec County, settled in 1790 and incorporated on March 3, 1809 as the town of Malta from New Waterford Plantation.
The "Malta War" was a protracted dispute between settlers and the proprietor over land rights. A surveyor sent by the proprietor to settle the boundaries was killed by a group of white men disguised as Indians. They were acquitted at their trial.
The name was changed to Gerry in 1821, in honor of Elbridge Gerry, Governor of Massachusetts (1810-1812) and Vice President of the United States (1813-1814), and to Windsor the following year.
Notes from the Windsor Historical Society include the following:
The earliest identified blacksmith shop was located on the Levi Perkins farm. There were also several other blacksmith shops in Windsor in the 1800's.  An ice house was located on Windsor Neck.
The "Barton barn" originally stood on a 210 acre farm in West Windsor.  The 200+ year old structure presents wooden pegs, long beams and wide boards.
Clara Barton (founder of the American Red Cross) visited the farm at the end of the Civil War to visit relatives.
Windsor village clusters around the town office, the fire station, the Post Office, and Hussey's General Store at the intersection of Maine Routes 32 and 105.
The Windsor Fair attracts crowds each fall to this once agricultural, but increasingly residential, community east of Augusta.
Form of Government: Town Meeting-Select Board-Manager.
Additional resources
Chadbourne, Ava Harriet. Maine Place Names and The Peopling of its Towns

Austin, Isaac. Account Book, 1826-1878. A volume used by Isaac Austin to record information about his work, mostly as a farm laborer, and the use of his horses and oxen. Entries in the volume are headed Windsor, Hartland, Bridgewater, and Lowell, Maine. The book was also used from 1874 to 1878 by N. I. Austin to record his time working on roads, shoveling, hauling shingles, threshing, etc. [University of Maine, Fogler Library, Special Collections.]
Hayes, Earle R. Windsor Fair, Windsor, Maine: A History of the First 100 Years. Windsor, Me. 1989. [Maine State Library]
A History of Windsor, Maine, 1822-1972. 1972. [University of Maine, Raymond H. Fogler Library, Special Collections; Maine State Library]
Lowden, Linwood H. Good Land & Fine Contrey but Poor Roads, A History of Windsor, Maine. Windsor, Me. Researched and published by the Windsor Historical Society. 1993. [Maine State Library; Bangor Public Library]
Windsor Historical Society of Maine.  http://windsorhistorical.org/index.html (accessed May 4, 2012)