| Year | Population |
| --- | --- |
| 1970 | 4,448 |
| 1980 | 6,719 |
| 1990 | 7,778 |
| 2000 | 9,400 |
| 2010 | 9,589 |
Geographic Data
N. Latitude
43:19:39
W. Latitude
70:37:34
Maine House
Dist 4,7
Maine Senate
District 34
Congress
District 1
Area sq. mi.
(total) 58.2
Area sq. mi.
(land) 57.6
Population/sqmi
(land) 166.5
County: York

Total=land+water; Land=land only
[WELLZ] is located in York County, and was the third town established in Maine, incorporated on July 5, 1653 from a portion of the town of Webbannet. It has swapped land with Kennebunk in two transactions: 1820 and 1868. Ogunquit, and its early history, was once part of Wells.
Named by Sir Fernando Gorges for the English city of the same name, Wells was first settled in 1641. Massachusetts, having recently acquired Maine as a province, established in 1699 a Court of General Sessions of the Peace to handle all criminal complaints to meet twice a year at Wells and twice a year at York.
It has the distinction of being the only Maine town not conquered during the various French and Indian wars 1650 to 1730.
According to the 2004 draft of its Comprehensive Plan, [edited and condensed]:
By 1641 Edward Littlefield established a permanent home, sawmill and gristmill at the site of the Webhannet River Falls. Reverend John Wheelright soon followed and in 1642 established a church and a small settlement.
The early settlers took advantage of the numerous rivers and brooks in the area by establishing mills that served clusters of nearby farms. Stores, blacksmith shops and post offices soon grew up nearby. Farmsteads, orchards and pasture lands, hay fields and wood lots were soon developed.
Just as the Town began to grow the Indian Wars (first the King Phillip's War and then the French & Indian War) that lasted from approximately 1675 to the mid-1700s took a toll on the residents and stunted its growth.
Following the American Revolution and the War of 1812, Wells prospered from fishing and shipping of timber to Europe and imported products the West Indies and Europe.
Although overland travel was difficult, by 1825 there were eight taverns serving stage coach travelers. The railroad arrived in the 1840s providing local employment and accessibility from all directions. The rails soon displaced much of shipping freight business.
During this period people from outside the town began to discover Wells' beaches during the summer. By late in the century the "tourism" business began to materialize. The trend expanded during the 20th century and today Wells has a significant tourist economy.
— — — — — — —
In 2004 the town estimated its peak summer population at about 39,000, including seasonal homes, lodging houses, and recreational vehicle parks.  That is four times the resident population.
Ogunquit, the resort community, was part of Wells until 1980. Wells is also home to the York County Community College. The town is also the birthplace of 19th century U.S. Representative John F. Scammon.
The First Congregational Church of Wells (see National Register below) is now home to the Historical Society of Wells and Ogunquit. It is located on Main Street, which is U.S. Route 1.
The village of Moody features a fine shoreline known as Moody Beach.  While it was considered a public space for many years, in 1989 a court ruled that it is the private property of abutting landowners.  It is not available to the public for swimming or beach use.  Other beaches are accessible in the area.
While the Main Street is a commercial strip, it hosts a few community facilities, including the Junior High, the Historical Society, and others, such as those below.
The Rachel Carson National Wildlife Refuge consists of 3,600 acres of marsh and upland wildlife habitat. A mile-long trail (handicapped-accessible) offers vistas of the marshes and the ocean, plus many kinds of shorebirds, ducks, and geese. The trail begins at the refuge headquarters on Route 9 at the Wells/Kennebunk line.
The Wells National Research Reserve at Laudholm Farm is an educational and research facility with 1,600 acres, 7 miles of trails that take you through old fields, woods, marshes and to the beach. During the summer there are guided tours, junior research programs and research projects on birds, the sea level and water.
Form of Government: Town Meeting-Select Board-Manager.
Additional resources
300th Anniversary, Wells, Maine, 1653-1953. Canton, Me. Pinewood Press. 1953. [University of Maine, Raymond H. Fogler Library, Special Collections; Maine State Library]
Bourne, Edward Emerson. The History of Wells and Kennebunk From The Earliest Settlement To The Year 1820, . . . . Bowie, Md. Heritage Books, Inc. 1983.
Hardy, Joseph W. Settlement & Abandonment on Tatnic Hill: An Eclectic History of Wells, Maine, 1600-1900. Portsmouth, N.H. Back Channel Press. c2008. [University of Maine, Raymond H. Fogler Library, Special Collections; Maine State Library]
Shelley, Hope Moody. Beaches of Wells. Dover, N.H. Arcadia Publications. 1997. [University of Maine, Raymond H. Fogler Library, Special Collections; Maine State Library]
Town of Wells, Maine Comprehensive Plan Inventory UPDATE [draft]. September 28, 2004. http://www.wellsme.govoffice2.com/vertical/Sites/%7BA584B478-C2A1-4E71-8B73-02AD3293F2EC%7D/uploads/%7B8F53F4BF-9AC8-4E3F-919D-CE4FA3494CE6%7D.PDF (not accessible in September 2012; try http://www.wellsme.govoffice2.com)
1945 photo courtesy, Maine State Archives, George French Collection
National Register of Historic Places – Listings
Austin-Hennessey Homestead, Brunt Mill Road
Dorfield Farm, Harrisecket Road
Early Post Office, Bragdon's Crossing
Emery House, Sanford Road Highpine
First Congregational Church, Former, Southwest corner of Route 1 and Barker's Lane
Laudholm Farm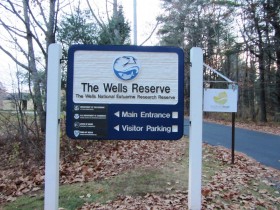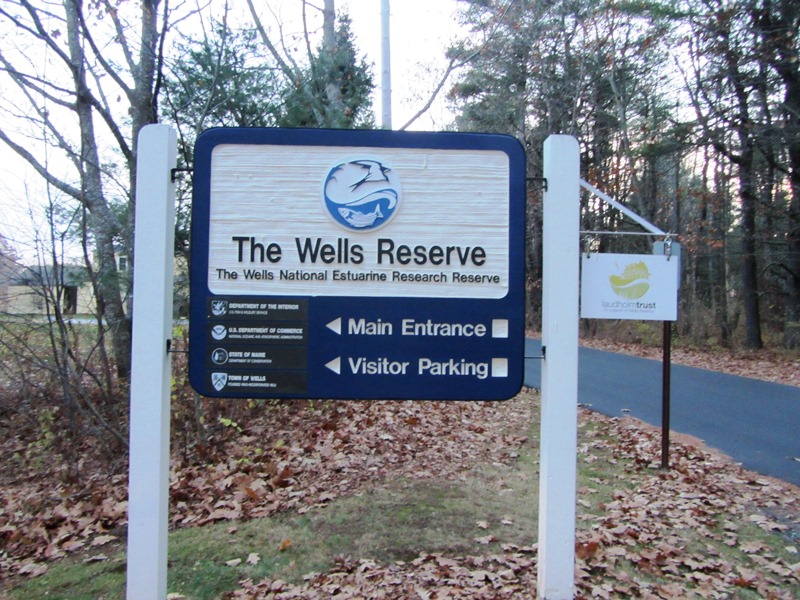 [Laudholm Farm Road] This massive Greek Revival residence, built about 1850 by Theodore Clark, with a porch added about 1890 by George C. Lord, represents the most impressive and sophisticated farmhouse in Maine. Magnificently sited on a hill with fields sloping down to Wells Bay, Laudholm Farm sits on 250 acres of rich farmland. A small earlier residence has been absorbed in the ell. Two Capes that were farmers' residences exist nearby. A large barn stands in the rear of the main house.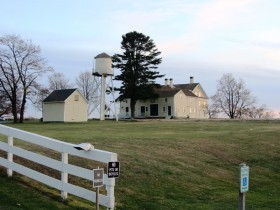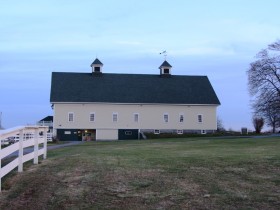 George C. Lord, a financier, who purchased the property in 1881, served for a time as President of the Boston and Maine Railroad. He and his descendants kept the farm working until the 1950s. The Laudholm Farm Trust operates the property in close association with the Wells Preserve. The 1600 acre Rachel Carson Refuge abuts to the northeast. The site is the only large undeveloped saltwater farm remaining in southern Maine and is an oasis of tranquility on an otherwise cluttered coast.
(see Wells Preserve above)
Libby's Colonial Tea Room
[now the Johnson Hall Museum, Junction of US 1 and Harraseeket Road. The structure was once the "Tea Room" that hosted functions.  The museum does that as well.]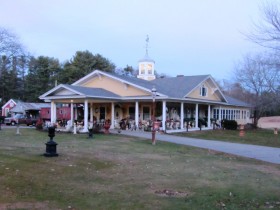 Libby's Colonial Tea Room is a bungalow style frame building built for and operated as a road side restaurant along U.S. Route 1 in Wells between 1923 and about 1942. Although it is not entirely certain when Elsie (Klingman) Libby (1882-1973) first opened her dining room, she was in business at this site prior to 1922. In that year a fire destroyed the restaurant. The following spring, a new bungalow style dining room was built on the site of the earlier building. This new facility was advertised as Libby's Colonial Tea Room, and it remained in operation until the effect of decreased tourist traffic during World War II forced its closure. Among the names in the guest book is that of then New York Governor Franklin Delano Roosevelt who signed it on October 31, 1932, during the campaign that resulted in his first election as President.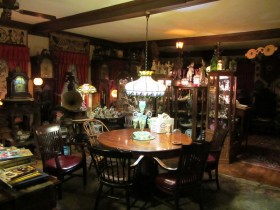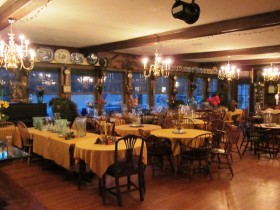 While hotel accommodations at seaside and lakeside destinations with convenient access to railroad connections were well established in Maine during the 19th century, the development of road side facilities for auto tourists witnessed explosive growth in the early 20th century, particularly after World War I. The state's principal highway corridor during this period was U. S. Route 1, the coastal route from Maine's border with New Hampshire. A steady rise in the number of road side service stations, motor courts, inns, and restaurants sprang up along U.S. Route 1 and elsewhere. Both the need for such facilities and the popularity of specific establishments (such as Libby's) provided an economic justification for Elsie Libby to immediately rebuild her dining room after its destruction by fire in 1922. The popularity of Colonial Revival themes in this period, particularly in a community that was settled in the early 17th century, undoubtedly inspired the name of the establishment: Libby's Colonial Tea Room.*
Littlefield Homestead, Chick's Crossing Road
Lord Farm, Laudholm Road
Spiller Farm Paleoindian Site, Address Restricted
Wells Baptist Church Parsonage, Maine Route 9A
Wells Homestead, Sanford Road