| Year | Population |
| --- | --- |
| 1970 | 205 |
| 1980 | 454 |
| 1990 | 417 |
| 2000 | 527 |
| 2010 | 570 |
Geographic Data
N. Latitude
44:33:17
W. Latitude
70:00:08
Maine House
District 76
Maine Senate
District 17
Congress
District 1
Area sq. mi.
(total)25.4
Area sq. mi.
(land) 24.2
Population/sq.mi.
(land) 23.6
County: Kennebec

Total=land+water; Land=land only
[vy-EN-nah] is a town in Kennebec County, settled in 1786 and incorporated on February 20, 1802 from portions of Goshen and Wyman's plantations. It annexed land from Rome (1815, 1840) and ceded land to Mount Vernon (1826, 1853), and to Chesterville (1847).
In the 1600's the Kennebec Proprietors, also known as the Plymouth Company, claimed the "Plymouth Patent" – the rights to about three million acres. Vienna was part of this patent, which was confirmed by the Massachusetts General Court in 1788. According to Alan Taylor,
The proprietors prevailed in the General Court during the 1780's because they outmatched the limited political influence of the poor and remote settlers who were virtually unrepresented.
Fourteen years later, Vienna was incorporated. It was named for what is now Vienna, Austria, though at the time it was part of Germany. As the sign at right below suggests, the name is not exactly unique.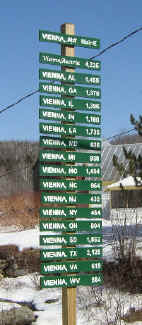 Congress member Benjamin White, a 19th century member of the U.S. Congress was born here in 1790.
Located at the Western edge of the Belgrade Lakes Region, the main village lies at the north shore of the 360-acre Flying Pond along Maine Route 41.

In 1888 Vienna residents concluded they needed a building to house public gatherings. The Union Hall Association was formed on February 20, 1888. After much planning and fundraising, the hall opened in  July 1889.
Vienna has access to a modest bit of shoreline on the 166 acre Parker Pond, most of which is in Mount Vernon.
According to the Maine Department of Inland Fisheries and Wildlife,
Flying Pond is a beautiful pond nestled among the rolling hills of Central Maine. Like most lakes in Kennebec County the lake has been highly developed, however long stretches of natural shoreline still exist. The lake maintains one of the highest smelt populations in the region. Fishing for warm water species, principally largemouth and smallmouth bass, and chain pickerel is exceptional.
Mill Stream flows from Boody Pond at the north end of town, through the village, and empties into Flying Pond.
Form of Government: Town Meeting-Select Board.
Additional Resources
Maine. Department of Inland Fisheries and Wildlife. Augusta, Me. 2006. "Flying Pond." http://www.maine.gov/ifw/fishing/lakesurvey_maps/kennebec/flying_pond_vienna.pdf (accessed April 8, 2014)
*Maine. Historic Preservation Commission. Augusta, Me.   Text edited and photo from National Register of Historic Places: http://pdfhost.focus.nps.gov/docs/nrhp/text/82000424.PDF and http://pdfhost.focus.nps.gov/docs/nrhp/photos/82000424.PDF
Taylor, Alan. Liberty Men and the Great Proprietors: The Revolutionary Settlement of the Maine Frontier, 1760-1820. Chapel Hill: University of North Carolina Press. p. 19.
Town of Vienna. New York. H.W. Blake & Co. 1892. (Extracted from: Illustrated History of Kennebec County Maine, 1625-1799-1892. Editors Henry D. Kingsbury, Simeon L. Deyo) [Maine State Library]
Whittier, Lucy E. 1898 with Lucy Whittier: Her town, Vienna, Maine. Vienna, Me. Vienna Historical Society. c2006. [Maine State Library]
National Register of Historic Places – Listings
Vienna Town House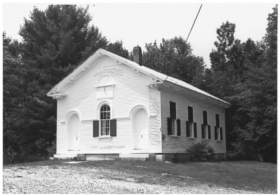 [Maine Route 41] Of the small town houses in Maine, the one at Vienna is in all probability the most stylish and sophisticated. Ordinarily such structures are plain. This building carries all sorts of architectural nuances including rounded corner pieces instead of flat corner boards and the carrying of the molding across the entire front facade rather than just over the window and door arches.
The Town House, built between 1854 and 1855, is a distinctive example of transitional Greek Revival-Italianate style. Given to the town by native son Joseph Wittier, Esq., of Boston, the building was undoubtedly designed by an architect of that city rather than by a local builder. * [Frank A. Beard photo]