This township is home to the Seboeis River canoe trip put-in on the Grand Lake Road. The 24-mile trip begins at a parking/picnic area near the bridge at N46° 8′ 37.07″ W68° 38′ 0.19″. The trip is most successful in the spring, with high water.  These images were taken in August, at relatively low water. Sawtelle Brook, outlet of the Sawtelle Deadwater in the northwest of the township, joins the Seboeis here.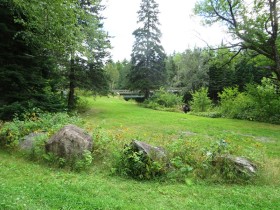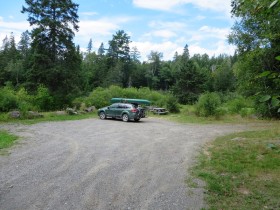 The Seboeis River Trail begins on the south side of the road near the bridge. Hikers may enjoy a mile hike to Grand Pitch on the Seboeis, a portage site for canoers. (Not to be confused with the East Branch of the Penobscot River's Grand Pitch, a 21-foot waterfall in T5 R8 WELS.)
The U.S. Geological Survey has placed a water monitoring sensor above the bridge. It apparently measures the river's flow and height.