| Year | Population |
| --- | --- |
| 1970 | 824 |
| 1980 | 967 |
| 1990 | 1,118 |
| 2000 | 1,185 |
| 2010 | 1,236 |
Geographic Data
N. Latitude
44:32:09
W. Latitude
68:08:45
Maine House
District 136
Maine Senate
District 6
Congress
District 2
Area sq. mi.
(total) 29.6
Area sq. mi.
(land) 26.6
Population/sq.mi.
(land) 46.5
County: Hancock

Total=land+water; Land=land only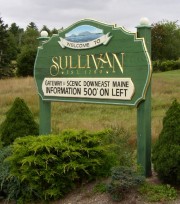 [SUL-lih-vihn] is a town in Hancock County, settled in 1762 and incorporated on February 16, 1789 from the township T2 EUR, LS.
In the 19th century, it set off land to form part of Hancock (1828) and to form Sorrento (1895), then annexed land from township T7.
The town was named for Daniel Sullivan the first settler. Born in Berwick in 1738, he was a brother of a governor of Massachusetts and of a governor of New Hampshire.
In 1776, Sullivan was commissioned as Captain in the 2nd Company of the 6th Lincoln Regiment.
Once a center of granite production, this summer resort community on U.S. Route 1 and Maine Route 200 overlooks Frenchman's Bay at Sullivan Harbor.
The nature preserve at Donnell Pond, Black Mountain, and Tunk Lake in TD SD, T10 SD and Sullivan is owned and managed by the Maine Bureau of Public Lands.
It offers mountain scenery and unspoiled ponds accessible by canoe and foot.
Form of Government: Town Meeting-Select Board-Administrator.
Additional resources
Cooper, S. Josephine (ed.) A Bicentennial History of Sullivan, Maine. Sullivan, Me. Sullivan-Sorrento Historical Society. c1989.
Johnson, Lelia A. Clark. Sullivan and Sorrento Since 1760. Ellsworth, Me.Hancock County Publishing Co. 1953.
LiBrizzi, Marcus and Dennis Boyd. The Nelly Butler Hauntings: A Documentary History. [University of Maine, Raymond H. Fogler Library, Special Collections; University of Maine at Machias, Merrill Library] Machias, Me. Library of Early Maine Literature. c2010.
Potter, R. L. The Beginnings of Sullivan, Maine. 2007. [University of Maine, Raymond H. Fogler Library, Special Collections]
Sullivan Granite Company (Sullivan, Me.) Records, 1834-1908. Cataloger Note: The records of a granite company in Sullivan, Maine. Included are copies of the act of incorporation (1834) and of the by-laws of 1834 and of 1855. Included also are maps of the lands of the Sullivan Granite Company,. . . .) [University of Maine, Raymond H. Fogler Library, Special Collections]
National Register of Historic Places – Listings
Granite Store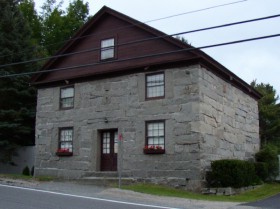 [U.S. 1] Granite Store or, as it was once called, The Old Salt Store was built probably in the 1840's or 50's of locally quarried granite by John Paul Gordon. In its early years its principal function was to supply salt for preserving the catches of the Grand Banks cod fishermen. It also supplied heavy winter clothing to protect the dorymen from the rigors of North Atlantic winters.
In the late 1850s it became the headquarters for the Sullivan Falls Shipyard, which built fishing schooners between 1855 and 1874. In this capacity it served as a ship chandlery stocking nautical supplies and ship's provisions of all kinds.
Since the 1870s the building has experienced long periods of disuse but recently has functioned as a gallery, a gift shop and an antique shop This building is solidly built of native granite. With its ties to the maritime heritage of the coast, it mirrors the rugged character of the area.
Source: United States. Department of the Interior. National Park Service. https://npgallery.nps.gov/pdfhost/docs/nrhp/text/74000152.PDF (accessed March 9, 2017)
Gavin Watson Site, Address Restricted