| Year | Population |
| --- | --- |
| 1970 | 723 |
| 1980 | 954 |
| 1990 | 1,185 |
| 2000 | 2,580 |
| 2010 | 2,591 |
Geographic Data
N. Latitude
43:54:33
W. Latitude
69:14:02
Maine House
District 92
Maine Senate
District 12
Congress
District 1
Area sq. mi.
(total) 158.5
Area sq. mi.
(land) 25.6
Population/sqmi
(land) 101.2
County: Knox

Total=land+water; Land=land only
[JOREJ] is a town in Knox County, incorporated on February 7, 1803 from a portion of Cushing. In 1865 it ceded some land to South Thomaston. Its huge area is due to the great swath of ocean within its boundaries. The town boundary reaches out to Two Bush Channel, then southward almost to Monhegan Island.
St. George was the site of  granite quarries and was the birthplace of the Granite Cutters Union in 1877, the first in the state's history.
In a park near the town office, St. George and the dragon reenact their famous battle. The Fort St. George's memorial is nearby.
The town may be better known by some by its villages of Port Clyde, at the southern tip of its long peninsular, and Tenants Harbor.
Bounded by the St. George River on the west and the Atlantic Ocean on the east, it offers many protected coves to recreational and commercial vessels.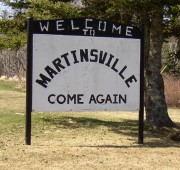 Martinsville is on Route 131 at the head of Mosquito Harbor. Nearby Marshall Point provides a view of Mosquito Head & Mosquito Island.
Several small villages are scattered throughout the town. The images below are from one on the Wiley Road in the north, featuring a consciousness of St. George's historic past.
The Brothers and Hay Ledge nature preserve occupies four islands off Port Clyde and provide a 12 acre home to a number of nesting sea birds such as the black guillemot, common eider, double-crested cormorants and various gulls.
Maine Route 131 from Thomaston runs along the eastern portion of the town.
Form of Government: Town Meeting-Select Board-Manager.
Additional resources
*Maine. Historic Preservation Commission. Augusta, Me.   Text and photos from National Register of Historic Places: http://pdfhost.focus.nps.gov/docs/nrhp/text/xxxxxxxx.PDF and http://pdfhost.focus.nps.gov/docs/nrhp/photos/xxxxxxxx.PDF
Marshall Point Light Station: 87002262.PDF
Mosquito Island House: 83000462.PDF
Sail Loft: 77000076.PDF
Tenants Harbor Light Station: 87002026.PDF
Whitehead Light Station: 88000154.PDF
Meservey, Roy E. Coaster Days: Shipping in the Town of St. George, Maine. c1976.
Neeson, Margaret Graham. On Solid Granite; the Story of St. George's Church, its village, priests, and people. Long Cove, Me. St. George's Episcopal Chapel. 1974. [University of Maine, Raymond H. Fogler Library, Special Collections; University of Southern Maine (Portland), The Albert Brenner Glickman Family Library; Maine State Library]
Smalley, Albert J. St. George, Maine: A Ramble Through the Town with some Glimpses of its History, Traditions and Those who Shaped its Character. Tenants Harbor, Me. The Pierson Press. 1976.
St. George Chronicles: containing an historical sketch from 1605 to 1892, together with names, ages and dates of birth: a complete business directory. St. George, Me. St. George Historical Society. 1986. [Maine State Library]
Sullivan, Steven Edward. Settlement Expansion on the Northeast Coastal Frontier of Colonial New England: St. Georges, 1719-1759. 1987. (Thesis (M.A.) in History–University of Maine, 1987) [University of Maine, Raymond H. Fogler Library, Special Collections]
National Register of Historic Places – Listings
Allen's Island, Address Restricted, see Georges Islands
Marshall Point Light Station [Marshall Point, Port Clyde Harbor, see Port Clyde]
Mosquito Island House
[south of St. George on Mosquito Island] The House is an unusual example of what is clearly a very early granite Cape Cod house. The stone was cut with a tonguing iron and dry pine or spruce wedges hammered into the slot thus cut. Boiling water poured on the wedges caused expansion which split the granite, a very laborious process not used commonly after 1750.
---
(The foundation remains of another house on the island, built in 1830, was cut using the more modern star drill and pin and feathers.) All granite was cut from ledges on the island. The island was used by Indians for many summer seasons and contains sizeable shell heaps. The house existed as early as 1820 and it may be considerably older since the first recorded conveyance of the property is in 1785. Other architectural evidence suggests a late 18th century building date.* [Frank A. Beard photo]
Sail Loft [off Maine Route 131 Tenants Harbor]
Tenants Harbor Light Station [Southern Island, see Tenants Harbor]
Whitehead Light Station [East side of Whitehead Island, see Tenants Harbor]