| Year | Population |
| --- | --- |
| 1970 | 712 |
| 1980 | 827 |
| 1990 | 916 |
| 2000 | 940 |
| 2010 | 1,053 |
Geographic Data
N. Latitude
44:56:26
W. Latitude
69:48:29
Maine House
District 111
Maine Senate
District 3
Congress
District 2
Area sq. mi.
(total) 41.0
Area sq. mi.
(land) 39.9
Population/sq.mi.
(land) 26.4
County: Somerset

Total=land+water; Land=land only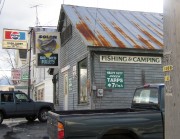 [SOW-lihn] is a town in Somerset County, incorporated on February 23, 1809 from the township T1 R2 EKR.
Settled in 1782 by William Hilton of Wiscasset, it was named for one of the great sages of Ancient Greece, in keeping with its neighboring town of Athens.
Substantial quantities of Indian artifacts, including pottery, knife blades, projectile points, and fire pits, have been discovered at an apparent camp site near the Kennebec River.
Just below Caratunk Falls at Arnold's Landing, Benedict Arnold and his army camped on October 7, 1775 before carrying their boats around the falls.
The 1842 South Solon Meeting House is a period piece well preserved, with colorful murals depicting religious themes on the walls. [See National Register information below.]
According to the Gazetteer of Maine in 1886,
The manufacture of the town are long and short lumber, meal and flour, carding and cloth-dressing, carriages, harnesses, harness pads, etc. The manufacturing and other business is almost wholly at Solon Village,–which, with its stream, is certainly one of the most pleasing villages in the State.
In the Kennebec, about a mile above the village are the Caratunk Falls, and the bay below it,–one of the passages most dreaded by the lumber men. The river is here compressed into a long, narrow channel of rock, with a broad, jagged plain of rock on the right,–where, at a rise of the water, great masses of logs are thrown.
In 1880 the population was 1,013, just 40 fewer than in 2010.
The Solon Hotel (above center) is a landmark at the village.  "Caratunk Hall," built in 1840, is now a private residence. Solon Manufacturing was one of the few plants left in this once bustling factory town. The building has been demolished.
However, Kennebec Lumber was established in 2000, doubling in size in 2014. Annual production is approximately 12 million board feet, employing over 100 full time men and women. Its Maine Traditions unit produces flooring from Maine harvested wood.
According to the Maine Department of Inland Fisheries and Wildlife, Anders Olafson of Starks landed a record breaking 8.42 lb rainbow trout from the Kennebec River here on October 31, 2010.
Solon is located at the junction of U.S. Route 201, 201A, and Maine Route 8.
Form of Government: Town Meeting-Select Board.
Additional resources
Davis, Isaac Franklin. A History of Solon, Maine. 1963. (Thesis (M.A.) in History–University of Maine, 1963.) [University of Maine, Raymond H. Fogler Library, Special Collections]
History Committee of the Solon Sesquicentennial. Sketches from Solon's History. Skowhegan, Me. Skowhegan Press. 1959.
History of the Town of Solon. 19?? [University of Maine, Raymond H. Fogler Library, Special Collections]
Maine. Department of Inland Fisheries and Wildlife. "Starks Resident Catches Record Rainbow Trout." http://www.maine.gov/ifw/news_events/pressreleases/2010/11-12-10.htm (accessed June 8, 2010)
*Maine. Historic Preservation Commission. Augusta, Me.   Additional text and photos from National Register of Historic Places: http://pdfhost.focus.nps.gov/docs/nrhp/text/80000255.PDF and http://pdfhost.focus.nps.gov/docs/nrhp/photos/80000255.PDF.
Varney, George J. A Gazetteer of the State of Maine. 1886. p. 515-517.
Weston, Samuel. Samuel Weston's Field Book, Jan. 1791: of the survey of three townships on the east side of Kennebec River, viz, no. 1, 1st range, now Madison, no. 2, 1st range, now Cornville, no. 1, 2nd range, now Solon: to which is added the survey of the settlers lots. Transcribed by John E. Leland. Madison, Me. J.E. Leland. 2002. [Maine State Library]
National Register of Historic Places – Listings
Caratunk Falls Archeological District, Address Restricted
South Solon Meetinghouse
[5 miles Southeast of Solon] The 1842 Meetinghouse is an excellent example of a rural Gothic Revival church. The interior is well-preserved, its box-pews being wholly intact. In the 1950s, students and faculty of the Skowhegan School of Painting and Sculpture executed a remarkable series of frescoes depicting Biblical themes.
The interior is completely intact from the high pulpit to the box pews with their brass numbered doors. Frescoes decorating the wall and ceiling surfaces were executed 1952-1957 by artists from the prestigious Skowhegan School located nearby. Only the most talented artists are admitted to the School where they receive instruction from the top contemporary painters and sculptors. Chosen by jury, many of those who worked on the meetinghouse are nationally known artists, including William King, Philip Bornath, Henry Varnum Poor, Alfred Blaustein and Edwin Brooks.* [Link to the Meetinghouse]