| Year | Population |
| --- | --- |
| 1970 | 325 |
| 1980 | 554 |
| 1990 | 469 |
| 2000 | 612 |
| 2010 | 630 |
Geographic Data
N. Latitude
45:14:31
W. Latitude
69:06:26
Maine House
District 119
Maine Senate
District 4
Congress
District 2
Area sq. mi.
(total) 38.0
Area sq. mi.
(land) 37.0
Population/sq.mi.
(land) 17.0
County: Piscataquis

Total=land+water; Land=land only
[seh-BEK] is a town in Piscataquis County, incorporated on February 28, 1812 from the township T4 R7 NWP.
It ceded land to Plantation T3 R6 in 1818 and to Bowerbank in 1927.
In the 1820's and 1830's, several stores were in operation in the Village.
The origin of the name is the same as that of Sebago and reflects the idea of a "great lake." Sebec village lies at the eastern most end of Sebec Lake.
The Gazetteer of Maine had these observations in 1886:
The principal manufacturing is on the outlet of Sebec Lake at the village.
There is at this place a saw-mill producing large and small lumber, a cedar tub factory, a carriage and a woolen factory. . . .
Capt. Ezekiel Chase was the first clear settler [having cleared his land in 1820].
He had been a Revolutionary soldier, loved to roam the forest, and had become a successful hunter.
At the time the town supported nine schoolhouses with a population in 1880 of 876.
The Sebec Woman's Christian Temperance Union was organized on July 23, 1894. Its mission was to prohibit alcoholic beverages and encourage personal abstinence.
The 6,000+ acre Sebec Lake, shared with Bowerbank and Willimantic, dominates the northwestern area of the town.
While the lake has a maximum depth of 155 feet, the portion in Sebec ranges from 40 feet to less than 10 feet near its outlet to the Sebec River in Sebec village.
Several small ponds dot the landscape, including the 28-acre Garland Pond.
Through removal of unwanted species and stocking of brook trout, the pond supports the trout fishery.
It is accessible at the town line with Dover-Foxcroft on combined Route 6/16.
In the south of the town, the Piscataquis River forms much of the boundary between Sebec and Atkinson.
The rich farmland near the river appears to be productive.
Located between Dover-Foxcroft to the west and Milo to the east, the town is connected to both by Maine combined Route 6 and 16, and by the Piscataquis River.  Here are some rural views on Route 16: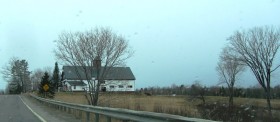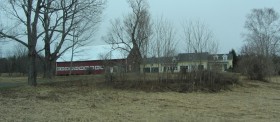 Form of Government: Town Meeting-Select Board.
Additional resources
Roberts, Gwilym R. Sebec, Maine: Before, During, and After the Civil War. Farmington, Me. University of Maine Farmington. Printing Department. 1991.
Sawtell, William R. Old Sebec. W.R. Sawtell, c1999-2007. (Old Town, Me. Howland's Printing)  [University of Maine, Raymond H. Fogler Library, Special Collections; Maine State Library; Bangor Public Library]
Woman's Christian Temperance Union (Sebec, Me.) Records, 1894 July 23-1899 March 23. (Cataloger Note: Records of a local union of the Woman's Christian Temperance Union in the late 19th century in Maine. Included are minutes of the meetings, lists of members, and lists of officers.) [University of Maine, Raymond H. Fogler Library, Special Collections]
Varney, George J. A Gazetteer of the State of Maine. 1886. pp. 506-507
National Register of Historic Places – Listings
Burgess House
[off Maine Route 11]
Harriman School
[north side of North Road, 1.7 miles Northeast of junction with Parson Landing Road]