| Year | Population |
| --- | --- |
| 1970 | 1,107 |
| 1980 | 1,398 |
| 1990 | 1,219 |
| 2000 | 1,270 |
| 2010 | 1,343 |
Geographic Data
N. Latitude
45:07:26
W. Latitude
69:18:39
Maine House
District 119
Maine Senate
District 4
Congress
District 2
Area sq. mi.
(total) 39.7
Area sq. mi.
(land) 38.5
Population/sq.mi.
(land) 34.9
County: Piscataquis

Total=land+water; Land=land only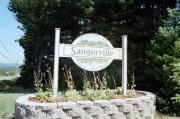 [SANG-ehr-vil] is a town in Piscataquis County, incorporated on June 13, 1814 from the township T4 R6 NWP. It later ceded land to Guilford in 1889.
The area was settled almost eighty years earlier when Phineas Ames brought his family there in 1803. Shortly thereafter, William Farnham reportedly brought young apple trees from Garland and planted the first orchard.
Though called Amestown for Ames its earliest settler, upon incorporation it was renamed in honor of its early proprietor, Colonel Calvin Sanger of Sherborn, Massachusetts.
Bronze plaques mark the birthplaces of inventor Sir Hiram S. Maxim and mining tycoon Sir Harry Oakes, apparently a descendent of the Oakes family that had moved there by 1808.
Sangerville has been a small lumbering and agricultural community for most of its history. Adjacent to Guilford, its main village is just south of the Piscataquis River, which forms its northern boundary.
In the 1880's Sangerville village hosted a grist mill, a sawmill, a tannery, and a woolen mill, which employed about fifty people. Elsewhere in town there were three sawmills, a shingle mill, and another grist mill.
The town has several ponds, the largest of which is Manhanock, accessible by a boat ramp off Route 23 near Sangerville village. Manhanock and Harlow (in Parkman) ponds are managed as one 595-acre water body since fish pass freely under a bridge separating the two.
The 403-acre Center Pond, a recreational area, is indeed in the center of the township and is accessible off the Silver Mills Road.  The 93-acre Marr Pond is in East Sangerville.

Congressional Medal of Honor winners:
CHARLES A. CLARK; OTIS O. ROBERTS
Form of Government: Town Meeting-Select Board-Manager.
Additional resources
175th Anniversary Sangerville: Centeseptquinary, 1814-1989. Sangerville, Me. History Book Text Committee. 1989. [University of Maine, Raymond H. Fogler Library, Special Collections; Maine State Library]
Bailey, Parley A., 1822-1904. Correspondence, 1864-1865. (Cataloger Note: letters written to and from Bailey and his wife Judith, and from his daughter Mary while he was serving in the Civil War.)
Dover, Foxcroft, Guilford, Sangerville, Dexter, Newport, Corinna Souvenir 1908. 1908? University of Maine, Raymond H. Fogler Library, Special Collections]
Record Book of School Districts No. 3 and 5 in Sangerville, Maine, 1832-1848. [University of Maine, Raymond H. Fogler Library, Special Collections]
Sangerville Sesquicentennial 1814-1964: June 13, 1964. Maine. 1964. [Maine State Library]
Schultz, Sieferd C. Guilford and Sangerville. Charleston, SC. Arcadia Publishing. c2008.
Varney, George J. A Gazetteer of the State of Maine. 1886. pp. 499-500.
National Register of Historic Places – Listings
Carleton, Robert, House, North Main Street
Sangerville Town Hall, Main Street