| Year | Population |
| --- | --- |
| 1970 | 941 |
| 1980 | 1,023 |
| 1990 | 1,063 |
| 2000 | 1,052 |
| 2010 | 1,168 |
Geographic Data
N. Latitude
44:58:41
W. Latitude
70:43:40
Maine House
District 117
Maine Senate
District 17
Congress
District 2
Area sq. mi.
(total) 55.7
Area sq. mi.
(land) 41.6
Population/sq.mi.
(land) 28.1
County: Franklin

Total=land+water; Land=land only
[RAANJ-lee] a town in Franklin County, incorporated on March 29, 1855 from a portion of Rangeley Plantation.
The area received it name from Squire James Rangeley, a Yorkshire Englishman who, in 1825, began to establish a great estate, including a saw mill, a grist mill and a ten-mile long road to connect to the outside world.
In 1879 the Sandy River & Rangeley Lakes (SR&RL) narrow-gauge railroad was organized. The largest of these railroads in Maine, the SR&RL ran from Farmington, where it interchanged with the standard gauge Maine Central, to Strong, Phillips, and Rangeley.
The town is at the center of the Rangeley Lakes Region with many hotels, campsites, boat launching facilities, recreational opportunities, shops, eateries, a theater and historic places.
The region was the setting for Louise Dickenson Rich's 1942 book We Took to the Woods. The "Orgone Energy Observatory" established by the controversial Wilhelm Reich may be found here.
The main village is located on Town Cove of Rangeley Lake at the junction of Maine Routes 4 and 16. The historical society occupies the vintage Rangeley Trust Company building on the main street.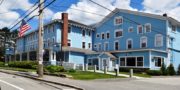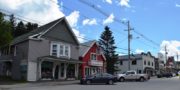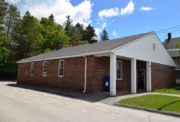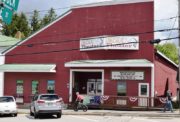 Cupsuptic and Mooselookmeguntic lakes are part of the Rangeley Lakes Region.  They are located just west of the town of Rangeley, offering long lake frontages in the town, in addition to that of Rangeley Lake.
Rangeley Lake's Hunter Cove nature preserve consists of three miles of trails through cedar swamp, spruce-fir forest, mature poplars, white pines, and alder thickets. The sanctuary, part of the state game preserve, is maintained by the Maine Audubon Society.
Bald Mountain Public Reserved Land features a one mile trail to the summit that offers panoramic views of Rangeley, Cupsuptic and Mooselookmeguntic lakes and the Height of Land. Especially popular in the fall with autumn colors, the area contains more than 200 species of wildlife in its 1,873 acres.
Oquossoc Village
Oquossoc is a village in western Rangeley with frontage on Mooselookmeguntic and Rangeley lakes.  The name means "Place at other side of little stream." In addition to the historic log church, it has marinas, an outdoor sports shop, and a Maine Forest Service station, along with a fire station and a post office.
Form of Government: Town Meeting-Select Board-Manager.
Additional resources
Priest, Gary. History of Rangeley Hotels and Camps. Rangley, Me. G. Priest. 2003. [University of Maine, Raymond H. Fogler Library, Special Collections; Maine State Library]
Hoar, J. Sherman. Pioneer Days of Rangeley, Maine. Lewiston, Me. Lewiston Journal Printshop. 1928. [Maine State Library]
Haines, Zenas Thompson. Squire Rangeley's Township: Recollections from a Boyhood and Youth on the Upper Androscoggin Lakes, 1837-1849. Rangeley, Me. Highlander Publishing. 1970. [University of Maine, Raymond H. Fogler Library, Special Collections; University of Maine at Farmington, Mantor Library; Maine State Library]
*Maine. Historic Preservation Commission. Augusta, Me.   Text from National Register of Historic Places: http://pdfhost.focus.nps.gov/docs/nrhp/text/xxxxxxxx.PDF
Oquossoc Log Church: 84001368.PDF and ** "Oquossoc Log Church celebrates centennial." http://www.rangeley-maine.com/rangeley-news/oquossoc-log-church-celebrates-centennial/ (accessed March 6, 2017)
Rangeley Public Library: 78000161.PDF
Rangeley Trust Company Building: 89000846.PDF
National Register of Historic Places – Listings
Oquossoc

Log Church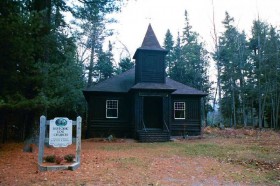 [Maine Route 4] The Oquossoc Log Church, also known as Oquossoc Union Church, is the only structure of its kind built entirely of spruce logs, including most of the interior furnishings such as the altar and pulpit. Like the 1909 Rangeley Public Library, it was financed by summer residents in this popular recreational area. In 1915 a group was formed which began soliciting funds. The building was completed in 1916 as a non-denominational summer church.*
In 1980, in order to strengthen the church's numbers and support, the members elected to permit summer residents to become voting members. Together, the year-round and summer residents have continued summer services and have kept the log structure in good repair. The Church holds non-denominational services from late June through August, Sundays at 9 a.m. All visitors are welcome. The members also share the Log Church with the local Jewish community, which holds services there Friday evenings throughout the summer.**
Orgone Energy Observatory
[west side of Dodge Pond Road .65 miles north of Junction Maine Routes 4 and 16]  A Freudian analyst born in Austria in 1897, Wilhelm Reich was trying to prove the energetic reality of the "Libido" which Sigmund Freud had coined. A Freudian analyst born in Austria in 1897, Reich was trying to prove the energetic reality of the "Libido" which Sigmund Freud had coined.
Rangeley Public Library
[Lake Street; N44° 57′ 52.24″ W70° 38′ 33.25″] The Library is a small structure of unusual charm and grace suited exactly to the ambiance of this early summer resort region. Built entirely of native Maine materials and designed by Ambrose Walker of New York City in a modified Romanesque Revival style, it rests on a side street that runs down to the shore of Rangeley Lake.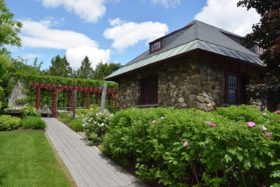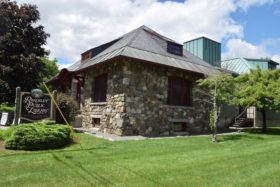 By the 1870s the scenic beauty and relatively cool summers brought an increasing number of seasonal visitors and the area became a popular resort center. As in the case of many another summer colony, Rangeley drew people accustomed to and interested in cultural facilities, not the least of which was an adequate library. At first a largely donated collection of books was housed in a corner of Mrs. Emma McCard's dressmaking establishment. In 1907 a Library Association was formed and after a brief but successful fund drive land was acquired. Dedication exercises were held on August 12th, 1909.*
Rangeley Trust Company Building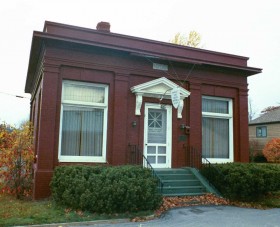 [Main Street] The Rangeley Trust Company Building was the first brick commercial building in Rangeley, built by Harry A. Furbush, a legendary local businessman. Designed in the Classical Revival style by architect William R. Miller in 1905, the Trust building was also Rangeley's first bank and later served as the town hall before becoming home to the local historical society.
Rangeley, once a small farming community of 238 persons in 1860, began to grow considerably during the last two decades of the 19th century and into the first decade of the 20th century, as a result of its attraction as a "fishing paradise". The first major hotel built in Rangeley was the 1877 Rangeley House and by 1890 there were five hotels in addition to numerous sporting camps. The proliferation of camps and hotels and increasing numbers of vacationers and sportsmen stimulated growth in Rangeley Village.
When the bank outgrew the building, Furbush built a larger facility in 1922. The building then served as the town hall until 1979. That year the Town deeded the building to the Rangeley Lakes Historical Society, and it now serves as their museum and headquarters. The Rangeley Trust Company Building is historically significant as a building associated with Rangeley's early commercial development, which was in part due to H. A. Furbish. It is also architecturally significant as a design by architect William R. Miller, who had a thriving Lewiston business at the time of the building's construction.*