| Year | Population |
| --- | --- |
| 1970 | 1,741 |
| 1980 | 1,832 |
| 1990 | 1,949 |
| 2000 | 1,911 |
| 2010 | 1,772 |
Geographic Data
N. Latitude
44:14:10
W. Latitude
69:45:08
Maine House
District 87
Maine Senate
District 14
Congress
District 2
Area sq. mi.
(total) 2.2
Area sq. mi.
(land) 2.1
Population/sqmi
(land) 843.8
County: Kennebec

Total=land+water; Land=land only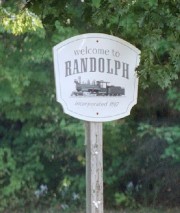 [RAN-dolf] is a town in Kennebec County, incorporated as West Pittston on March 4, 1887 from Pittston.
Within two weeks, it changed its name in honor of Randolph, Massachusetts, which itself was named for Peyton Randolph of Virginia, the first President of the Continental Congress.
Though an early settler reportedly arrived in 1670 and was killed by Indians in 1675, the first permanent settlers arrived about 1760.
Nathaniel Perry, the last surviving member of General George Washington's Life Guards is buried in the Maple Grove Cemetery.
The old Gardiner-Pittston Bridge was opened as a toll bridge in 1853, but in 1887 the two towns (now Gardiner and Randolph) bought it and removed the tolls.
A new bridge, from which this photo was taken, has replace the original.
A pedestrian trail starts just south of the IGA grocery store on Water Street and extends from the Kennebec River through Randolph and Chelsea.
The trail once linked the river and the National Home for Disabled Volunteer Soldiers, now Togus Veterans Home.
That was during the 1800's by the narrow-gauge (two-foot wide tracks) Kennebec Central Railroad.
A suburb of Augusta, Randolph, tiny in terms of land area, lies on the east bank of the Kennebec River at the junction of Maine Routes 9, 27, 126, and 226.
Form of Government: Town Meeting-Select Board.
Additional resources
75th Anniversary Celebration of the Town of Randolph, Maine, August 9, 10 & 11, 1962. Gardiner, Me. Knight Printing. 1962? [University of Maine, Raymond H. Fogler Library, Special Collections; Maine State Library]
Chadbourne, Ava Harriet. Maine Place Names and The Peopling of its Towns.
Randolph, Maine, 1887-1962. Randolph Fireman's Association. 1962? [University of Maine at Farmington. Mantor Library]
Smith, Danny D. and Earle G. Shettleworth, Jr. Gardiner.  Charleston, SC. Arcadia Pub. c2008. [University of Maine, Raymond H. Fogler Library, Special Collections; Maine State Library]
Town of Randolph. New York. H.W. Blake & Co. 1892. (Cataloger Note: Extracted from: Illustrated History of Kennebec County Maine, 1625-1799-1892 . Editors Henry D. Kingsbury, Simeon L.Deyo) [Maine State Library]