| Year | Population |
| --- | --- |
| 1970 | 787 |
| 1980 | 998 |
| 1990 | 1,332 |
| 2000 | 1,625 |
| 2010 | 1,672 |
Geographic Data
N. Latitude
44:10:53
W. Latitude
69:42:07
Maine House
District 87
Maine Senate
District 14
Congress
District 1
Area sq. mi.
(total) 33.3
Area sq. mi.
(land) 32.2
Population/sq.mi.
(land) 82.8
County: Kennebec

Total=land+water; Land=land only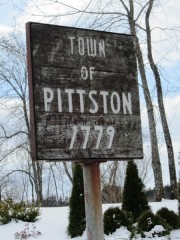 [PITS-tihn] is a town in Kennebec County, incorporated on February 4, 1779 from Gardinerstown Plantation.
It set off land to form Gardiner in 1803 and West Pittston, now Randolph, in 1887.
Though the land was still owned by Dr. Sylvester Gardiner, local residents wanted the name changed from Gardinerstown since Gardiner, a Tory, had fled the country during the Revolution.
Apparently it was named for a Boston lawyer-legislator, John Pitt.
The Reuben Colburn House in Pittston, Maine is the site of one of the original settlements in Maine. Built in 1765, it was one of the first on the east side of the Kennebec River in an area later known locally as Colburntown. The house and carriage house is now owned by the Arnold Expedition Society.
In the photo below the bateaux, at left foreground is a historical marker noting the site of Benedict Arnold's headquarters in 1775.
Reuben's father, Jeremiah, Sr., and later his brother, Jeremiah, Jr., lived in the Jeremiah Colburn house, built in 1765.
Reuben Colburn provided transport, some provisions, and some critical intelligence to Benedict Arnold's expeditionary army on its march through Maine during the two-pronged American invasion of British-held Canada in 1775-1776.
George Washington had contracted with Colburn for 200 bateaux, which were delivered to Arnold, who had lodged in Colburn's house. The boats, made of green wood, leaked; Colburn never was paid.
Pittston resident Colonel Henry Dearborn, later President Jefferson's Secretary of War, joined Arnold's Expedition.
The village of East Pittston is located on the Eastern River near the town line with Whitefield. Route 194 serves the village and the Pittston Fair Grounds nearby.
Situated south of Randolph on Maine Route 27 and the Kennebec River, the town was once a center of ice harvesting before refrigeration ended the trade. Several fine homes overlook the river from a hill on the south side of Route 27.
---


<== To Quebec                           To Beginning ==>

National Register of Historic Places – Listings
---
Colburn House State Historic Site
[Arno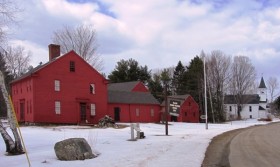 ld Road, 0.1 mi. So. of Jct. with Me. Rt. 27] First first known as Gardinerstown, the area known locally as "Colburntown" was later changed to Pittston. In 1761, four brothers Jeremiah Jr., Oliver, Reuben, and Benjamin, along with their parents and four sisters, moved to the area from Massachusetts. Reuben Colburn was one of the first shipbuilders north of Bath. As the colonies progressed toward the Revolution, he was a prominent figure in the national effort. He made three trips to Cambridge in the summer of 1775 and was commissioned by General Washington to supply boats, supplies and services for an attempt to capture Quebec City from the British. He gathered Chiefs from the Indian tribes of St. Francis, brought them to Cambridge and presented them to Washington who enlisted their services in the American effort. Reuben Colburn was given the responsibility to supply an army of 1000 men. His time frame was short and work on 200 bateaux began three weeks before the proposed date of departure for the expedition.
The army arrived on board the "Broad Bay" anchoring at Colburn's on Sept. 20th, 1775, led by Col. Benedict Arnold accompanied by 19 year-old Aaron Burr. They spent the night in the Colburn House before moving on in the bateaux and by wagon to Fort Western ten miles north. Colburn went on the mission to repair the bateau as ordered by Washington. Colburn was never paid for his expenses, probably because the boats leaked having been made from green wood. He fought the Congress unsuccessfully until his death in 1818. The family carried on this fight until 1856.
His 1765 house was purchased by the State of Maine in 1971 and since has been known as the Colburn House State Historic Site. In 1974 the building was leased to the Arnold Expedition Society, a group dedicated to researching and interpreting the history of Arnold's military trek. The Society has enabled the State Historic Site to function as a house museum in which both Arnold's march and Reuben Colburn's participation are rendered tangible.*
Colburn School
[Ar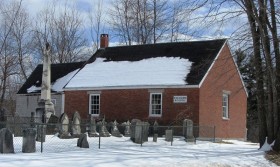 nold Rd., 0.4 mi. South of Junction with Maine Route 27] The c. 1815 Colburn School is a one-story, one room brick building with an attached frame ell. It was used as a school house until 1964. There were no fewer than nineteen school houses in the community in 1803 when the town of Gardiner was created from its western half. The town had begun organizing school wards and hiring schoolmasters in 1785. In 1815 the town determined the boundaries of ten school districts, each district electing its own committee. In that year Samuel Oakman sold the small plot of land on which the Colburn School stands to the Middle South School District, as his contribution to the expense of construction. The school got its name from the area of Pittston first known as Colburn Town, on the east bank of the Kennebec River.
Riverside Cemetery borders the Colburn School property on its northern side, and is the resting place of many members of the Colburn family. In 1932 the town appropriated funds for a playground at the Colburn School. That year 1932 the school's wooden benches were replaced with seats originally used by Boothbay Harbor schools. In 1959 the town sold the Colburn School, land and building, along with all other town school district buildings, to School Administrative District #11. Use of the school discontinued in 1964, with ownership eventually returning to the town in 1973.
Twelve years later the local government sold the property to the Pittston Literary and Historical Society for one dollar. The Society holds its monthly business meetings at the school, as well as annual fund-raising events held in conjunction with the Arnold Expedition Historical Society. The one room school house was a familiar object in the rural landscape of 19th and early 20th century Maine. It was the traditional system in which towns subdivided themselves into school districts, each of which contained a school house to serve its particular locale. Although the district school system became a target for 19th century school reformers, its effect was to produce a vast number and variety of buildings: more than 4,000 by the turn-of-the-20th century. Consolidation efforts have taken a dramatic toll on the number of these schools that survive. In 1960, for example, only 226 schools in Maine were being held in one-room buildings.*
Moody Mansion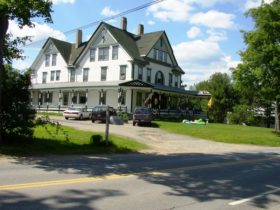 [ME 194, across from the junction with Hanley Road]  The Moody Mansion in East Pittston is a dominant architectural presence in this small community. Designed in 1890 for Leonard and Marianna Moody the large, ornate Queen Anne Style house dwarfs the other village structures, stylistically and physically. Leonard Moody was a native of East Pittston, who moved to Brooklyn in 1869, succeeding in the real estate business.
The East Pittston house was his summer home, serving both as a retreat for him and his family and as a facility to entertain his business associates. The Mansion is a good example of the Queen Anne style, especially noteworthy for its decorated gables, arched windows and elaborate wrap-around porch, as well as fine interior finishes and detailing.*
Pittston Congregational Church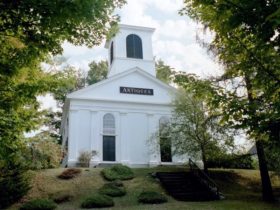 [Junction Maine Route 27 and Maine Route 194] This Church building has its primary significance in its architecture, combining Federal, Greek Revival, and Gothic Revival styles. It is also a reminder of the devotion of church members who established the congregation and the meeting house. The building is important for its historical association since it was organized at the home of Major Reuben Colburn on November 17, 1812. Five ministers and eight church, members attended. Major Colburn was a devout Congregationalist who, for many years, had taken his family to the Congregational meeting in Georgetown. This meant a 35-mile trip in a canoe to Georgetown each Saturday, and a 35-mile paddle back upstream on Monday.
The church was built in 1836. By 1851 it had 46 members, a Sunday school with 40 students, and a library of 200 volumes. The building was used as a church until 1894 when a new, more centrally located structure was built. It is has recently been well maintained as an antique shop. Standing prominently on a hill overlooking the Kennebec River, the Pittston Congregational Church is an important local landmark of exceptional architectural merit.*
---
Additional resources
Chadbourne, Ava Harriet. Maine Place Names and The Peopling of its Towns.
Coffin, Kennebec: Cradle of Americans, p. 07
Hanson, J. W. (John Wesley), 1823-1901. History of Gardiner, Pittston and West Gardiner: with a sketch of the Kennebec Indians, & New Plymouth purchase, comprising historical matter from 1602 to 1852; with genealogical sketches of many families. Salem, Mass. Higginson Book Co. 1852. [reprinted 1995]
*Maine. Historic Preservation Commission. Augusta, Me.   Text and additional photos from National Register of Historic Places: http://pdfhost.focus.nps.gov/docs/nrhp/text/xxxxxxxx.PDF and http://pdfhost.focus.nps.gov/docs/nrhp/photos/xxxxxxxx.PDF
Colburn House State Historic Site: 04000741
Colburn School: 00001633.PDF
Former Pittston Congregational Church: 78000179.PDF
Moody Mansion: http://landmarkhunter.com/138028-moody-mansion/
Palmer, Rundlette Kensell. A History of Pittston, Maine: Bi-centennial Year 1779 to 1979. Published by the Author. 1979.
"Town of Pittston." New York. H.W. Blake & Co. 1892. Extracted from: Illustrated history of Kennebec County Maine, 1625-1799-1892. Editors Henry D. Kingsbury, Simeon L.Deyo. Maine State Library.
York, Mark A. An Introduction to Major Reuben Colburn. http://www.rootsweb.com/~aehs/Major_Colburn/colburn_intro.pdf. Accessed December 21, 2003
York, Mark A. Patriot on the Kennebec: Major Reuben Colburn, Benedict Arnold, and the March to Quebec, 1775. Charlseton, SC. The History Press. 2012.