| Year | Population |
| --- | --- |
| 1970 | 208 |
| 1980 | 235 |
| 1990 | 316 |
| 2000 | 344 |
| 2010 | 329 |
Geographic Data
N. Latitude
44:31:10
W. Latitude
70:49:28
Maine House
District 117
Maine Senate
District 18
Congress
District 2
Area sq. mi.
(total) 61.4
Area sq. mi.
(land) 61.4
Population/sq.mi.
(land) 5.4
County: Oxford

Total=land+water; Land=land only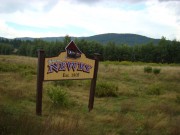 [NEW-ree] a town in Oxford County, incorporated on June 15, 1805 from Bostwick Plantation. In 1837 it annexed land from Andover Surplus West and township A2.
Settled in 1781, Newry, on Maine Route 26, is the Maine gateway to the hiking trails, including the Appalachian Trail, of Grafton Township. The Lower Sunday River School, one of the few remaining one-room schoolhouses in the area, has been effectively preserved to illustrate how it looked over a century ago.
The Step Falls Preserve, on U.S. Route 26, was the first preserve of the Maine Chapter of the Nature Conservancy; with 24 acres of cascades and pools which drop 200 feet in a quarter-mile. Grafton Loop Trail winds east-west beginning and ending at the Grafton Notch State Park parking lot in Grafton Township.
The Bear River rises from Grafton Notch and proceeds from northwest to southeast through the town.  U.S. Route 26 follows this river passing through the village of North Newry and exiting at the main village of Newry where it joins Maine Routes 2 and 5.
Built in 1872, the Sunday River Bridge crosses the river of the same name. It was built in halves, one on each side of the river.  Then it was settled on concrete abutments and fit correctly.  It has outlasted other bridges that had been swept away by the fast moving current.
The most painted and photographed covered bridge in the state, it is known as the Artist's Bridge. No longer used for traffic since 1955, it has been maintained in excellent condition.
The Sunday River Ski Resort is located off the Sunday River Road and the Skyway Road. It offers four season activities in the shadow of Black Mountain and Barker Mountain.
Form of Government: Town Meeting-Select Board-Administrator.
Additional resources
Beard, Frank A. and Bette A. Smith. Maine's Historic Places: Properties on the National Register of Historic Places. Camden, Me. Down East Books. c1982. pp. 381-383.
*Maine. Historic Preservation Commission. Augusta, Me.   Text and photos from National Register of Historic Places: http://pdfhost.focus.nps.gov/docs/nrhp/text/xxxxxxxx.PDF and http://pdfhost.focus.nps.gov/docs/nrhp/photos/xxxxxxxx.PDF
Foster Family Home: 94001247.PDF
Lower Sunday River School: 78000189.PDF
Sunday River Bridge: 70000059.PDF
Wilkins, Martha Fifield. Sunday River Sketches: A New England Chronicle. Rumford, Me. Androscoggin Publications. 1977.
Wight, Carrie. Newry, Maine, 1805-1955. Bethel, Me. The Oxford County Citizen. 1955.
Wight, Paula M. Newry Profiles, 1805-1980. Maine? P. M. Wight? 1980?
National Register of Historic Places – Listings
Foster Family Home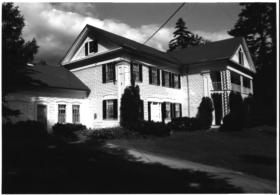 [Sunday River Road, west side, 1.5 miles northwest of junction with Skiway Road] The Foster Farm consists of a Greek Revival style house, a detached barn and stable set in the open meadows that make up a portion of the 255 acre property. A small local cemetery west of the house contains the graves of family members who occupied the farm.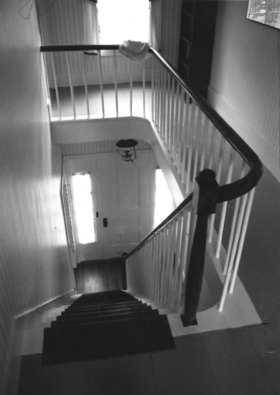 Apparently settled by Joel Foster during the first quarter of the 19th century, the farm was held by a descendant and used on a seasonal basis, at least until the late 1990s.
Joel Foster (1790-1877), with his father Abner Foster and grandfather Asa Foster, were among the first settlers of Newry in the 1780s. All three were active in local town government having served in various positions including selectman, treasurer, highway surveyor, and clerk. Joel Foster's father and grandfather owned property on the north side of the nearby bridge crossing over the Sunday River. Joel's farm was on the south side. By the time of the 1850 census, Joel Foster's farm had 90 acres of improved land and 110 acres of unimproved land with a total value of $1,500. Compared to his neighbors, Foster's was an average size farm producing a variety of products.
Joel and wife Marcia had five children, two of whom, Joel, Jr. and Caleb Fuller, lived nearby. Sometime prior to 1860 Joel Foster began the construction of the stylish two-story Greek Revival style house. In 1870, Joel Foster occupied a 140 acre farm valued at $2,000 and his son Caleb with a 100 acre farm valued at $900.
In 1870 Caleb Foster produced 200 pounds of hops. Hops had been raised in Oxford County as early as the late 1830s, but the peak of production occurred in the 1860s when nearly 300,000 pounds were raised statewide with more than half of the total in Oxford County. The relatively high – albeit often wildly fluctuating – price of hops made their desirable as a source of cash income, but Maine farmers could not sustain their position in the market, particularly after the country's first major commercial growing area began to develop in New York State in the 1860s. [With the rise of micro-breweries, hops growing is making a comeback as seen in Westfield.]
The course of events and family relationships of the first three quarters of the 19th century, probably changed significantly upon Joel Foster's death in 1877. This is evident in the 1880 census that shows Caleb Foster's mother was in his household, and that his farm had grown to 146 acres valued at $1,500. This property is his father's homestead; Caleb's other 100 acre parcel subsequently being integrated into the farm.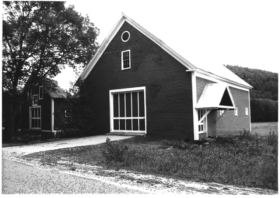 Caleb Foster was apparently the last family member to actively farm the property and make it his year round residence. His widow remained here until her death in 1909, after which the farm seems to have taken on the role of a summer residence, having descended to Foster's eldest son Celden B. Foster. Celden Foster was responsible for the construction of the barn in 1895. He had been engaged in the produce business in Boston for more than forty years. The seasonal use was been sustained by three later generations of the family.
In addition to its reflection of agricultural and demographic patterns in 19th and early 20th century Newry, the Foster farm is noteworthy for the architecture of the main dwelling. Although the Greek Revival style was popular throughout Maine from the 1830s into the 1860s, the use of a full portico – particularly with a porch on the second story – in a rural setting is uncommon.*
Lower Sunday River School
[southwest of Newry on Sunday River Road] This modest schoolhouse within the sound of Dug Hill Brook at Sunday River was a late 19th century rural school. Though closed it has been kept in excellent repair, the result of later occupancy as a Sunday School and community center. It retains its old atmosphere through of much of its original equipment. With some stroke of luck the Sunday River School, District No. 1 survived looking very much as it did long ago.
In the classroom are wood and cast iron desks of graduated sizes on wooden runners. All have glass ink wells and most carry the patent date of 1872. At the front of the room is a teacher's desk and chair. Also near the front is a tall "Mason & Hamlin" organ, dated "Boston, 1895", in excellent condition.
Though the building was converted to electricity by 1930, kerosene lamps with reflectors are still very much in evidence around the walls. A Regulator Clock and several copies of famous portraits of Washington, Lincoln, Longfellow and Coolidge also adorn the walls. In addition, two maps of Maine dated in the 1860s hang in the room. Both the desks and the corner storage room contain many of the books used while the school was active. The wooden globe, a hand bell, map box, abacus, and several wooden "games" of local origin, add to the authentic atmosphere.
The Lower School at Sunday River, one of the last one-room school buildings in northern Oxford County to remain intact, goes beyond this simple but important qualification in representing a now-faded era in rural education. Rather, its unaltered interior provides a startling view of a functioning Maine school as it looked in the late 19th century. [See photo above.]
Sunday River Bridge
[west of Newry, over Sunday River, Newry;   N44° 29′ 35.66″  W70° 50′ 25.61″] In 1808 a committee was chosen to contract for the building of a bridge over Sunday River, where the present "Artist's Bridge" is located. This is a scenic area in general and along the Sunday River it is in an idyllic setting, a favorite spot for artists. In 1811 $160 was paid for the bridge, presumable it was built in that year. In the fall of 1820 stone abutments were added. In 1825 and again in 1858, repairs were made.  The bridge, called "The Joel Foster Bridge" at that time, was washed away in the big freshet, October 4, 1869.
In 1871, a town meeting voted to build a bridge. Beams were hewed and the bridge was built. It fell in the fall. In 1872, another meeting was held and it was voted to build another bridge. Beams were again cut marked out, and assembled on the grass. When erected it settled into place correctly. It was then roofed over, and has been reroofed and kept in repair since.
This bridge withstood the freshet of 1927 because the fury of the current swept around the end of the bridge on the land, and thereby saved the foundations. The Sunday River Bridge was in constant use until 1955, when a change in the Sunday River Road bypassed the crossing. The bridge is maintained as a scenic turnout.* [See photos above.]