(1775-1861) was a farmer's son who decided to leave the land against his father's wishes. Born in Lexington, Massachusetts on May 29, 1775, he attended Leicester Academy, then graduated from Dartmouth in 1798.
After teaching briefly in Middlebury, Vermont while studying law, he was admitted to the bar in 1801. Shortly thereafter Cutler moved to Farmington to open his practice.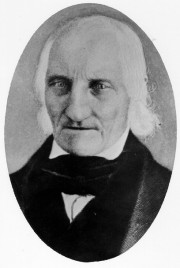 Active in politics, he represented the town at the Massachusetts General Court in 1809-11 and in 1819. Cutler was a Delegate to the Maine Constitutional Convention of 1819. A member of the State Senate in 1828 and in 1829, as President of that body, he became Governor upon the death of Enoch Lincoln.
A Democratic-Republican, he cast an electoral vote for Andrew Jackson in 1832. His last public office was as a member of the Legislature in 1844. Cutler died on June 8, 1861.
Additional resources
*Butler, Francis Gould. A History of Farmington, Maine. Farmington: Knowlton, McLeary and Co., 1885, pp. 275-276.
Chase, Henry, ed. Representative Men of Maine.
*"Gov. Nathan Cutler," Maine Historical and Genealogical Register, November, 1898, pp. 321-322.
———————-
*Cited in Friends of the Blaine House at http://blainehouse.org/governors(accessed April 25, 2011) (accessed April 25, 2011)