| Year | Population |
| --- | --- |
| 1970 | 680 |
| 1980 | 1,021 |
| 1990 | 1,362 |
| 2000 | 1,524 |
| 2010 | 1,640 |
Geographic Data
N. Latitude
44:27:57
W. Latitude
69:57:40
Maine House
District 76
Maine Senate
District 17
Congress
District 2
Area sq. mi.
(total) 43.2
Area sq. mi.
(land) 37.9
Population/sq.mi.
(land) 43.3
County: Kennebec

Total=land+water; Land=land only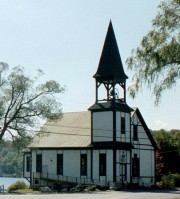 [VER-nuhn] is a town in Kennebec County, settled by 1770 and incorporated on June 28, 1792 from Washington Plantation. Continuing to honor President Washington, it took the name of his Virginia estate.
During the eighteenth century, as Massachusetts towns became crowded, proprietors who owned land in the "Eastern Country" (Maine) promoted settlement. But unexpectedly this frontier attracted the poor rather than the prosperous.
As Alan Taylor observed,
In the words of a Mount Vernon settler, the Eastern Country served as "an assalum for people to come and settle on that could not live anywhere else."
Between 1802 and 1853 it annexed land from Fayette, Goshen Plantation (later Vienna), Vienna, Rome and Belgrade. It swapped land with Readfield in 1825 and 1845.
An outlet from Parker Pond to Taylor Pond apparently powered a mill, now a curiosity, in West Mount Vernon. Is that a dragon fly on the roof?
The village of West Mount Vernon, with a small church and fire department, is located at the north end of Echo Lake and the south end of Taylor Pond.
The main village, Mount Vernon, is in the north of the town on Minnehonk Lake. With its country store, it is located at the junction of Route 41 and Belgrade Road, just west of the Belgrade Lakes.
Two Maine governors were born in the town, the first of whom was Jonathan G. Hunton (1781-1851) who served from 1830 to1831. Dr. John Hubbard (1794-1869), governor from 1850 to 1853, was known as the "Father of Prohibition," having signed Maine's first prohibition law, banning the sale and manufacture of liquor, in 1851. 19th century Member of Congress John Rice was born here.
In 1926, the novelist Erskine Caldwell moved to an old farmhouse in Mount Vernon, where he lived until the early 1930's.
The "Maine Chance," sponsored by beauty entrepreneur Elizabeth Arden, was a luxurious health spa that attracted many celebrities until its closure in 1970.
Mount Vernon has access to several lakes including Parker Pond, Torsey Lake, Echo Lake (Crotched Pond), Taylor Pond, and Long Pond, one the of Belgrade Lakes.
Form of Government: Town Meeting-Select Board-Administrative Assistant.
Additional resources
"Erskine Caldwell, The Art of Fiction No. 62." Interviewed by Elizabeth Pell Broadwell, Ronald Wesley Hoag. The Paris Review. Winter 1982, No. 86. http://www.theparisreview.org/interviews/3098/the-art-of-fiction-no-62-erskine-caldwell (accessed January 29, 2012)
Kingsbury, Henry D. Mount Vernon. New York. H.W. Blake. 1892.
Mount Vernon (Me.). Bicentennial Literary Committee. Mount Vernon Historical Review. Mount Vernon, Me. The Committee. Summer, 1992. [Maine State Library]
Smith, Beverly Wight. Turning Back: Stories of the Mt. Vernon-Vienna Area. Vienna. Me. Vienna Historical Society. c1985.
Taylor, Alan. Liberty Men and the Great Proprietors: The Revolutionary Settlement of the Maine Frontier, 1760-1820. Chapel Hill: University of North Carolina Press. 1990. pp. 61-63.