| Year | Population |
| --- | --- |
| 1970 | 2,062 |
| 1980 | 2,888 |
| 1990 | 3,353 |
| 2000 | 3,785 |
| 2010 | 4,104 |
Geographic Data
N. Latitude
44:14:21
W. Latitude
70:00:45
Maine House
Dist 81,82
Maine Senate
District 14
Congress
District 2
Area sq. mi.
(total) 39.0
Area sq. mi.
(land) 34.1
Population/sq.mi.
(land) 120.4
County: Kennebec

Total=land+water; Land=land only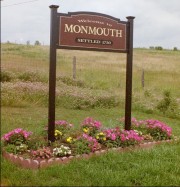 [MON-muth] is a town in Kennebec County, settled in 1775 and Welcome to Monmouth sign incorporated on January 20, 1792 from Wales Plantation.
It later set off land to Winthrop (1813) and Wales (1855).
Part of the Plymouth Patent, it was home to Revolutionary War General Henry Dearborn.
Named for the Revolutionary War Battle of Monmouth in which Dearborn took part, the town has an abundance of access to Cobbosseecontee, Annabessacook, and Cochnewagen lakes. Many lakeside cottages come to life during the summer months.
Monmouth is home to Highmoor Farm, a part of the University of Maine's agricultural experiment station network.
The Theater at Monmouth, specializing in Elizabethan productions, is a well respected destination. Its home is Cumston Hall, an ornate structure designed by muralist Harry H. Cochrane.
This growing town is located on U.S. Route 202 between Augusta and Lewiston, making it a convenient location for commuters to each city.
John Chandler came as an itinerant blacksmith, the poorest man in the settlement . . . . But his talents were of a higher order, and he rose to be the Major General Of the State Militia, a representative in Congress, a United States senator and later was appointed collector of the port of Portland. Among other residents were General James McClellan, . . . Colonel Greenleaf Dearborn of the United States army, General Ira Blossom, of Buffalo New York, and Hon. Anson G. Chandler.**

Congressional Medal of Honor
ANDREW J. TOZIER
The 1957 8½ minute film below was made in the Theater at Monmouth and on the shore of Gochnewagen Lake nearby.  While promotional for the once thriving broiler chicken industry, it includes a scene from the Theater's interior, the lake shore, and, across the lake, a brief glimpse (at 7:35) of an orchard at the agricultural experiment station.
Form of Government: Town Meeting-Select Board-Manager.
Additional resources
Chandler, Joseph, 1780-1846. An Oration Pronounced at the Centre Meeting-House in Monmouth, Maine, on the Fourth of July, 1806 [microform]: In Commemoration of American Independence. Portland Me. From the Argus-Press, by N. Willis. 1806. [University of Maine, Raymond H. Fogler Library, Microforms]
Cochrane, Harry Hayman. History of Monmouth and Wales. Monmouth, Me. Published as a collaborative project by Bunkhouse Books and The Monmouth Historical Society. 1988.
Griffiths, Arthur Morgan. Centennial History of Cumston Hall, Monmouth, Maine. Monmouth, Me. The Monmouth Press. c2000.
Harwood, Edward D. Diary, 1936-1938. (Cataloger Note: Diary of a resident of Monmouth, Auburn, and Lewiston, Maine during 1936 to 1938. Entries are brief but very descriptive. They include a record of the daily weather and temperatures, the hours he worked at Montgomery Ward and whether he worked at the Ward's warehouse, his time with his girl friend Madelyn, the movies they saw, visitors, and other daily activities. He also occasionally comments on world events such as the possibility of war in Europe in 1938) [University of Maine, Raymond H. Fogler Library, Special Collections]
*Maine. Historic Preservation Commission. Augusta, Me.  Text and photo from National Register of Historic Places: http://pdfhost.focus.nps.gov/docs/nrhp/text/xxxxxxxx.PDF, http://pdfhost.focus.nps.gov/docs/nrhp/photos/xxxxxxxx.PDF
Blosson House: 89000250.PDF
Cumston Hall: 73000130.PDF
Mitchell, H. E. The Town Register: Wayne, Wales, Monmouth, Leeds, Greene, 1905. Brunswick, Me. H. E. Mitchell. 1905.
** Varney, George J. A Gazetteer of the State of Maine. 1886. p. 369.
National Register of Historic Places – Listings
Blossom House
[Main Street] The Ansel Blossom House is a mid-Federal period cape with a large central chimney. Originally a farmhouse with a wing, the house is the oldest known surviving building in Monmouth. The wing was replaced in the late 19th century by a two-story addition but most of the architectural features of the original part of the house remain.
The house (smaller portion of the building with central chimney in photo above) is believed to have been built about 1808 by Ansel Blossom, son of Captain James and Asenath Blossom. He was one of the petitioners to the Massachusetts General Court in 1801 requesting a Free Grammar School for Monmouth. He reportedly moved west and his former home became known as Brown's Hotel. The original section has become the property of the Monmouth Historical Society and is used as a museum space.
A noteworthy local example of an early Federal style cape form, the Blossom House is the most intact building in Monmouth from this period. Surrounded by Monmouth's later 19th century buildings, the house is the only remaining example of an early 19th century building form, an important reminder of the modest dwellings that were common in early 19th century Maine.*
Cumston Hall
[Main Street] Cumston Hall is an unusual Multi-purpose community building. Built 1899-1900, the large Romanesque building is on the east side of Main Street in the center of town. It was given to the town by Dr. Charles M. Cumiston. Harry Hayman Cochrane designed the hall, supervised the construction and decorated the interior.
Augusta born Cochrane (1860-1946) attended Monmouth Academy, the New York Art School and the Chicago Art Institute. After working in Boston and New York, he returned to Monmouth in 1887. A photographer, portrait painter, composer, musician and writer, he was primarily a mural painter. Among his best known works are murals of the Lewiston Shriners Kora Temple, the Methodist Church in Monmouth and Hebron Academy. His murals decorate buildings throughout New England. With no formal training as an architect, he gained experience from the renovation of the many churches he decorated. Cochrane wrote The History of Monmouth and Wales, served in the 79th Maine Legislature and designed the State of Maine Centennial coin in 1920.
Cumston Hall is an outstanding wooden Romanesque style building. The odd combination of spaces, the asymmetrical facade and the elaborate detailing present an extremely lively and interesting exterior, disciplined by the size and arrangement of the spaces. The theater is a handsome intimate, yet grand performance venue. A multi-purpose community building, unusual when Cumston Hall was built, its functions are suggested by its multi-faceted architecture.* [See photos above.]