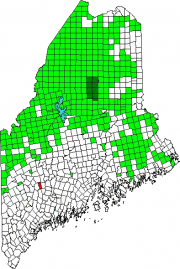 | Year | Population |
| --- | --- |
| 1970 | 1,610 |
| 1980 | 1,826 |
| 1990 | 1,950 |
| 2000 | 2,106 |
| 2010 | 2,095 |
Geographic Data
N. Latitude
44:240:32
W. Latitude
70:12:42
Maine House
Dists 74,75
Maine Senate
District 18
Congress
District 2
Area sq. mi.
(total) 39.4
Area sq. mi.
(land) 37.7
Population/sq.mi.
(land) 55.6
County: Androscoggin

Total=land+water; Land=land only
[LIV-ehr-more] is a town in Androscoggin County, incorporated on February 28, 1795 from Livermore Plantation.
Over the next half century it ceded land to Leeds and Wayne and to form East Livermore (Livermore Falls). In 1834 it annexed part of Chandler's Gore.
Deacon Elijah Livermore arrived in the area in 1779. He built the first mill in 1782 or 1783 near Long Pond.
In the early 1800's, he followed with  a grist mill and a saw mill on the outlet from Brettuns Pond.
North Livermore village is centered on twin water bodies, Round Pond and Long Pond, split by Maine Route 4.
The North Livermore Baptist Church (left) graces the community.
The church is located just a few miles north of "The Norlands" a living history center.
The center is based on the extensive and famous Washburn family, whose sons Cadwallader, Elihu, Israel and William were prominent political figures in Maine, in the U.S. Congress and elsewhere.
The village also hosts the town office, the Livermore-Livermore Falls Historical Society, and a small village common.
Livermore, the main village, fronts on Brettuns Pond at the intersection of Maine Routes 4 and 108 twenty miles north of Auburn.
An easily accessible boat launch for Brettuns Pond is located off Route 4.
---
Near Livermore village, on the Church Road (a portion of Route 108), several old community buildings suggest an earlier location for the village center.
In addition to The Norlands, the Nelson Family Farm is listed on the National Register of Historic Places. Located on Hamlin Hill, in 1992 it had 58 acres including apple trees, rock boundary walls, a large barn, and a part-granite, part wood-frame farmhouse. The house was built in the 1830s, a carriage house in 1866, and the barn, replacing one that had burned, in 1877.
South of Livermore Village on Route 4 one finds a commercial strip, which includes the post office, just before the town line with Turner.
Livermore is separated from Livermore Falls by the Androscoggin River, with the latter on the east side.
Form of Government: Town Meeting-Select Board-Administrative Assistant.
Additional resources
Dalton, Pete. They Heard the Call: Contributions of Five Maine Towns in the Civil War. Union, Me. Union Pub. Co. 1995.
MacDonald, Ellen E. "Do-It-Yourself History in Livermore Falls." Down East Magazine, November 1985, pp. 44-49, 78-84. See the Norlands web site at www.norlands.org.
Fiftieth anniversary, Livermore Falls Trust Company, 1895-1945. 150th anniversary of the incorporation of Livermore-Livermore Falls: original grant 1735, permanently settled 1779, incorporated as a town 1795. Livermore Falls, Me. Livermore Falls Trust Company. 1945.
Griffin, Stephen A. A History of Education in the Town of Livermore, Maine. 1939.
Maine. Historic Preservation Commission.  "Nelson Family Farm." National Register of Historic Places Nominating Form. Augusta, Me. 1992. http://www.maine.gov/dep/ftp/WindPowerProjectFiles/CantonMountainWind/CMWVIA_Review_DataRequestResponse/DATA%20REQUEST%20021712/B.%20Scenic%20Resources/NRHP%20Nomination%20Forms/Livermore%20-%20Nelson%20Family%20Farm%20-%20NR%20Nomination%20Form.pdf (accessed November 11, 2013)
Monroe, Ira Thompson. History of the Town of Livermore, Androscoggin County, Maine: from its Inception in 1735 and its Grant of Land in 1772 to its Organization and Incorporation in 1795 up to the Present Time, 1928. Lewiston, Me. Printed by the Lewiston Journal Printshop. 1928.
Past views of Livermore, Maine: a Tour Through the Villages, Remembering Old Homes, Farms and Stores of the Past 200 Years. Livermore Falls, Me. Livermore Bicentennial Committee. 1994.
Sturtevant, Reginald H. A History of Livermore, Maine. Lewiston, Me. Twin City Printery. 1970.
Washburn, Israel. Notes, Historical, Descriptive, and Personal, of Livermore, in Androscoggin (formerly in Oxford) County, Maine. Portland, Bailey & Noyes. 1874.
Wyman, D. T. Historical Sketch of the First Baptist Church in Livermore, Maine. Portland, Me. Press of Brown Thurston Co. 1893.
National Register of Historic Places – Listings
Nelson Family Farm
[End of Nelson Road off Shackley Hill Road, .8 miles North of junction with Maine Route 108] The Nelson Farm [ see photos above] consists of a 58-acre parcel with a 19th century connected farm complex, a large detached barn, and stone boundary walls. On a hillside near the Androscoggin/Oxford County line, the farm is especially noteworthy for its c. 1830 1½ story house built of rough split granite.
The Nelson farm was first settled by Deacon Alexander Nelson (1795-1886) about 1816. A graduate of Hebron Academy, Nelson was a corporal in the War of 1812. Having purchased the farm from his father, he married Lydia Loring (1785-1819) in 1817. She and her infant daughter Jerusha died in a house fire in 1819.
The fireproof granite building may not have started until the 1830s. Alexander Nelson married a second time, to a woman known only as Hannah F. Following her death he married Elizabeth Griffith (1797-1874) with whom he had three children beginning with Samuel in 1830. It may be that the substantial undertaking of erecting the granite house began after this third marriage.
The 1850 Census indicated the property contained 75 acres of improved land and 37 acres of unimproved land. In 1853, Alexander Nelson sold the farm to his son Samuel, although he and his wife continued to live here until their deaths. By 1870 an additional ten acres had been improved and the sheep herd brought nearly back to its size in 1850. The carriage house was built in 1866 and the large detached barn, in 1877. Following Samuel Nelson's death, his widow continued to occupy the farm until 1910 when she sold it out of the family.*
Norlands, The
[Norlands Road. The Norlands Living History Center celebrates the lives of the famous Washburn family that made a significant impact on the state's political, business, and military history.]