| Year | Population |
| --- | --- |
| 1970 | 958 |
| 1980 | 1,009 |
| 1990 | 956 |
| 2000 | 965 |
| 2010 | 1,068 |
Geographic Data
N. Latitude
46:13:53
W. Latitude
67:50:38
Maine House
District 145
Maine Senate
District 2
Congress
District 2
Area sq. mi.
(total) 38.6
Area sq. mi.
(land) 38.4
Population/sq.mi.
(land) 27.8
County: Aroostook

Total=land+water; Land=land only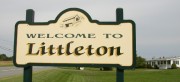 [LIT-ehl-tun] is a town in Aroostook County, incorporated on March 18, 1856 from half each of the Williams College (1800) and Framingham Academy (1801) grants.
The first settler, Thomas Osborne, was one of the conductors of the four- and six-horse freight teams that ran from Aroostook County to Bangor.
Located in potato country just north of Houlton, Littleton is split by U.S. Route 1 and borders Canada on its east.
It is home to the Southern Aroostook Agricultural Museum, established in 2002, located in the former Littleton Consolidated School on U.S. Route 1.
Watson Settlement Bridge, built in 1911, is the oldest surviving example of a Howe Truss system used in a Maine covered bridge.
The Littleton Esker may be seen to the west of U.S. Route 1 just north of the Littleton-Houtlon town line. Eskers are the ridges of gravel and sand that mark the routes of streams and rivers that flowed on, in, and beneath the glaciers.  When the surrounding ice melted, these ridges of coarse gravel, silt, and clay remained.
Form of Government: Town Meeting-Select Board-Manager.
Additional resources
Hay, Eldon. Cross-border Covenanter Communities: Richmond (NB), Houlton and Littleton (Me.) Beaver Falls, PA Semper Refomanda. c2001.
Hay, Eldon. The Covenanters of Littleton/Houlton. Sackville, N.B. The Author. 1996. (Sackville, NB. Mount Allison University)
Littleton Centennial, 1856-1956: August 15, 1956. Littleton Centennial Committee. Littleton, Me. The Committee. 1956.
Littleton Consolidated Schools. Littleton, Me. 1992? Includes: Country schools of Littleton – 1928-1936. Dorothy Shaw Campbell. 1992.
North Dakota Geological Survey. "Eskers in North Dakota." See this for an explanation, definition, and examples of eskers. https://www.dmr.nd.gov/ndgs/ndnotes/Eskers/Eskers.asp (accessed January 10,2010)
National Register of Historic Places – Listings
Watson Settlement Bridge, 2 miles Southeast of Littleton over Meduxnekeag River