| Year | Population |
| --- | --- |
| 1970 | 8,745 |
| 1980 | 8,719 |
| 1990 | 9,922 |
| 2000 | 2,361 |
| 2010 | 2,314 |
Geographic Data
N. Latitude
46:54:25
W. Latitude
67:51:48
Maine House
District 148
Maine Senate
District 1
Congress
District 2
Area sq. mi.
(total) 40.7
Area sq. mi.
(land) 40.4
Population/sq.mi.
(land) 57.3
County: Aroostook

Total=land+water; Land=land only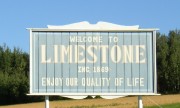 [LIME-stone] is a town in Aroostook County, incorporated on February 26, 1869 from Limestone Plantation, itself formally organized in 1855 from the township E R1 WELS.
Settled in 1849 by General Mark Trafton of Bangor, then the Customs Officer at Fort Fairfield, it was named for the lime deposits found there.
As early as 1846 a dam and a shingle mill had been completed. By the 1880's Limestone had two sawmills and two starch factories, fed by the local potato crops.
The town is a port of entry into the United States from Limestone, New Brunswick, Canada.
In the north of the town, the Aroostook National Wildlife Refuge straddles the town line with Caswell.
The disastrous impact on the community of the demise of Loring Air Force Base in the 1990's may be seen by Limestone's population fluctuation:
The 2000 and 2010 censuses place the number of residents below the 1950 mark of 2,427 and far below the 1960 peak of 13,102!
The School of Mathematics and Science, a high school for top students from across the state, is now located on the former military facility, as is the Aroostook National Wildlife Refuge.
Form of Government: Town Meeting-Select Board-Manager.
Additional resources
Chadbourne, Ava Harriet. Maine Place Names and The Peopling of its Towns.
Garbinski, John C. The United States Air Force in Maine: Progeny of the Cold War. Bangor, Me. Maine Aviation Historical Society. c2000.
Limestone Centennial, 1869-1969: The Review of a Century. Limestone, Me? The Centennial Committees. 1969.
Loring Readjustment Committee (Me.) Community Profiles. Caribou, Me. The Committee. 1993.
Maine Department of Conservation. Bureau of Parks and Lands. Northern Aroostook Region Management Plan. June 2007. http://www.maine.gov/doc/parks/programs/planning/northern/plan.pdf (accessed October 17, 2011)
Maine. Trial Justice Court (Limestone). Wallace K. Fenlason, Trial Justice Docket. 1952 June 25-1957 June 11. (Cataloger Note: This docket records the Trial Justice criminal cases heard by Wallace K. Fenlason. These court records include brief notes on the case: defendant, and the Justice's decision in the case or their appeal to the next court. Typical cases could include assault, motor vehicle violations, non-support, malicious mischief, breaking entering and larceny, etc.) [Maine State Archives]
Turner, Philip B. Loring. Caribou, Me.? The Author. .1994? [University of Maine, Raymond H. Fogler Library, Special Collections; University of Maine at Presque Isle Library and Learning Resource Center]
National Register of Historic Places – Listings
Church of the Advent, Church Street 1 block south of junction with Maine Route 229