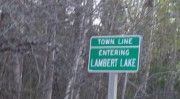 is located south of Vanceboro in eastern Washington County.  The St. Croix River is its boundary with Canada.
Two improved roads, Route 6 and Loon Bay Road, and a rail line, intersect near Lambert Lake and its small village.
Loon Bay and Bull Brook roads extend north-south serving as access points for the many logging roads leading into the forests, which cover the township. Simsquish Lake in the south is relatively isolated but accessible from Loon Bay Road.
Lambert Lake in the north, shared with adjoining township T11 R3 NBPP, is easily accessible from Route 6. The rail line is near the shore and Pirate Hill rises across the water.  A boat launch is nearby on its southeastern shore.
The state's Land for Maine's Future program described the lake in a 2003 report as follows:
Lambert Lake, tucked amidst mountains near the New Brunswick border, is an attractive and largely undeveloped Great Pond. The steep wooded shores along this 605-acre water body are broken only by a few rustic camps, mostly concentrated at the southern end.*
According to Maine's Department of Inland Fisheries and Wildlife,
"Lambert Lake is stocked annually with brook trout and landlocked salmon and provides a moderate, and in some years good, fishery for both species. Smallmouth bass and white perch are also present in the lake and provide good action and a tasty meal."**
Additional resources
*Maine. State Planning Office. Augusta, Me. 2003. "Lambert Lake, Project Description." http://www9.informe.org/lmf/projects/project_detail.php?project=1609 (accessed October 24, 2013)
**Maine. Department of Inland Fisheries and Wildlife. Augusta, Me. 2007. "Fishery Region F." http://www.maine.gov/ifw/fishing/newsletter/region_f.htm (accessed October 24, 2013)