| Year | Population |
| --- | --- |
| 1970 | 1,242 |
| 1980 | 1,616 |
| 1990 | 2,111 |
| 2000 | 2,388 |
| 2010 | 2,427 |
Geographic Data
N. Latitude
44:30:48
W. Latitude
69:26:08
Maine House
Dist 88
Maine Senate
District 13
Congress
District 1
Area sq. mi.
(total) 58.6
Area sq. mi.
(land) 52.7
Population/sq.mi.
(land) 46.0
County: Lincoln

Total=land+water; Land=land only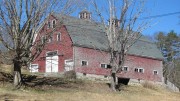 [JEF-er-son] is a town in Lincoln County, incorporated from Ballstown Plantation on February 24, 1807, when Thomas Jefferson was President. During the 19th Century, it set off land to Alna and Newcastle, and annexed land from Patricktown, later incorporated as Somerville.
According to Chadbourne,
Historically the present town dates back to January 13, 1630, when a grant of fifteen miles on each side of the Kennebec River from the mouth to the present site of Gardiner was made to William Bradford [governor of the Pilgrim Colony] of Plymouth, Massachusetts.
The town of Jefferson was included in this area and was part of the plantation of Ballstown, founded in 1770 by John Ball. (p.42)
Abandoned granite quarries and clay banks where bricks were made suggest the early economic activities of the area. The Gazetteer of Maine in 1886, observed the following:
The principal occupation of the people is agriculture. There is at East Jefferson, on Damariscotta Lake, a flourishing cheese factory. At this place there are also lumber, stave and shingle mills, a wooden pump and carriage factory. At West Jefferson are a shingle-mill and potash factory, etc.
Several fine farm houses and barns have survived to recall the great heritage of the town.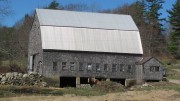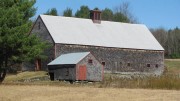 Part of the agricultural tradition throughout Maine is the usually circular, rock walled cattle pound, often used as a site to buy and sell farm animals, and to hold wandering livestock to keep them from destroying crops.  The images below are from the Library of Congress.
Jefferson has a substantial frontage on Damariscotta Lake, both in its north end and on virtually all its western shore. Damariscotta State Park is at the northeast corner of the lake, in Jefferson. A close look at the 1930's photo below shows the lake in the distance.  The more recent photo may have been taken near the old location.
The main village is near the north end of the lake and the state park.  The town office, memorial park, village school, and the grange hall are all nearby each other.
Musquash Pond Preserve consists of extensive freshwater wetlands draining three ponds. Self-guiding nature trails and interpretive signs in the western portion known as Dyer Neck contains numerous bog species.
Form of Government: Town Meeting-Select Board.
Additional resources
Historic American Buildings Survey. Josiah T. Tubby, Photographer April 20, 1937. "VIEW OF SECTION OF WALL – Cattle Pound, Route 220, Jefferson, Lincoln County, ME." Digital ID: (None) hhh me0093.photos.088390p. http://hdl.loc.gov/loc.pnp/hhh.me0093/photos.088390p (accessed January 23, 2013)  Reproduction Number: HABS ME,8-JEF.V,1–2. Repository: Library of Congress Prints and Photographs Division Washington, D.C. 20540 USA http://hdl.loc.gov/loc.pnp/pp.print.
Beard, Frank A. and Bette A. Smith. Maine's Historic Places: Properties on the National Register of Historic Places. Camden, Me. Down East Books. 1982, p. 214.
Chadbourne, Ava Harriet. Maine Place Names and The Peopling of its Towns.
Bond, Priscilla Hom. Army Air Force Ground Observer Corps of Jefferson, Maine. Jefferson, Me. Jefferson Historical Society. 1992. [Maine State Library]
Tompkins, Robert D. Jefferson & Environs, 1807. Jefferson, Me. Jefferson Historical Society. 2007.
Jefferson (Me.) Centennial Celebration of the Town of Jefferson, Lincoln County, Maine, U.S.A., August 21, 1907. Compiled by Alberto A. Bennett, chairman of the Printing committee. Lewiston, Me. Journal Printing Company. 1908.
Jefferson, Touchstone of Democracy. Lewiston, Me. Twin City Printery. c1976.
Jefferson, Touchstone of Democracy II: The Early Years to 1907.  Newcastle, Me. Jefferson Historical Society/Lincoln County Publishing. 2007.
Maine State Archives. George French Collection. (source of the 1930's photo)
Varney, George J. A Gazetteer of the State of Maine. 1886. p. 2914.
National Register of Historic Places – Listings
Jackson, Dr. F. W., House, Maine Route 32. Built 1903-1905, it is described by Beard and Smith as follows: "This large and splendid Colonial Revival house, an architectural landmark in Jefferson, was built by a native son who returned after a successful medical career and a prosperous and happy marriage."
Jefferson Town House, Junction of Maine Route 126 and Maine Route 213