| Year | Population |
| --- | --- |
| 1970 | 1,242 |
| 1980 | 1,616 |
| 1990 | 2,111 |
| 2000 | 2,388 |
| 2010 | 2,427 |
Geographic Data
N. Latitude
44:30:48
W. Latitude
69:26:08
Maine House
Dist 88
Maine Senate
District 13
Congress
District 1
Area sq. mi.
(total) 58.6
Area sq. mi.
(land) 52.7
Population/sq.mi.
(land) 46.0
County: Lincoln

Total=land+water; Land=land only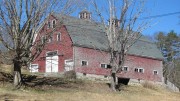 [JEF-er-son] is a town in Lincoln County, incorporated from Ballstown Plantation on February 24, 1807, when Thomas Jefferson was President. During the 19th Century, it set off land to Alna and Newcastle, and annexed land from Patricktown, later incorporated as Somerville.
According to Chadbourne,
Historically the present town dates back to January 13, 1630, when a grant of fifteen miles on each side of the Kennebec River from the mouth to the present site of Gardiner was made to William Bradford [governor of the Pilgrim Colony] of Plymouth, Massachusetts.
The town of Jefferson was included in this area and was part of the plantation of Ballstown, founded in 1770 by John Ball. (p.42)
Abandoned granite quarries and clay banks where bricks were made suggest the early economic activities of the area. The Gazetteer of Maine in 1886, observed the following:
The principal occupation of the people is agriculture. There is at East Jefferson, on Damariscotta Lake, a flourishing cheese factory. At this place there are also lumber, stave and shingle mills, a wooden pump and carriage factory. At West Jefferson are a shingle-mill and potash factory, etc.
Several fine farm houses and barns have survived to recall the great heritage of the town.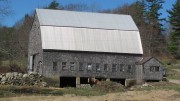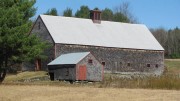 Part of the agricultural tradition throughout Maine is the usually circular, rock walled cattle pound, often used as a site to buy and sell farm animals, and to hold wandering livestock to keep them from destroying crops.  The images below are from the Library of Congress.
Jefferson has a substantial frontage on Damariscotta Lake, both in its north end and on virtually all its western shore. Damariscotta State Park is at the northeast corner of the lake, in Jefferson. A close look at the 1930's photo below shows the lake in the distance.  The more recent photo may have been taken near the old location.
The main village is near the north end of the lake and the state park.  The town office, memorial park, village school, and the grange hall are all nearby each other.
Musquash Pond Preserve consists of extensive freshwater wetlands draining three ponds. Self-guiding nature trails and interpretive signs in the western portion known as Dyer Neck contains numerous bog species.
Form of Government: Town Meeting-Select Board.
Additional resources
Historic American Buildings Survey. Josiah T. Tubby, Photographer April 20, 1937. "VIEW OF SECTION OF WALL – Cattle Pound, Route 220, Jefferson, Lincoln County, ME." Digital ID: (None) hhh me0093.photos.088390p. http://hdl.loc.gov/loc.pnp/hhh.me0093/photos.088390p (accessed January 23, 2013)  Reproduction Number: HABS ME,8-JEF.V,1–2. Repository: Library of Congress Prints and Photographs Division Washington, D.C. 20540 USA http://hdl.loc.gov/loc.pnp/pp.print.
Beard, Frank A. and Bette A. Smith. Maine's Historic Places: Properties on the National Register of Historic Places. Camden, Me. Down East Books. 1982, p. 214.
Chadbourne, Ava Harriet. Maine Place Names and The Peopling of its Towns.
Bond, Priscilla Hom. Army Air Force Ground Observer Corps of Jefferson, Maine. Jefferson, Me. Jefferson Historical Society. 1992. [Maine State Library]
Tompkins, Robert D. Jefferson & Environs, 1807. Jefferson, Me. Jefferson Historical Society. 2007.
Jefferson (Me.) Centennial Celebration of the Town of Jefferson, Lincoln County, Maine, U.S.A., August 21, 1907. Compiled by Alberto A. Bennett, chairman of the Printing committee. Lewiston, Me. Journal Printing Company. 1908.
Jefferson, Touchstone of Democracy. Lewiston, Me. Twin City Printery. c1976.
Jefferson, Touchstone of Democracy II: The Early Years to 1907.  Newcastle, Me. Jefferson Historical Society/Lincoln County Publishing. 2007.
*Maine. Historic Preservation Commission. Augusta, Me.   Text and photos from National Register of Historic Places: http://pdfhost.focus.nps.gov/docs/nrhp/text/xxxxxxxx.PDF and http://pdfhost.focus.nps.gov/docs/nrhp/photos/xxxxxxxx.PDF
Jackson, Dr. F. W. , House: 80000236.PDF (1980)
Jefferson Town House: 99000771.PDF (1999)
Jefferson Cattle Pound: 04000742.PDF (2004)
Maine State Archives. George French Collection. (source of the 1930's photo)
Varney, George J. A Gazetteer of the State of Maine. 1886. p. 2914.
National Register of Historic Places – Listings
Jackson, Dr. F. W., House
[Maine Route 32.] Built 1903-1905, it is described by Beard and Smith as follows: "This large and splendid Colonial Revival house, an architectural landmark in Jefferson, was built by a native son who returned after a successful medical career and a prosperous and happy marriage."
[From the National Register Nomination form in 1980] This extremely large and handsomely proportioned Colonial Revival country house is a major architectural feature in Jefferson. It was built by Dr. Fred W. Jackson who, after amassing a fortune through professional skill and a fortunate marriage,returned in grand style to his birthplace.
Dr. Jackson's career and the history of the house were summarized in the Lewiston Journal Illustrated Magazine of August 26, 1905:
"Dr. Jackson studied medicine and for several years practiced his profession in Providence, RI. There he built up a big practice and accumulated much property. To add to his general prosperity he united his fortunes with a cultured and wealthy lady of that city and together the couple came to the house of his youth where they have established one of the finest country homes in Maine. The doctor, freed from the necessity of practicing medicine for a living, is now devoting his entire time and attention to his elegant estate and it is fast assuming a finish equal to that of many an English nobleman. He has purchased no less than a thousand acres of land and this is being laid out in walks, groves and gardens with all the skill known to landscape gardening. A splendid home is this of Mr. and Mrs. Jackson."*
[Frank A. Beard photo]
Jefferson Town House
[Junction of Maine Route 126 and Maine Route 213] The 1869 Jefferson Town House is a two-story gable roofed frame building built to replace a town house that had been erected about 1828.  At the annual town meeting in 1869, it was voted to build a new town house and to raise the $700 which it was expected to cost.
The first voting meeting in the new town house was held on September 13, 1869. Town records are not entirely clear about the intended use of the upper story, which is a somewhat uncommon feature in rural Maine town houses of this period. During the September 13 meeting a committee was formed "for the purpose of finishing, renting or disposing of the hall in the town house," and it is presumed that the reference to the "hall" is to the second floor rooms. Sometime thereafter, the William C. Hall Post, Grand Army of the Republic  met in the upstairs, but the duration of its use by the GAR is unknown
In 1897 the town built a brick vault in the town house, the bricks having come from the old Bond School on East Pond Road. During World War II the upstairs room is said to have been used by volunteers to identify any aircraft that were spotted in the area. Use of the building for town meetings ceased in 1958, and four years later the town voted to allow the newly formed Jefferson Historical Society to use the building for the display of its collection. In 1996, the town house was leased to the Jefferson Historical Society. Since then the Society has restored the adjacent hearse house, and, in 1999, was developing plans for the rehabilitation of the town house.
Jefferson Cattle Pound
[0.75 mi. West of the junction of Gardiner Road and Maine Route 213] The first town meeting was called on May 11, 1807, followed by another a week later. Among important issues settled were the choosing of 17 highway surveyors, 12 tything men, 10 field drivers, 10 fence viewers/8 hog reeves and seven pound keepers. It was also voted that all pound keepers make pounds of their own barns, free of expense to the town. Thus, strays wandering into a neighbor's barnyard were captured and turned over to the nearest pound keeper and kept until their owners claimed them. The need for a central pound resulted in the vote at the 1829 town meeting for construction of a town pound. The construction committee reported that a pound would be built "…in a circular form lay 40 foot diameter inside of the wall to be built of good Granet Stone six foot thick at the bottom seven foot high with a good gate and to be hung with iron hinges and to be done in a workmanlike manner to the acceptance of a committee which is to be chosen."
For the next sixty years, the Jefferson Cattle Pound provided a sturdy temporary shelter for the town's livestock and source of income for the pound keeper. However, during this period the demographics of the town changed. Maine's Agricultural Census's for the years 1850 and 1880 reveal that although the number of farmers in town had risen slightly (from 301 to 319), the quantity of livestock they owned had decreased dramatically. Between better pastures bound by barbed wire, and fewer animals on the hoof by 1888, it was no longer necessary to elect a pound keeper in Jefferson, and the structure stopped seeing regular use.* [Christi A. Mitchell photos]