| Year | Population |
| --- | --- |
| 1970 | 421 |
| 1980 | 521 |
| 1990 | 579 |
| 2000 | 603 |
| 2010 | 566 |
Geographic Data
N. Latitude
44:17:14
W. Latitude
68:55:24
Maine House
District 94
Maine Senate
District 11
Congress
District 2
Area sq. mi.
(total) 68.9
Area sq. mi.
(land) 14.3
Population/sq.mi.
(land) 39.6
County: Waldo

Total=land+water; Land=land only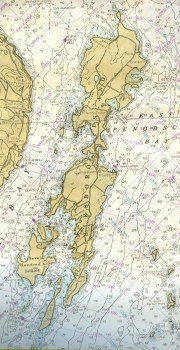 [ILES-boh-row] is a Penobscot Bay island town in Waldo County, incorporated on January 28, 1789 from Long Island Plantation.
The early native name for the main island was Pitaubegwimenahanuk, or "the island that lies between two channels." In fact, the island is the marker for dividing East Penobscot Bay from West Penobscot Bay.
It includes North and South Islesboro connected by a narrow segment of land, Seven Hundred Acre Island (photos below), Job Island, Warren Island and others. The 129 acres of forested Warren Island hosts a state park with a dock for visiting boats and some moorings in the relatively secure anchorage.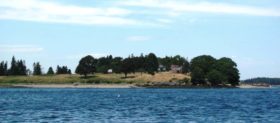 Settled in 1769, Islesboro was part of the Waldo Patent. A Harvard scientific expedition viewed a total eclipse of the sun near Williams Cove on October 27, 1780. They were granted permission by Colonel Campbell of the British forces anchored there to fight the American revolutionaries. Shubael Williams, after whom Williams Cove is named, and his family provided food, shelter and support to the scientists.  In 1812 as the British occupied Castine, Islesboro was effectively neutralized.
The Grindel Point Light Station in Gilkey Harbor  was established in 1850. The tower light was first lit in 1874 and was automated in 1934. The original lens was a Fifth Order Fresnel.  The brick structure, white with black trim, has an unusual square shape.  "Grindel" appears on the nautical chart, but "Grindle" is used at times by the Coast Guard. (See below.)

Home to many harbors, coves and seasonal residences, the town is accessible by ferry from Lincolnville three miles to the west.
Though having only 500-600 permanent residents, summer brings many more who enjoy their cottages by the sea.  Those below are on the shore of Gilkey Harbor.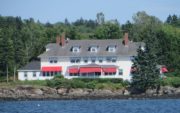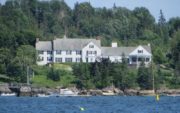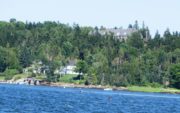 ---
---
Form of Government: Town Meeting-Select Board-Manager.

Additional resources
Cook, Joel, 1842-1910. An Isleboro Sketch, with illustrations by Louis K. Harlow. Boston, Mass. Boston Photogravure Co. 1890.
Daniels, Caroline T. Facts And Fancies And Repetitions About Dark Harbor By One Of The Very Oldest Cottagers [1890-1932]. Privately printed. 1935. (Cambridge, Mass. Cosmos Press)
Farrow, John Pendleton. John Pendleton Farrow's History Of Islesborough, 1764-1893. Islesboro, Me. Islesboro Historical Society. 1965. (Camden, Me. Camden Herald Publishing Co.)
Hatch, W. Henry. On The Island: Islesboro Recollections. Islesboro, Me. W. Henry Hatch family. c1991. (Camden, Me. Camden Printing)
Isaacson, Dorris A. Maine: A Guide Downeast. p. 430.
Island Institute. Visual Resource Study for the Town of Islesboro. Rockland, Me. Island Institute. 1987.
Islesboro Historical Society. History Of Islesboro, Maine 1893-1983. Islesboro Historical Society. 1984. (Portland, Me. Seavey Printers)
Islesboro Inn (Islesboro, Me.). Stable ledger, 1890-1901. Ledger of financial transactions of the stable at the Islesboro Inn, Islesboro, Maine. The volume is arranged by customer name and details the use of the Inn's horses for afternoon drives, drives to the jetty, to the cottage, etc. University of Maine, Fogler Library, Special Collections.
*Maine. Historic Preservation Commission. Augusta, Me.   Text and black & white photos from National Register of Historic Places: http://pdfhost.focus.nps.gov/docs/nrhp/text/xxxxxxxx.PDF and http://pdfhost.focus.nps.gov/docs/nrhp/photos/xxxxxxxx.PDF
Christ Church: 92000276.PDF
Drexel Estate: 85000613.PDF
Free Will Baptist Church and Cemetery: 88000891.PDF
Grindle Point Light Station: 87000427.PDF
Islesboro Free Library: 88003018.PDF
Philler Cottage: 85000726.PDF
Tiffany, George S., Cottage:  89001700.PDF
Mehta, Ved. Dark Harbor: Building House and Home on an Enchanted Island. New York. Thunder's Mouth Press/Nation Books. Berkeley, Calif. Publishers Group West. c2003.
Naegel, Annette. Islesboro: Critical Plants and Plant Habitats. Rockland, Me. Island Institute. 1988.
Shettleworth, Earle G. The Summer Cottages of Islesboro, 1890-1930. with selected photos by Richard Cheek. Islesboro, Me. Islesboro Historical Society. 1989.
Simpson, Dorothy. The Maine Islands in Story and Legend.
Source of United States Coast Guard historic photos: (accessed 2/2/2008) http://www.uscg.mil/hq/g-cp/history/WEBLIGHTHOUSES/grindlepoint.jpg
National Register of Historic Places – Listings
Archeological Site No. 29-64, Address Restricted Islesboro
Christ Church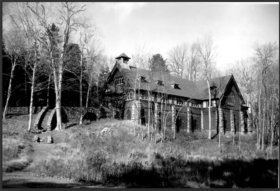 [off West side of Main Road, South of Dark Harbor] During the late 19th century, every major Maine summer colony from York Harbor to Grindstone Neck included a distinctive Episcopal chapel. In July and August worship moved from the massive stone Romanesque and Gothic churches of Boston, New York, and Philadelphia to picturesquely designed summer chapels. Their architects freely blended medieval and Shingle Style features to create a New England coastal version of the British country church. Christ Church at Dark Harbor is a classic example. [Earle G. Shettleworth, Jr. photo]
During the first seasons that the Islesboro Inn attracted visitors, Episcopal services were held in the ballroom. The Islesboro Land and Improvement Company provided a site for a chapel in 1891. Summer residents raised $2,800 to build a small church. Its first service was held August 6, 1893. In August 1894, the Bishop of Maine, Rev. Henry Adams Neely, officiated there for the first time.
As the Dark Harbor summer colony grew, the original Christ Church was outgrown. By early 1901, the trustees had secured plans from the Boston architect Francis R. Alien to expand the chapel. As the chapel for Islesboro's exclusive summer colony at Dark Harbor, it has undoubtedly been host to many prominent early 20th century Americans, including President Taft, Theodore Roosevelt and J. P. Morgan.*
Drexel Estate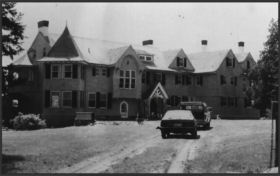 [The Bluff and Drexel Lane] On an isolated point overlooking Penobscot Bay, the Drexel House (historically known as Gripsholm Manor) is on hilly terrain surrounded by woods. The large, sprawling wood-frame house is built with shingle siding and gable roofs. At 2½ stories, the house has an asymmetrical plan and is designed in the Tudor style. [Frank A. Beard photo]
This example of opulent summer resort living was the residence of a remarkable individual who was a creative pioneer in high-speed power boat engineering. George W. C. Drexel of Philadelphia was one of the better known summer residents of Islesboro for about thirty years, roughly 1910-1940. He was an object of awe and wonder as he drove his fast launches, some capable of 28 knots, around the waters of the eastern shore.
Drexel achieved primary recognition among his associates as a financier and philanthropist, but his reputation in the yachting fraternity was equally distinguished. Not only was he a skilled handler of fast powerboats, he was a near genius in the installation and operation of marine internal combustion engines. He did much to introduce fast, reliable marine engines to Penobscot Bay. Few people outside his immediate circle were aware that he was a first rate machinist in the high speed gasoline engine field. He kept a perfectionist's sharp, critical eye on the servicing and operation of his fleet.*
Free Will Baptist Church and Cemetery
[Church Road North Islesboro] Built in the 1840s and remodeled in 1894, the Free Will Baptist Church and Cemetery is significant for its high artistic value, based on the well preserved late 19th century stenciled panels that decorate the walls and ceiling.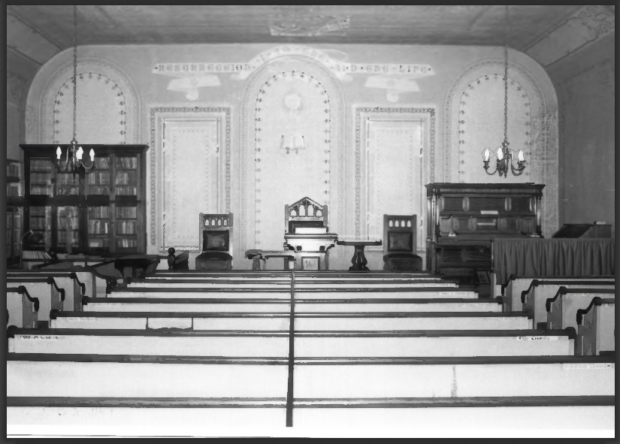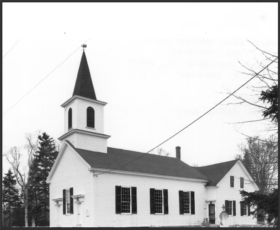 The Free Will Baptist Church and Society was organized in June 1821, as a voluntary association for religious purposes. For many years the Baptists met at various locations including the home of Jesse Coombs and a number of neighborhood schoolhouses. By the early 1840s the Baptist community on Islesboro had grown to consider the construction of a permanent place of worship. The church was built sometime between 1843 and 1845. In 1894 a two-story addition was made for use as a vestry and the meeting space of the Free Will Baptist Circle.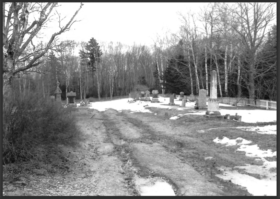 Regular year round services appear to have continued until about 1921. Use and maintenance of the property was later accepted by the Free Will Baptist Sewing Circle and occasional services were held in the summer months. In 1983 the non-profit Society for the Preservation of the Free Will Baptist Church of Islesboro was formed. It now holds title to the church and surrounding property.* [Kirk Mohney photos]
Grindle Point Light Station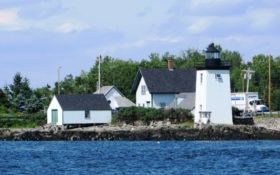 [Ferry Road] At the entrance to Gilkey Harbor and Islesboro Village, the Light Station has long been landmark on the island. Established in 1850 and rebuilt in 1875, the lighthouse is one of only three similarly shaped structures that survive along the coast. It was built at a time of increased commercial traffic in Gilkey Harbor.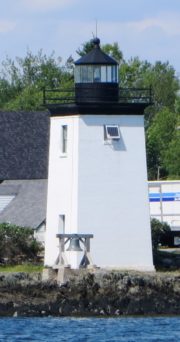 In 1847 Islesboro was included on a steamboat line between it and the mainland. In 1849 a three-acre tract was acquired from Francis Grindle, hence the name. The 28-foot tower and first keeper's house, built of brick, were completed in the summer of 1850. Rufus Dunning was appointed keeper of the light in 1850. He was replaced by Francis Grindle in 1853.
During the late 19th and early 20th centuries the island became a popular summer resort with the construction of sprawling hotels and cottages. In 1875 the Lighthouse Board decided to rebuild the deteriorating structure. A 1½ story keeper's house and a square brick tower for the light was built. A covered way was added between the keeper's house and the tower, and for the storage of provisions, fuel, and oil.
In 1887 a brick cistern was built and in 1896 a 1,000 pound hand-struck bell was added. A 21-foot steel tower was built in 1934 to carry a flashing white light. The deactivated station was acquired by the Town in 1935 for use as a public park and to house the Islesboro, now Sailor's Memorial, Museum.*
Islesboro Free Library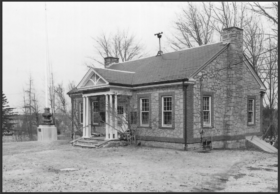 [Main Road] The 1917 Colonial Revival style Islesboro Free Library marks the culmination of the community's efforts to secure a permanent, architecturally distinct, place for its public library. The Islesboro library traces its beginnings to a 1902 town vote approving a fund to establish a library. In 1902 space for the collection was provided on the second floor of the District #4 schoolhouse.  By 1905 a search for a more permanent facility began, but not until 1912 was a finance and building committee established. Five years later funds had been raised and plans secured to begin construction. It was opened on January 14, 1918.
In 1921 the town erected a monument to its World War I veterans. Bronze plaques were affixed to the entryway and the free-standing flag pole and base were added to the lot. In 1956 the building's name was changed to the Alice L. Pendleton Library in honor of her lifelong efforts on behalf of the library.* [Kirk Mohney photo]
Philler Cottage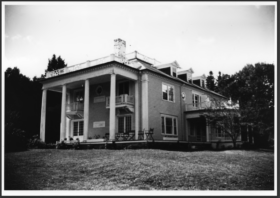 [Main Road, Dark Harbor] Very possibly the finest Georgian Revival summer "cottage" in Maine, the Philler Cottage (also known as the Dark Harbor House Inn) is a representative of the wealthy exclusivity of this summer resort as it developed in the last years of the 19th century. Its first owner, George Philler was one of the early organizers of this development. Philler joined a number of Philadelphia gentlemen to form the Philadelphia and Islesboro Land Company in 1890. Like so many resort development groups of the period, its first step was to build a hotel in order to attract people to the area, in this case, the Islesboro Inn, now gone. Philler, President of the First National Bank of Philadelphia, came to the Inn for a few years and then built his cottage almost directly across the street. Architect Fred Savage of Bar Harbor, who had achieved a significant reputation as a designer of large summer homes in contemporary styles, designed the building.* [Frank A. Beard photo]
Tiffany, George S., Cottage
[off Main Road Dark Harbor] Built in 1912 by local contractors Hatch and Pendleton from plans drawn by the St. Louis architectural firm of Mauran, Russell & Crowell, the George S. Tiffany Cottage is representative in scale of the summer houses erected on Islesboro during the early 1900s. It is the only one of two major cottages built by members of the Tiffany family of St. Louis that survives.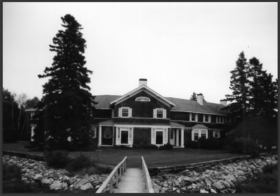 With the formation of the Islesboro Land and Improvement Company in 1889, a remarkable period in this island community's history began. This firm immediately began to assemble a large tract at the southern end of the island in and around the village of Dark Harbor. In 1890 the company built a large hotel to accommodating summer visitors. Some of these visitors later purchased lots on which they built substantial architect-designed cottages.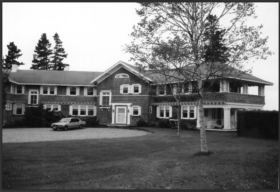 Between 1898 and 1903 no less than 40 summer houses were built in Dark Harbor, most of which were occupied by wealthy and prominent people from Boston, Philadelphia and New York. An additional 15 were built during the next 23 years. The early cottages were most often designed in the Shingle Style.
By the early 1900s the emerging Colonial Revival style began to show itself. The Tiffany cottage shares these characteristics and introduces its own unique qualities to the colony. On the one hand its shingled exterior and Colonial Revival details evoke the image of Maine's early architecture, while its strong horizontal emphasis gives it a link to the Prairie School of the mid-west. Considering its design origin in St. Louis, the cottage strikes a harmonious blend between two widely separated traditions.* [Earle G. Shettleworth, Jr. photo]