| Year | Population |
| --- | --- |
| 1970 | 1,560 |
| 1980 | 2,892 |
| 1990 | 3,573 |
| 2000 | 4,114 |
| 2010 | 4,281 |
Geographic Data
N. Latitude
43:37:38
W. Latitude
70:37:38
Maine House
District 16
Maine Senate
District 31
Congress
District 1
Area sq. mi.
(total) 39.5
Area sq. mi.
(land) 38.9
Population/sq.mi.
(land)133.8
County: York

Total=land+water; Land=land only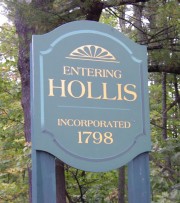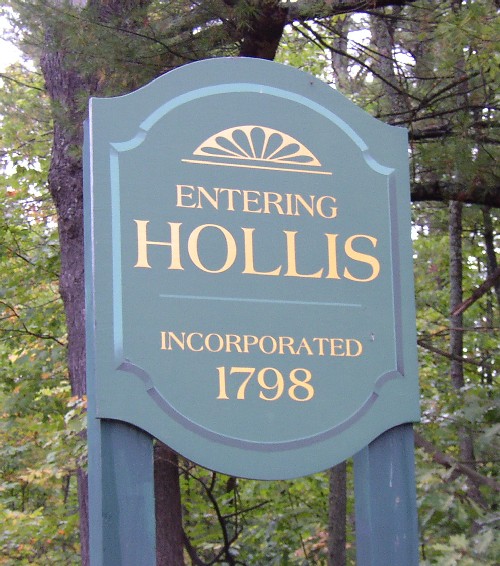 [HOLL-his] is a town in York County, incorporated on February 17, 1798 under the name Phillipsburg, later changed to Hollis on January 22, 1812. Settled in 1753, the area had been known as Little Falls Plantation at least since 1779.
Commenting on the local economy in 1886, George Varney observed,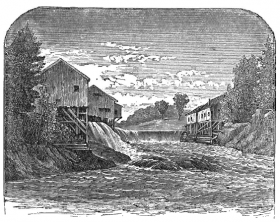 The Portland and Rochester Railroad passes through across the southern part. The station is at Hollis Centre, about 20 miles from Portland. The other centres of business are Hollis Village, on the Saco River, in the south-eastern part of the town; Bar Mills, a mile above; Moderation opposite West Buxton; North Hollis, at the north-western angle of the town; and Bonny Eagle Falls, on the Saco, at the North. At these points are lumber-mills, a spool factory and turning-mill, wood-box factory, the Saco River Woolen Company, etc.
Just 10 miles northwest of Biddeford-Saco, the town is served by U.S. Route 202 and Maine Routes 4, 35, 112, and 117. It was the summer home of Kate Douglas Wiggin, author of Rebecca of Sunnybrook Farm among other works. Her house is now the town's library.
The Saco River, the fifth longest in the state at 121 miles, has powered many mills along its length. It provides the boundary in the east with Buxton, and in the southwest with Dayton.
The wildfires of 1947 wiped out many historic homes, so only about 20% of all housing units are more than 50 years old. These older homes are largely located on the older main roads.
Clark's Mills, on Route 35 near the Dayton town line is a small historic village, with little commercial development. The historic villages along the Saco River—West Buxton, Bar Mills and Salmon Falls—are partly in Hollis.
The largest of the villages with commercial development is Hollis Center, in the southern part of the Town. It contains restaurants, gasoline stations, a food market and a few other service businesses.
The largest employer in 2004 was the Poland Spring bottling plant on Plains Road. It represented the only substantial industrial use in Hollis at the time.
Congressional Medal of Honor winner:
CHARLES H. SMITH
---
Form of Government: Town Meeting-Select Board.
Additional resources
Bicentennial 1772-1972 Historical Souvenir Book, Buxton, Maine: August 10, 11, 12 and 13, 1972. Buxton, Me. Buxton Bicentennial Committee. 1972.
Buxton, Hollis and Limington. Dover, N.H. Arcadia. C.1997.
Hollis, Town of. Town of Hollis Comprehensive Plan Update 2005.  http://www.hollismaine.org/compplan.pdf (accessed March 16, 2014)
Jewett, Martin H. A History of Hollis, Me.: Formerly Little Falls later Phillipsburg. 1976. Farmington, Me. Knowlton & McLeary Co..
Varney, George J. A Gazetteer of the State of Maine. 1886. p. 282-283; Bonney Egale Falls image, p.  149.
National Register of Historic Places – Listings
Salmon Falls (West) Historic District, Salmon Falls Road and portion of US Route 202
Wiggin, Kate Douglas, House, east of Hollis Center on Salmon Falls Road, Hollis Center