| Year | Population |
| --- | --- |
| 1970 | 1,045 |
| 1980 | 1,667 |
| 1990 | 1,951 |
| 2000 | 2,315 |
| 2010 | 2,730 |
Geographic Data
N. Latitude
44:06:08
W. Latitude
70:386:07
Maine House
District 69
Maine Senate
District 19
Congress
District 1
Area sq. mi.
(total) 33.9
Area sq. mi.
(land) 33.0
Population/sq.mi.
(land) 82.7
County: Cumberland

Total=land+water; Land=land only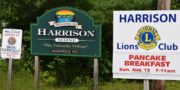 [HAR-ih-son] is a town in Cumberland County, settled in 1792 and incorporated on March 8, 1805 from portions of Otisfield and Bridgton. It set off land to form part of Naples in 1834, and annexed land from Bridgton in 1866 and 1877.
By 1847 a wood products mill on the Crooked River [N44° 5′ 7.9″ W70° 36′ 16.0″], now known as Scribner's Mill, was in operation. An effort to restore it is underway.
Salmon from Sebago Lake appear under the bridge where the former dam was located.
A growing community, its population has consistently expanded over the past forty years.  From 2000 to 2010 alone it grew by nearly 18%.
The main village straddles Long Lake and Crystal Lake, also known as Anonymous Pond, where Maine routes 35 and 117 join.
A growing community within commuting distance of Portland, it lies just above Sebago Lake on Maine Routes 35 and 117. Just north of Naples, Harrison has substantial frontage and a beach on Long Lake, which it shares with Bridgton on the other shore, and Crystal Lake with a park and boat launch.
Form of Government: Town Meeting-Select Board-Manager.
Additional resources
Bicentennial History of Harrison, Maine, 1905-2005. Rockport, Me. Penobscot Press; Harrison, Me. Available from Harrison Historical Society. c2004. [Bangor Public Library]
Dorman, Mary Louisa Hawkes Barrows, b. 1834. Diary of Louisa Hawkes Barrows of Bolster's Mills, Maine, 1852. Edited by Edward A. Holt. Harpswell, Me. E.A. Holt. 2009. [Maine State Library]
*Maine. Historic Preservation Commission. Augusta, Me.   Text and photos from National Register of Historic Places: http://pdfhost.focus.nps.gov/docs/nrhp/text/xxxxxxxx.PDF and http://pdfhost.focus.nps.gov/docs/nrhp/photos/xxxxxxxx.PDF
Barrows-Scribner Mill: 01000368.PDF
Caswell Public Library (Former): 05000056.PDF
Deertrees Theatre: 88003002.PDF
Lakeside Grange #63: 05001173.PDF
Ryefield Bridge: 99001193.PDF
Scribner Homestead: 01000368.PDF
Moulton, Alphonso. Centennial History of Harrison, Maine: containing the centennial celebration of 1905, and historical biographical matter. Salem, Mass. Higginson Book Co. [1995] 1909. [Maine State Library]
The Historical Society Museum is on 190 acres on Haskell Hill Road, off Maple Ridge Road. The museum includes an 1810 farmhouse, barn, log shop, fruit storage house, and two equipment sheds.
National Register of Historic Places – Listings
Caswell Public Library (Former)
[42 Main Street; N44° 6′ 36.83″  W70° 40′ 49.24″] The (former) Caswell Public Library is a one-story Romanesque Revival stone structure located in Harrison Maine. Built in 1908-09 by local architect John H. Procter, the south facing structure is set on a small grassy lot near the village center. It was built with funds raised in part by the Harrison Public Library Association and with generous donations from Daniel H. Caswell, for whom the building was named.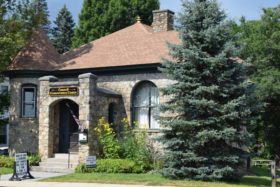 After lengthy discussions regarding overcrowding and access, the Caswell Public Library Association moved the library collections into the nearby former Harrison Town Office in August 2004. The Association has retained ownership of the (former) Caswell Public Library building and plans to continue to use it for classes and community events.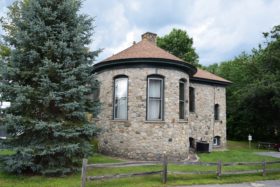 The Harrison Public Library Association incorporated in 1906 after a ladies literary society brought together two collections in the town. One had been in private homes and later at Bridgton Academy, while the other established by the Temperance Reform Club was kept in their building and later saved from the fire of 1907. Daniel H. Caswell Sr., a native of Harrison living in Texas with a summer home near Crystal Lake, realized the need for a library. He gave a parcel of land in the village and $1,700 toward the $3,500 cost of the building. Fundraising and a loan of $1200 from George Burnham of Burnham and Morrill helped to finish the interior. The Library was completed in 1908. In 1947 the trustees legally made the name change to Caswell Public Library Association.*
In 2017 the building was home to the Caswell Conservancy Center, a non profit organization, funded through private donations, offering public rentals for select rooms and spaces.  It is also a performance and event venue.swell
Barrows-Scribner Mill
[Southeast of Harrison village, 244 Scribner's Mill Road] Built about 1849, the Scribner Homestead was the residence of several generations of the Scribner family who operated a successful sawmill operation on the adjoining Crooked River for more than one-hundred years.
The well-documented history of the family's activities at the property provide an important glimpse into the social history of a rural household that was also intimately connected with the operation of a small scale industrial facility. In addition, the Greek Revival style house and its connected barn, as well as the free-standing corn house and chicken house represent a 19th  and early 20th century rural residence. The mill itself had been listed in the Historic Register in 1976, but was removed ten years later after portions of the structure had collapsed or were dismantled.*
In 2012 an apparently long process was underway to restore the mill and its machinery.
Deertrees Theatre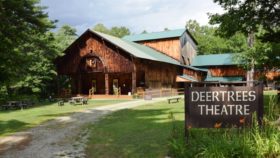 [156 Deertrees Road; N44° 7′ 2.90″ W70° 39′ 54.50″] Built in 1935-36, Deertrees Theatre is a remarkably intact rustic wooden building of particular architectural distinction. It was erected for opera diva Enrica Clay Dillon (1881-1946), founder of Harrison's summer theatre known as the Deertrees Players. Since the turn of the 19th century Maine has witnessed the rise and decline of various summer theatrical groups whose members and performances included prominent contemporary actors or those who later attained fame.
The idea for founding such a group in Harrison is believed to have originated with Miss Dillon who had given theatre and operatic instruction at her studio. Miss Dillon was, through her work in New York, "… in touch with some of the leading figures in the dramatic and operatic world…." She apparently intended to establish a colony similar to the one at Lakewood, with the theatre itself acting as the symbolic and functional centerpiece.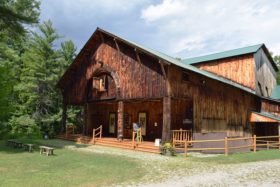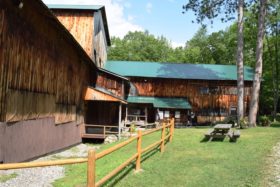 Construction began in the fall of 1935. It is believed that only the auditorium/stage was first erected, with the shop wing added in 1938. Throughout the summer of 1936 the Bridgton News continued to feature reports on the construction progress. Deertrees was dedicated on August 15, 1936, with a performance of dramatic sketches from "Cyrano de Bergerac" and "Caponsacchi", among others. Prominently featured in the billing and advance newspaper articles was the guest performance of Walter Hampden, who was hailed as "America's Greatest Actor".
It appears that Deertrees was managed largely by Dillon until 1939 when the facility was leased to Bela Blau. The previous concentration on opera was replaced by a more diverse range of theatrical productions and drew names as Rudy Vallee, Ethel Barrymore and Tallulah Bankhead. During the war years of the 1940s the theatre remained closed, and after Dillon's death in 1946 community theatre dominated the schedule. It passed through a number of owners in the 1940s and 1960s with apparent continued success. However, in the 1970s interest faded, and despite an attempt to revive operatic productions in mid-decade, by the end of the period the theatre had closed.*
In the summers of 2014 and 2015, a revived Deertrees Theatre offered various productions and concerts.*
Lakeside Grange #63
[Junction of Main Street and Lincoln Street; N44° 6′ 38.47″  W70° 40′ 50.57″] The town of Harrison has slowly lost its agricultural economy but the Lakeside Grange #63 has maintained a strong and active membership. Historically and currently, the Lakeside Grange is an important and significant structure at the heart of this community, having served both social and commercial functions since its construction in 1905.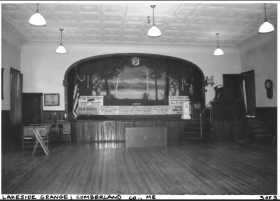 It is a publicly accessible hall for fairs, performances and recreational activities.
The structure that houses the Lakeside Grange is also significant as a building that survived the destructive 1907 fire in which many commercial and public buildings in the town were lost.* [Christi A. Mitchell interior photo]
Ryefield Bridge
[Bow Street over Crooked River Stuarts Corner; N44° 8′ 34.80″  W70° 35′ 46.82″] Built jointly in 1912 by the towns of Harrison and Otisfield, the Ryefield Bridge is Maine's only identified example of a double intersection Warren thru truss bridge. It is also among the handful of known pre-1916 rivet-connected Warren truss bridges in the state. The Warren design was patented in 1848 by British engineers.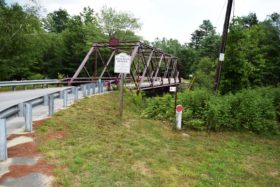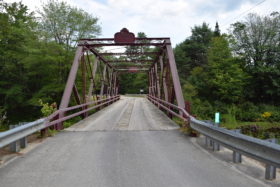 The Warren design, with equal sized members and the ability of some members to reverse stresses, was particularly well suited to riveted (rigid) connections. A second set of diagonals (double intersection), such as used for the Ryefield bridge, were sometimes added for rigidity.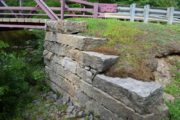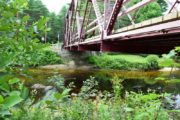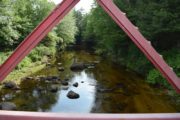 Larger heavier examples were built in Maine from about 1900 to the 1920s, but few of the earlier, lighter examples, such as this one, have survived in the state.The Ryefield Bridge was designed and manufactured by the American Bridge Company. It was built by the United Construction Company of Albany, New York, the contracting arm of the American Bridge Company.* [Patrick Harshbarger photo]