| Year | Population |
| --- | --- |
| 1970 | 1,070 |
| 1980 | 1,409 |
| 1990 | 1,757 |
| 2000 | 2,147 |
| 2010 | 2,394 |
Geographic Data
N. Latitude
44:31:28
W. Latitude
68:17:01
Maine House
District 136
Maine Senate
District 7
Congress
District 2
Area sq. mi.
(total) 38.7
Area sq. mi.
(land) 29.8
Population/sq.mi.
(land) 80.3
County: Hancock

Total=land+water; Land=land only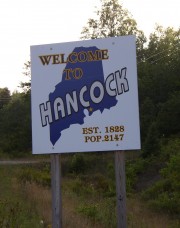 [HAN-kok] is a town in Hancock County, incorporated on February 21, 1828 from portions of Sullivan, Trenton, and Plantation Number 8.
It set off land to Franklin, Gouldsboro and Lamoine in 1852, 1870, and 1929 respectively.
Settled in 1764, it was named for John Hancock, the bold first signer of the Declaration of Independence.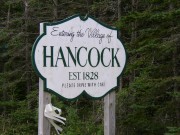 Served by U.S. Route 1 (where the "Welcome" sign appears) and Maine Route 182, half the town lies inland and north of the junction of the two highways.
Hancock Village (see the sign at left) lies south of the junction on a peninsular, with Taunton Bay on its northeast and Skillings River on the southwest. Further south are the villages of South Hancock and Hancock Point.
The Point, surrounded by Sullivan Harbor and the Skillings River, has outstanding views of Mount Desert Island across Frenchman Bay. Here is an amateur film of the community at Hancock Point circa 1929,  from Northeast Historic Films archives.
The small village of Egypt lies in the northeast of the town facing Egypt Bay. Frontage on the Bay includes a Wildlife Management Area, overseen by the Maine Department of Inland Fisheries and Wildlife.
It is open to the public for primitive forms of recreation including hunting and trapping. While not large enough to accommodate a large number of users at the same time, there are hunting opportunities with comparatively low use levels.
According to George Varney in 1886,
There is one mill manufacturing staves, shingles and long lumber, and one producing staves and short lumber. Other manufactures are boots and shoes and wagons and sleighs. The inhabitants, especially those of the Neck, are largely engaged in Grand Bank fishing and with profit, not withstanding some heavy losses.
During the same period, the town supported six public schoolhouses with an 1880 population of 1,093.
More recently, Hancock has been home to Sanford Pippen, a Maine author, poet, high school teacher, and alumnus of the University of Maine.
Form of Government: Town Meeting-Select Board-Administrative Assistant.
Additional resources
A Century of Summers [moving image recording]: Hancock, Maine 1886-1986. Bucksport Me. Northeast Historic Film. c1987.
Crabtree, Alfred B. Hancock [Maine] 1828-1928. Augusta, Me. Kennebec Journal. 1928.
Foss, Thomas. A Brief Account of the Early Settlements Along the Shores of Skilling's River: including West Sullivan, West Gouldsborough, Trenton Point and North Hancock: also reminiscences and anecdotes of old times and old folks. Hancock, Me.? 1870. (N.K. Sawyer, Printer)
"Region C. Wildlife Management Areas." http://www.maine.gov/ifw/hunting_trapping/regional_information/regionc.htm
Sesquicentennial Committee of the Town of Hancock, Maine. A History of the Town of Hancock, 1828-1978. Hancock, Me. The Town. c1978.
Varney, George J. A Gazetteer of the State of Maine. 1886. p. 267.
National Register of Historic Places – Listings
Nazi Spy Landing Site, West shore of Crabtree Neck at Sunset Ledge Cove