| Year | Population |
| --- | --- |
| 1970 | 1,772 |
| 1980 | 3,037 |
| 1990 | 3,661 |
| 2000 | 4,076 |
| 2010 | 4,350 |
Geographic Data
N. Latitude
44:11:23
W. Latitude
70:08:40
Maine House
District 57
Maine Senate
District 22
Congress
District 2
Area sq. mi.
(total) 35.3
Area sq. mi.
(land) 32.4
Population/sq.mi.
(land) 134.3
County: Androscoggin

Total=land+water; Land=land only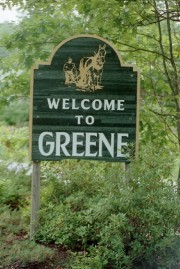 [GREEN] is a town in Androscoggin County, incorporated on June 18, 1788 from Lewiston Plantation. It later set off land to Lewiston (1852) and Webster, now Sabattus, (1895).
The Native American Worumbo and five members of the Androscoggin area tribe sold land to Richard Wharton in 1684. He died before he could exercise his claim, which was sold in 1714 to a group that created the Pejepscot Company.
Since land ownership in the area was disputed by the Plymouth Colony, the final boundaries of the Plantation were not completed until 1814.
Settled in 1773, Greene lies just north of Lewiston on combined Maine Routes 11, 100, and U.S. 202. With the Androscoggin River as its west boundary, the town's east lies substantially along Sabattus Lake.
The more densely populated area surrounds Route 202 in the central portion near Greene Village.  South from there is a rural landscape and views of Sabattus Pond.
The first Post Office in Androscoggin County was opened in the home of Postmaster Benjamin Merrill in 1796.
In  1814 transportation services expanded with the stagecoach line established by Thomas Longley on the old Post road between Portland and Augusta.
In 1849 the railroad was built through the village and a Post Office was established at Greene Corner.
1908 produced electric lighting and 1921 introduced the telephone to the town. 1936, a year of flooding across the state, saw the Greene-Turner bridge swept away by an ice pack. The Franciscan Monastery on Route 202, now St. Francis Catholic Church, was purchased in 1943.
Inventor Leonard Norcross was a resident of the town in the early 19th century as a young boy.
Since 1970 this increasingly suburban community in the Lewiston-Auburn area has more than doubled its population.
Form of Government: Town Meeting-Select Board-Manager.
Additional resources
Bicentennial Committee (Me.). Publications Committee. Greene, Maine 1788-1988 Potpourri: A Pictorial History. The Committee. 1987.
Greene Celebrates 150th Anniversary: Governor to Attend. Maine. 1938. Newspaper clippings, Maine State Library.
Mitchell, H. E. The Town Register: Wayne, Wales, Monmouth, Leeds, Greene, 1905. Brunswick, Me. H. E. Mitchell. 1905.
Mower, Walter L. Sesquicentennial History of the Town of Greene, Androscoggin County Maine: 1775 to 1900 with some matter extending to a later date. Bowie, Md. Heritage Books. 1991.
Souvenir of Greene & Leeds, 1911. Brunswick, Me. Maine Map & Register. 1911