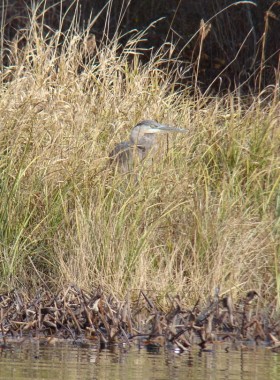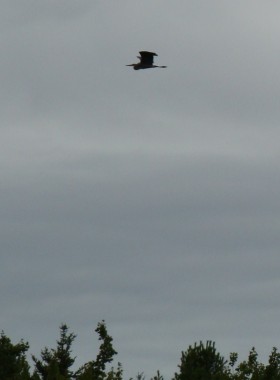 The Great Blue Heron, one of the largest birds in Maine, is a stately sight, primarily along the coast, as it fishes for its dinner near low tides. They are also occasionally found inland along marshes, rivers and the shores of ponds.
Frog and fish are the main diet. Herons wait patiently, or move slowly, until their prey is within reach of the sharp bill. On the coast, their feeding routine is determined by the tides when the water is shallow and fish are drifting in on a rising tide.
These large creatures, with a wingspan of nearly six feet, nest in tall trees. Most migrate south each fall, some as far as Mexico and the West Indies. Others attempt to remain all winter in southern Maine. Many of these are not successful, especially during severe weather. See also the Little Blue Heron.