| Year | Population |
| --- | --- |
| 1970 | 56 |
| 1980 | 43 |
| 1990 | 44 |
| 2000 | 38 |
| 2010 | 61 |
Geographic Data
N. Latitude
44:07:42
W. Latitude
68:15:47
Maine House
District 134
Maine Senate
District 7
Congress
District 2
Area sq. mi.
(total) 94.6
Area sq. mi.
(land) 4.8
Population/sq.mi.
(land) 12.7
County: Hancock

Total=land+water; Land=land only
Israel B. Lunt (1796-1861) and his brother Amos, were early settlers on Long Island, arriving around 1822. Other family members soon followed and the Lunts were instrumental in establishing the community.
According to cataloger notes to his Financial Records,
Israel Lunt started a business of shipping wood, dried fish, and paving stones to various places on the Maine coast and to Boston. He also established a store on the island and owned a wharf and interest in several schooners. Lunt purchased the whole island in 1835 and employed many island residents in hauling fish to dry, unloading supplies and working on his vessels.
Long Island is the major island of Frenchboro Plantation in Hancock County. Once incorporated as a town on February 11, 1857 under the name Islandport, it gave up its incorporation a little over a year later on March 23, 1858.
While many Maine islands struggle to maintain a critical mass of population, Frenchboro experienced a substantial reversal of three decades of decline when the 2010 U.S. Census confirmed sixty-one people as resident.  That represents a 60% increase over the 2000 Census.
Frenchboro maintains a small school, a museum, the "Off Shore Store," and the "Dockside Deli."
In 1888, Alexander MacDonald came to then Outer Long Island to teach school to help pay for his own education. Finding no religious life there, he held meetings that were very well received by the local people.
After graduating from Bowdoin College and Andover Theological Seminary, MacDonald along with his brother Angus, established the Maine Sea Coast Missionary Society in 1905. Several boats named Sunbeam have brought the missionary message to islanders along the Maine coast ever since.
The Sunbeam appears in an amateur film from the archives of Northeast Historic Film, probably taken in 1980, featuring a lobster festival on the island.
Settled in the early 1800s, the island had a population of 19 in 1820, when fishing and some logging sustained the community. Other than for a period of pulpwood harvesting, few roads were constructed outside Lunt Harbor.
In 2000, Maine Coast Heritage Trust, the Island Institute, Maine Seacoast Mission, and island residents created the Frenchboro Preserve.  The 1,100+ acre site covers about two-thirds of the island, protecting wildlife, forests, wetlands, beaches and rare plants..
In addition to Long Island, the plantation consists of Placentia, Black, Little Duck and Great Duck islands, and several smaller islands. Mount Desert Rock lies about 12 miles southeast of Long Island.
This "Long Island" should not be confused with Long Island in nearby Blue Hill Bay, which is part of the town of Blue hill, nor the relatively new town of Long Island, once part of Portland, in Casco Bay.
---
---
Form of Government: Town Meeting-Select Board.
Additional resources
Comprehensive Planning Committee (Frenchboro, Me.). Frenchboro Comprehensive Plan. Frenchboro, Me. Frenchboro Comprehensive Planning Committee, 1979.
"Frenchboro Preserve. " Maine Coast Heritage Trust. circa 2010.
Frenchboro, Maine Comprehensive Plan. Volume II, Summary/Action Plan. Frenchboro, Me. Frenchboro Citizens' Review Board. 1980.
Hancock County Planning Commission. Frenchboro Land Use Data Base. Ellsworth, Me. The Commission. 1979?
Lunt, Israel B. Financial Records, 1828-1853. [University of Maine, Raymond H. Fogler Library, Special Collections]
Lunt, Vivian D. Frenchboro, Long Island Plantation, Maine. 1967?
Lunt, Vivian D. Frenchboro: Long Island Plantation the First Hundred Years. Penobscot, Me. Downeast Graphics-Printing, 1980.
Lunt, Vivian D. A History of Frenchboro, Long Island Plantation, Hancock County, Maine. 1976.
*Maine. Historic Preservation Commission. Augusta, Me.   Text and photos from National Register of Historic Places: http://pdfhost.focus.nps.gov/docs/nrhp/text/xxxxxxxx.PDF and http://pdfhost.focus.nps.gov/docs/nrhp/photos/xxxxxxxx.PDF
Great Duck Island Light Station: photo and text: https://npgallery.nps.gov/NRHP/AssetDetail?assetID=87af9438-497b-4aa2-80f9-0e91f552b98e
Mount Desert Light Station: photo: https://npgallery.nps.gov/NRHP/AssetDetail?assetID=3ef477f7-a7be-4bfd-9e48-261400595e8e; text: http://dictionnaire.sensagent.leparisien.fr/Mount%20Desert%20Light/en-en/
Pontecorvo, Giulio and James A. Storer. Report on the Issue of Providing Ferry Service to Long Island Plantation (Frenchboro). Brunswick, Me. Bowdoin College. 1960.
National Register of Historic Places – Listings
Great Duck Island Light Station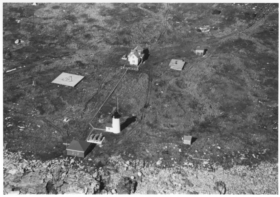 [southern tip of Great Duck Island] Great Duck Island Light Station was established in 1890 as a secondary seacoast light located between the primary light on Mount Desert Rock and the approach to Blue Hill Bay, and Mount Desert Island. The complex has its historical integrity illustrating the continued effort by the Light House Board to establish an integral system of navigational aids along the Maine coast.
In 1885 the Board first recognized the need for a light at this location. Three years later it noted the increased "…importance of Mount Desert and the vicinity as a summer resort." The Board recognized the need for a fog signal "…not only for the general coastwise commerce, but for the safety of the steamers and yachts frequenting Frenchman's Bay." The station's distinctive character that reflects late 19th century light station design and construction.* [Kirk F. Mohney photo]
Mount Desert Light Station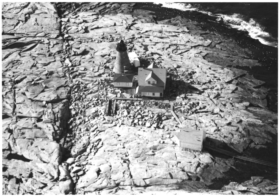 [Mount Desert Rock, Frenchboro] The Station (also known as Mount Desert Rock Light) was built in 1847 and is farther offshore than any lighthouse on the east coast.  During the 19th century a bell tower, a new lantern, a 3rd order Fresnel lens, and a fog alert steam whistle were added. The current keeper's house was built in 1892 and in 1931 generators provided electric power.
The station was automated in 1977 and later modernized.  In 1998 the property was transferred to the College of the Atlantic and has been used as an ecology research station, primarily known for work on finback and humpback whales.* [Kirk F. Mohney photo]