| Year | Population |
| --- | --- |
| 1970 | 4,575 |
| 1980 | 4,826 |
| 1990 | 4,268 |
| 2000 | 4,233 |
| 2010 | 4,097 |
Geographic Data
N. Latitude
47:14:23
W. Latitude
68:33:39
Maine House
District 151
Maine Senate
District 1
Congress
District 2
Area sq. mi.
(total) 55.4
Area sq. mi.
(land) 54.2
Population/sq.mi.
(land) 75.6
County: Aroostook

Total=land+water; Land=land only
Congressional Medal
of Honor winners:
Korean War Clair Goodblood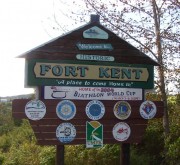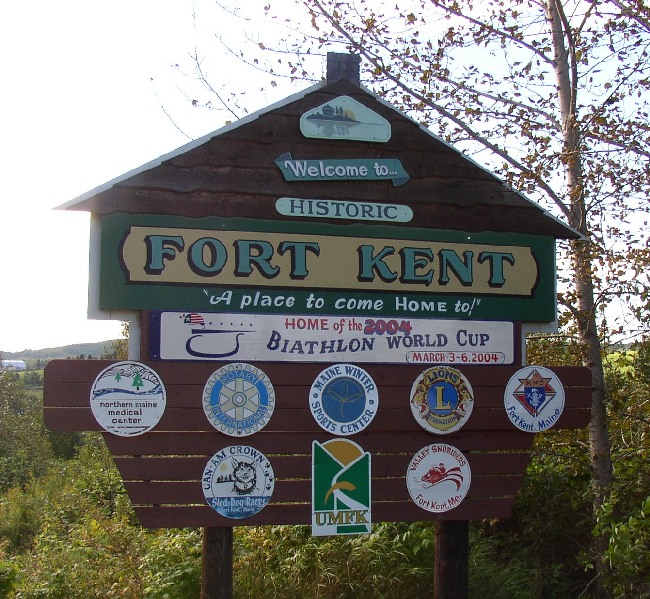 [fort KENT] is a town in Aroostook County, incorporated on February 23, 1869 from D'Aigle and Fort Kent Plantations. It lies across the St. John River from the small town of Clair, in Madawaska County, New Brunswick, Canada.
Fort Kent is Maine's northernmost town, but Big Twenty Township reaches even further north at about 47: 27′:30″ north latitude.
A fort, named for Governor Edward Kent, was constructed between 1838 and 1840 to assert Maine's authority and protect the settlers during the bloodless Aroostook War. The blockhouse, of hand-hewn cedar timber, remains today.
Populated in large part by descendents of Acadians fleeing British persecution, French is frequently the language of choice. The town is the birthplace of author Helen Hamlin, who attended the Madawaska Training School in Fort Kent. It is also the place where Dora Pinkham, the first woman member of the Maine legislature, grew up.
The community still has a significant focus on farming, especially potatoes, with the added benefit of beautiful views of the St. John River and St. John Valley, known locally as "The Valley."
The University of Maine at Fort Kent supports the Acadian Archives, which helps preserve and interpret the culture of the area.
U. S. Route 1, which extends to Florida, ends (or begins) here. Maine Route 161 continues west to the St. John Valley towns of St. John, St. Francis, and Allagash, ending at the village of Dickey.
Form of Government: Town Meeting-Council-Manager.
Additional resources
1948-1988: Happy 40th Anniversary, Charlie Battery, Fort Kent, Maine. 1988?
Audibert, Joseph, 1820-1857. Joseph Audibert Journal and Papers [microform]. [Universuty of Maine, Fort Kent Acadian Archives]
Collin, Sylvia. Northern Maine Canocks [sound recording]. Fort Kent, Me. The Author. 1964. [University of Maine, Presque Isle, Special Collections.]
Fort Kent Centennial, 1869-1969. Fort Kent, Me. Centennial Booklet Committee. 1969.
Garceau, David. Fort Kent: 1829-1929. Fort Kent, Me. The First National Bank. 1930.
*Maine. Historic Preservation Commission. Augusta, Me.   Text and photos from National Register of Historic Places: http://pdfhost.focus.nps.gov/docs/nrhp/text/xxxxxxxx.PDF and http://pdfhost.focus.nps.gov/docs/nrhp/photos/xxxxxxxx.PDF
Daigle, Jean Baptiste, House: http://www.maine.gov/tools/whatsnew/index.php?topic=mhpc_recent_listings&id=607272&v=article (accessed March 9, 2015); photo: https://www.nps.gov/nr/feature/places/13000833.htm
Fort Kent Blockhouse: 69000005.PDF
Fort Kent Railroad Station: 89000249.PDF
Maine Department of Conservation, Bureau of Parks and Lands. Fort Kent Blockhouse Interpretive Panels. 2004.
Stadig, Rita B. Aroostook War: the Little Lake Fort is Located. Soldier Pond, Me. The Author. c1994.
Stadig, Rita B. North Country: the Fish River and Fort Kent History, 1900. Soldier Pond, Me. Rita Stadig. 1995.
United States. Department of the Army. Federal Muster Rolls, Fort Kent, Maine, 1841-1845. Muster rolls for Federal troops stationed at Fort Jarvis (early name for Fort Kent, Maine) from 1841-1843 and from 1844-1845. Companies involved: Company C, 1st Regiment Artillery (1841-1843); Company G, 1st Regiment Artillery (1844-1845).
National Register of Historic Places – Listings
Daigle, Jean-Baptiste, House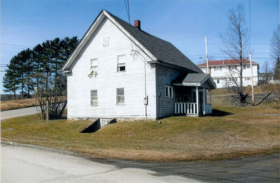 The Jean Baptiste Daigle House is a well preserved example of an Acadian log house built following traditional, regional techniques. Built either by Jean Baptiste Daigle (1792-1846) or his son Jean Baptiste Daigle, (also known as John B. Daigle, 1818-1860) about 1839-1844, it is a relatively rare example of 19th century Acadian log construction. The 1 1/2  story Daigle House features "piece on piece" log construction cloaked by Masonite siding. The number of Acadian log houses in northern Aroostook County is unknown. Only a few of this type have been documented or researched. Due to their relative rarity and their distinct regional affiliation, each example is considered historically important.*
Fort Kent, National Historic Landmark
[about 0.75 miles Southwest of Fort Kent off Maine Route 11] The Fort Kent blockhouse, built in 1838-1840, for defense against British intrusion during the bloodless Aroostook War, has a commanding view at the confluence of the Fish and St. John Rivers in Fort Kent. The blockhouse, a two-story structure, has an entrance door with four rifle ports on either side of it, and with twelve on the other walls of the first floor. It has cannon ports on the first floor, one each on the south and north sides.* (See photo above)
Fort Kent Railroad Station
[Junction Main and Market Streets] Fort Kent's former railroad station is the most significant, intact building associated with the community's turn-of-the-century economic development. Its position at the northern end of the Fish River Railroad and later the Fish River Branch of the Bangor and Aroostook Railway was critical when it opened in 1902. Architecturally, the building is similar to other stations built by the B&A Railroad in Oakfield (1912) and Frenchville (1910).
The Fish River Branch was an important transportation link for Fort Kent's lumber and agricultural industries and made fishing and hunting resorts accessible. The railroad's arrival in Fort Kent was the major reason for its growth as a potato producing center and shipping point for lumber products, a position which it maintained through the first half of the 20th century. Following the decline in potato loadings during the 1970s, the Station was retired in 1979. In 1980, it was donated to the Fort Kent Historical Society.*