| Year | Population |
| --- | --- |
| 1970 | 4,859 |
| 1980 | 4,276 |
| 1990 | 3,998 |
| 2000 | 3,579 |
| 2010 | 3,496 |
Geographic Data
N. Latitude
46:46:29
W. Latitude
67:51:02
Maine House
District 148
Maine Senate
District 2
Congress
District 2
Area sq. mi.
(total) 78.2
Area sq. mi.
(land) 76.6
Population/sq.mi.
(land) 45.6
County: Aroostook

Total=land+water; Land=land only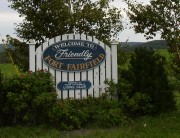 [fort FARE-field] is a town in Aroostook County, settled in 1816 and incorporated on March 11, 1858 from Plantation D R1 and all of the Plymouth Grant lying southeast of the Aroostook River. It annexed Sarsfield Plantation in 1867.
Fort Fairfield, established to protect the area during the Aroostook War, took its name from Maine Governor John Fairfield. The original fort (1839-1843), a duplicate of Fort Kent, was dismantled in 1862. A replica of the blockhouse was built in 1976 and is located in a small, quiet park just off Main Street.
The cannon in the photo at bottom is a "Bronze 6-pounder, Model 1838, . . . brought to the area by either the Maine militia or the land agent's posse. Cast by Cyrus Altger of Boston in 1839, it is typical of the cannon deployed by both sides during the Aroostook War."1

The town's Canadian-Pacific Railroad station, built in 1875, is part of the Railroad Museum at the old Bangor & Aroostook rail yard on Depot Street.
The town is in the heart of potato country and hosts the Potato Blossom Festival each July to celebrate the spud's contribution to the northern Maine economy. Related enterprises, such as the Aroostook Starch Company plant, supplement the farming sector. The potato starch produced by the company "is supplied as a refined quality product to the American cellulose and paper industry, as well as to the food processing, plastic, and textile industry," according to a company publication.
Another factory that dominates the landscape in Fort Fairfield is the Boralex wood to energy facility – a "wood-residue thermal power station." Consuming 400,000 tons of wood per year, the plant has the capacity to produce 36 megawatts of electricity. Nevertheless, Fort Fairfield continues to lose population along with other Aroostook communities.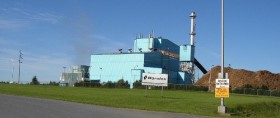 Richard William Curless was born in Fort Fairfield on March 17, 1932. "Dick" Curless became a well known country singer, especially with his 1965 hit "A Tombstone Every Mile, about the Haynesville Woods road. Marion Parsons, a pioneering and internationally recognized nurse was born here in 1876. She retired to Fryeburg where her house is on the National Register of Historic Places.
Form of Government: Council-Manager
Additional resources
1999 Maine Potato Blossom Scholarship Pageant, Lawrence A. Gardner Gym, Fort Fairfield, Maine, July 17, 1999. [videorecording] WAGM-TV. Presque Isle, Me. WAGM-TV. 1999 [University of Maine, Presque Isle Special Collections]
50th Annual Potato Blossom Festival Parade, July 19, 1997, Ft. Fairfield, Me. [videorecording] WAGM staff. Presque Isle, Me. WAGM-TV. c1997. (Also 52nd, 53rd.) [University of Maine, Presque Isle Special Collections]
Beckwith, Janet. A History of Fort Fairfield. Presque Isle, Me. The Author. 1988
Campbell, W. E. (William Edgar). The Aroostook War of 1839. Fredericton, N.B. Goose Lane Editions. c2013.
Ellis, Caleb Holt. History of Fort Fairfield and Biographical Sketches. Fort Fairfield, Me. Fort Fairfield Printing Co. 1894.
Findlen, George L. Under His Own Flag: John Baker's gravestone memorial in retrospect. Maine? G. L. Findlen? 2002. [University of Maine, Presque Isle Special Collections]
"Frontier Heritage" (brochure). Frontier Heritage Historical Society. Fort Fairfield, Maine. c. 2003.
Grant, Bruce. American Forts, Yesterday and Today. Illustrated by Lorence F. Bjorklund. New York, Dutton. 1965.
Loring Readjustment Committee. Community Profiles. Caribou, Me. The Committee. 1993. [Maine State Library]
*Maine. Historic Preservation Commission. Augusta, Me.   Text from National Register of Historic Places:
Fort Fairfield Public Library: https://npgallery.nps.gov/NRHP/GetAsset/6706b0f1-2fc4-4178-83e5-09fdd93d9e36?branding=NRHP
Maple Grove Friends Church: https://npgallery.nps.gov/NRHP/GetAsset/bb483e37-7cb3-4bf3-8d3a-56a04c3495a1?branding=NRHP
Reed, Philo, House: https://npgallery.nps.gov/NRHP/GetAsset/6b1227f8-626d-42a0-baa0-c4237d2f0724?branding=NRHP
U.S. Inspection Station–Fort Fairfield: https://www.nps.gov/nr/feature/places/pdfs/14000555.pdf
Maine Potato Blossom Festival: sponsored by the Fort Fairfield Chamber of Commerce. Fort Fairfield, Me. Chamber of Commerce. 1947-? [University of Maine, Presque Isle Special Collections]
Mraz, Ruth Reed. United Parish Church: A Historical Review. Fort Fairfield, Me. Ruth and Arthur Mraz. 1992.
Price, Trudy Chambers. Thirteen is a Lucky Number: the Campbell family. Yarmouth, Me. Salt Ponds Press. 2006.
The Fort Fairfield Register and Town History. Compiled by T. F. Manter. Madison, Me. The Bulletin Publishing Co. 1904.
Vallee, Ron. History of the Fort Fairfield Fire Department. The Author. 1983.
National Register of Historic Places – Listings
Fort Fairfield Public Library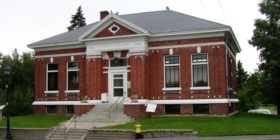 [Main Street] Fort Fairfield Public Library is a Neo-Classical Revival style brick building. Funded by Andrew Carnegie, it occupies a corner lot on Main Street near Fort Fairfield's commercial district. The library's history apparently begins in 1895 when a free public library was founded by the town.
In 1894 a private circulating library of 500 volumes had been formed, lasting until 1899. The new public library gradually increased in size and use, and in 1910 the trustees successfully sought a $10,000 grant from Andrew Carnegie. It was awarded with the typical stipulations that the town provide a maintenance fund equal to ten percent of the value of the grant and a suitable lot. The library was formally dedicated on September 10, 1913, and remains in its original use to this day.
The small cannon that rests on a concrete slab at the northeast corner of the lot has a plaque that indicates it was a relic of the Aroostook War. Its placement figured prominently in the town's 1916 centennial celebration.
Reed, Philo, House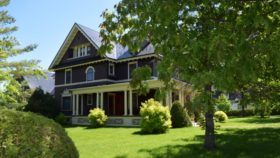 [38 Main Street] Architecturally this distinctive Queen Anne house, probably the grandest in town, is interesting as the work of Coombs and Gibbs, a Lewiston firm whose work appears to be largely confined to Fort Fairfield. They designed a library, two schools, two banks, and a hotel. The reason for this business so far from their office apparently was due to the approval and influence of the owner of this house, Philo Reed.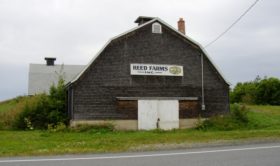 Philo Reed came to Fort Fairfield in 1885 and died in 1926. He was one of the best known entrepreneurs in Aroostook County and a pioneer in the development of several potato seed varieties. The business he founded, later taken over by his son, Walter Reed, Sr., became known as "the largest potato seed company in the world". His grandsons, Walter, Jr. and John H. (a former Governor of Maine) continued the business, known as Reed Farms. Philo Reed also had an automobile agency, bred harness racing horses and built a race track in the rear of his house.*
Maple Grove Friends Church
[west side of Route 1-A, 0.25 miles North of the junction with Upcountry (Fairmount Road) Maple Grove.] Built in 1863 and extensively remodeled in 1906, the Maple Grove Friends Church is a modest frame building that features a three-stage corner tower. It is believed to be the oldest religious building in the Fort Fairfield area. Plans to build a meeting house began when several Quaker families from Kennebec County moved to the Maple Grove area in 1859. They joined the first Quakers in the region, Joseph Wingate Haines and his wife Mary Briggs Haines and family They arrived in 1844 to the virtual wilderness, where Haines had received a 1000 acre land grant.
The meeting house was completed in 1863. The Haines family were actively involved with other Maple Grove Friends in Underground Railroad activity. After the Civil War, some Quakers left to continue work on behalf of the Freedmen in the West. In 1906 some physical changes were made to the building. The bell tower and vestry were added along with new oak pews, raised platform, and a memorial window dedicated to the memory of William Penn Varney and his wife Lydia Cook Varney who led the meetings for 30 years. The church was rededicated on December 7, 1906.
As the Maple Grove section of Fort Fairfield grew, the church became more of a community church with pastors from the Methodist and other traditions assisting at times. During the Depression and World War II, it was sometimes only open during the summer and it later closed. By 1972, the Orthodox Presbyterian Church had purchased the unused property from the Society of Friends. The Rev. Charles Stanton served as minister of a small congregation there until he retired. Realizing the value of the historic church, Rev. Stanton obtained the property and gave it to Frontier Heritage in 1995.  Frontier Heritage saved the stained glass window from complete deterioration by having it completely restored. The church remains as it was in 1906.*
U.S. Inspection Station–Fort Fairfield

Built in 1933, it is one of the few border stations that maintain its original covered entrance large enough for vehicles to pass through height; most were increased from 12 feet to 14.5 feet to accommodate taller vehicles. It retains important original program elements, and despite numerous alterations, continues to demonstrate the historic characteristics of Border Station Property Type : 5-bay Inspection Station.*