| Year | Population |
| --- | --- |
| 1970 | 908 |
| 1980 | 1,019 |
| 1990 | 942 |
| 2000 | 1,249 |
| 2010 | 1,287 |
Geographic Data
N. Latitude
46:38:56
W. Latitude
67:51:28
Maine House
District 148
Maine Senate
District 2
Congress
District 2
Area sq. mi.
(total) 39.0
Area sq. mi.
(land) 38.7
Population/sq.mi.
(land) 33.3
County: Aroostook

Total=land+water; Land=land only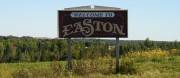 [EAS-tn] is a town in Aroostook County, incorporated on February 24, 1865 from Freemont Plantation. The name implies the "eastern" location of the town in Maine and in the County. Its population of over 800 in the 1880's supported eight public schoolhouses. Easton is a farming community southeast of Presque Isle, served by U. S. Route 1 and Maine Route 10.
Easton was the site of an attempt to establish a sugar beet refinery to diversify local dependence on the potato economy. That project ended by the late 1970's in a combination of financial and environmental controversy, which included significant pollution of the Prestile Stream that runs through the town. Frederick Vahlsing was the driving force behind the project, which had the support of many political leaders in the state.
Even in 1886, the Gazeteer of Maine noted, "Potatoes, which are largely raised, find a ready market at the starch factories." While potatoes still dominate, commercial development, local government, other crops and the occasional horse farm balance the local agricultural economy.
Now the major industrial elements of the town's economy include huge wood and food processing plants.
The McCain Foods, U.S.A. facility, on the Station Road, employs about 1,500 workers in preparing, processing, packaging, and shipping food products.
The J. M. Huber Corporation's Engineered Woods plant dominates the landscape in the industrial area it shares with McCain Foods. According to the J. M. Huber company's Internet site, they "produce a wide range of specialty products for applications in the furniture, transportation, cabinetry, construction, millwork and other industries."
Form of Government: Town Meeting-Select Board-Manager.
Additional resources
Centennial Celebration: Town of Easton, County of Aroostook, State of Maine, July 9 and 10, 1965. 1965? [University of Maine, Fogler Library and Presque Isle, Special Collections; Maine State Library.]
Hepler, Paul R. Papers, 1948-1974. (Cataloger Note: The collection begins with sugar beet and potato research reports, 1964-1972, by Professor Hepler, as well as his correspondence about sugar beets, 1963-1976. It centers on his study of sugar beet growing in Maine. Included are correspondence, research reports, manuals, and photographs. Of particular interest in the collection is information about Maine Sugar Industries, Inc., and the financing of its processing plant in Aroostook County. This company had received money through the Aroostook Development Corporation to construct a sugar beet processing plant at Easton, Maine, in 1967.) [University of Maine, Fogler Library, Special Collections.]
Maine. Dept. of Environmental Protection. Vahlsing Inc., Application to Discharge Potato Process Wastewaters into Prestile Stream. Augusta, Me. 1973. [University of Maine, Fogler Library, Special Collections.]
Ploch, Louis A. Easton, A Town on the Move. Orono, Me. Maine Agricultural Experiment Station, University of Maine. 1988.
The Mahany Family of River de Chute: a memorial of Cain Mahany, Civil War veteran, 1814-1888. Compiled by Dorothy Anne Lynch Dunham. Portland, Me. The Compiler. 2000. (Caribou, Me. Cecil Walton).