| Year | Population |
| --- | --- |
| 1970 | 908 |
| 1980 | 1,019 |
| 1990 | 942 |
| 2000 | 815 |
| 2010 | 864 |
Geographic Data
N. Latitude
47:03:43
W. Latitude
68:37:26
Maine House
District 151
Maine Senate
District 1
Congress
District 2
Area sq. mi.
(total) 39.3
Area sq. mi.
(land) 37.2
Population/sq.mi.
(land) 23.2
County: Aroostook

Total=land+water; Land=land only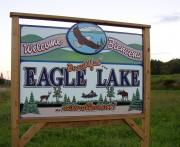 [EE-gul ] is a town in Aroostook County first organized for election purposes on July 11, 1859 from the township T16 R7 WELS. After many organizations and reorganizations, it was incorporated as a town on March 16, 1911. (Not to be confused with Eagle Lake Township in Piscataquis County.)
Settled in the 1840's by Acadian-French and Irish immigrants, it was named for the many eagles at the Lake by a Major Strickland traveling north from Bangor during the Aroostook War period.
The town, though under pressure, has essentially maintained its population from 1970 though 2010.
Some extracts from "The History of Eagle lake, Maine"*:
1839 – In January of 1839 a 200-man posse, noted many white headed eagles in the vicinity of the lake, so they named it Eagle Lake.
1840 – The first settler, Sefroi Nadeau, settled in the Eagle Lake area.
1870 – The first sawmill was constructed.
1879 – Three sawmills and one gristmill are in Eagle Lake.
1886 – James Seymour opened the first variety store and William Brown opened the first drug store and post office.
1888 – Clement Dubay opened Eagle Lake's first hotel, the Eagle Lake Exchange, and John M. Brown opened the second variety store.
1905 – Construction of Northern Maine General Hospital began.
1908 – Standard Wood Company opened a plant to process kindling wood for urban dwellers to use to light coal fires in their homes.
1908 – Telephones were installed as early as this year. The company was Eagle Lake Telephone Company.
1956 – The Eagle Lake Lumber Mill went through bankruptcy.
1957 – The mill, sold to John T. Batts of Grand Rapids, Michigan, was reopened to manufacture coat-hanger blanks;  the last dry goods store closed.
The 5,581-acre Eagle Lake spawns the Fish River, which empties into the St. John River at Fort Kent. Maine Route 11 serves the town as it moves from Fort Kent, through Eagle Lake and south through the western portion of Aroostook County.
Eagle Lake Public Reserved Land, in nearby T16 R6 and T16 R 5 WELS, is a 23,000-acre area including most of the Lake. It abuts Square Lake to the east with a thoroughfare connecting the two lakes. Access is off the Sly Brook Road, connecting with Route 11 at Soldier Pond (Wallagrass) or by boat from the launch in the town of Eagle Lake.
The town itself is host to the Dickwood Lake Wildlife Management Area, which borders the "Big Woods", a large tract of undeveloped privately owned industrial forest land.
As described in a report by the Department of Inland Fisheries and Wildlife,
Access to this 4300 acre parcel is off of Route 11, through the Gilmore Brook Road where four wheel drive vehicles are recommended due to rough terrain. This parcel is characterized by large picturesque hardwood ridges surrounding Dickwood Lake. Large tracts of forested land dominate the area creating a setting for solitude and a remote hunting opportunity for those hunters who like to get outdoors and walk. Due to the higher elevation, severe winters, and minimal winter cover, deer populations exist in small pockets. Bird hunting can be favorable depending on the season and location.
The town is the birthplace and long-time residence of former Maine House Speaker John L. Martin.
Form of Government: Town Meeting-Select Board-Manager.
Additional resources
Betts, Anthony. Green Wood and Chloroform: How a Young English Doctor Settled in Rural Maine. Camden, ME. Down East Books. c1998.
Callnan, Miriam Therese. Aroostook Architect: The Life and Times of the Reverend Joseph S. Marcoux. Brunswick, Me. Harpswell Press. 1977.
Chassé, Marc. Blackie's Boat on Eagle Lake, Maine. [moving image recording] ; Lions band 7/5/2010. Fort Kent, Me. Marc Chassé, 2010. [University of Maine at Fort Kent, Blake Library]
Chassé, Marc. Eagle Lake 100 [moving image recording]; French Club; Ski Meet. Fort Kent, Me. Marc Chassé. 2010. [University of Maine at Fort Kent, Blake Library]
*"The History of Eagle lake, Maine." http://www.eaglelaketown.org/history.htm
The History of Eagle Lake. Houlton, Me. Aroostook Print Shop. 1963? (Cataloger Note: Extract from: Annual report of the municipal officers of the town of Eagle Lake, Maine for the municipal year ending February 28, 1963.)
Maine. Department of Agriculture, Conservation and Forestry. "Eagle Lake Public Reserved Land."http://www.maine.gov/cgi-bin/online/doc/parksearch/details.pl?park_id=50 (accessed November 18, 2017)
Ouellette, James C. Eagle Lake: The History of a Lumbering Town in Aroostook County, Maine. Brunswick, Me. Harpswell Press. c1980.
National Register of Historic Places – Listings
Big Black Site, Address Restricted