| Year | Population |
| --- | --- |
| 1970 | 397 |
| 1980 | 672 |
| 1990 | 855 |
| 2000 | 1,004 |
| 2010 | 1,148 |
Geographic Data
N. Latitude
43:58:44
W. Latitude
70:48:25
Maine House
District 69
Maine Senate
District 19
Congress
District 2
Area sq. mi.
(total) 48.6
Area sq. mi.
(land) 45.9
Population/sq.mi.
(land) 25.0
County: Oxford

Total=land+water; Land=land only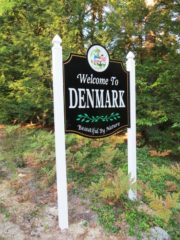 [DEN-mark] is a town in Oxford County, incorporated on February 20, 1807 from a portion of Brownfield.
It has since annexed land from Fryeburg (1813) and Brownfield (1821, 1907) and has ceded land to Sebago (1830) and Bridgton (1842, 1847), effectively moving the original town to the westward.
The town's western boundary with Brownfield is marked by the serpentine Saco River. Its main village is small and lies at the intersection of Maine Routes 117 and 160.  It has several large and old houses, and a veterans memorial.
According to George Varney, early settlement occurred in 1788 and 1789.  About one hundred years later, the population hovered around 1,000, not far from recent counts.
Varney commented in 1886 that "The outlets of Moose Pond and other streams furnish excellent water-powers. In the town are one mill for long lumber, six stave mills, a sash, blind and door factory, and two grain mills, several of which are at the centre of the village."
Needless to say, this locally-based economy is long gone.
After a 110-year decline in population ending in 1960, Denmark recovered sharply, beginning in 1980, almost reaching its 1850 high of 1,203 residents by 2010.
Moose Pond is a long narrow water body that is shared with Bridgton to the north.  It dominates Denmark's the northeast and provides the setting for summer camps in this growing recreational community.
The Denmark Arts Center was founded in 1994. Housed in The town's historic 3-story 1883 Odd Fellows hall, donated by the town, it features theater, visual art, music, and heritage programs. The Center also serves as the community hub for Denmark and the surrounding towns.
The dam on the pond dates back to 1792 when it powered a local mill.  Two recreation area areas and boat launch facilities now provide public access to Moose Pond.
In the north of the town Pleasant Mountain rises 2,006 feet among adjoining ridges and peaks.  A hiking trail offers access and views of the surrounding countryside and of Moose Pond.
In the southeastern region, a cluster of ponds (Granger, Walden, Hancock and others) combine to form a small "lakes district" with the modest Allen Mountain (1,126 feet) overlooking the area.
Form of Government: Town Meeting-Select Board-Manager.
Additional resources
Gleason, Kendall Lione. Wyonegonic: The First 100 Years. Gwynn, Va. Gleason Publishing. c2001. (Note: Wyonegonic has been a girls camp in Denmark.)
MacDonald, Sylvia Davis. Denmark, Maine Past and Present. Denmark, Me. Printed by Cardinal Printing Co. 1977, 1976.
Sanborn, Evelyn. This Way to Denmark: A Vignette (somewhat enlarged) of a Maine Town. 1957 (Denmark, Me. Cardinal Printing Co.)
Varney, George J. A Gazetteer of the State of Maine. 1886. pp. 197-198.