| Year | Population |
| --- | --- |
| 1970 | 839 |
| 1980 | 1,047 |
| 1990 | 1,178 |
| 2000 | 1,269 |
| 2010 | 1,403 |
Geographic Data
N. Latitude
43:46:07
W. Latitude
70:49:13
Maine House
District 68
Maine Senate
District 33
Congress
District 1
Area sq. mi.
(total) 22.3
Area sq. mi.
(land) 22.1
Population/sq.mi.
(land) 63.5
County: York

Total=land+water; Land=land only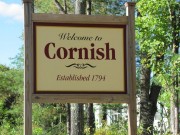 [KOR-nish] is a town in York County, incorporated on February 27, 1794. probably named for settlers who came from Cornwall, England. It is the county's northernmost town, located where the Ossipee River feeds into the Saco River. Little River enters the Ossipee just before its link to the Saco.
Currently the main street features tourist attractions such as lodging, eating, and antiques.
Previously known as Francisborough or Francistown after Francis Small its first proprietor, and as Pumpkintown (because of the large pumpkins the soil supported) by early residents, it was initially settled in 1774. Small's trading post, established by 1665, was a center for fur trading in the Ossipee and Saco valleys. Native Americans eventually burned it to the ground.
According to the Gazetteer of Maine, Small
purchased the territory between the Ossipee and Little Ossipee of the sagamore, Captain Sunday. The consideration was two large English blankets, two gallons of rum, two pounds of powder, four pounds of musket balls, twenty strings of Indian beads, and several other small articles.
Joseph Thompson settled the area that is now the village of Cornish in 1782. His house was followed by several others, starting a trend that increased the population to 141 by the time of the first census in 1790.
Caleb R. Ayer, a lawyer whose house is now considered historic, served as Maine's Secretary of State in 1856. By 1880 the town's population reached 1,169, similar to its current level. David Hammons, a state legislator, member of Congress, and Portland City Clerk, was born in Cornish in 1808.
In the 1920s, the town ordered the removal of the contents of a cemetery near the future 1925 town hall to another cemetery in town.  In October 2014, excavations near the town hall unearthed many graves that had not been moved, though their markers were relocated.  The human remains will be transferred to Riverside Cemetery.
The Ossipee River joins the Saco in the northeast; Little River flows north in the western portion through Cornish village.
Outside the village, the land still supports agricultural pursuits.  The photo below left was taken by George French; the image at right was taken from Main Street sixty-six years later.
Form of Government: Town Meeting-Select Board.
Additional resources
Gray, Samuel. Diaries, 1865-1888. [University of Maine Orono, Fogler Library, Special Collections]
A History of the Town of Cornish, Maine. Compiled by Leola C. Ellis and Kera C. Millard. Cornish Historical Society. 1994. [A republication in 2 volumes of Early Cornish (1666-1916) and More About Early Cornish, with major omissions in this edition.]
Maine A History, Centennial Edition, Biographical. New York. The American Historical Society. 1919.
*Maine. Historic Preservation Commission. Augusta, Me.   Text and photos from National Register of Historic Places: http://pdfhost.focus.nps.gov/docs/nrhp/text/xxxxxxxx.PDF and http://pdfhost.focus.nps.gov/docs/nrhp/photos/xxxxxxxx.PDF
Ayer, Caleb R., House: 02001270.PDF
Clifford, George F. House: http://www.maine.gov/tools/whatsnew/index.php?topic=mhpc_recent_listings&id=96639&v=article
Odd Fellows-Rebekah Hall: 83003704.PDF
The Ossipee Valley. Cornish, Limerick, Limington, Newfield, and Parsonsfield-Porter Historical Societies. Charleston, SC. Arcadia. 2005.
Taylor, Robert L. Early Families of Cornish, Maine. Camden, Me. Picton Press. 1993.
Varney, George J. A Gazetteer of the State of Maine. 1886. p. 182.
---
National Register of Historic Places
Ayer, Caleb R., House
[7 Main Street] The Caleb R. Ayer house is a beautifully designed Greek Revival home located on a hill above Main Street in the center of the Cornish village. It consists of an attached barn, cape (c. 1830-40) and a Greek Revival eave fronted main house (c. 1855). When the main house was built it was combined with the high-style Greek Revival structure.
Ayer was a prominent lawyer-politician. After marrying a women from Cornish in 1841, he established a law practice two doors down from the property he later purchased. Ayer distinguished himself through politics and his practice. Elected to the Maine State Senate in 1847 he was chosen President of the Senate the following year. In 1856 he served as Secretary of Sate under Governor Wells, and from 1868 to1870 he was York County Attorney.* [Christi A. Mitchell photos]
Clifford, George F., House
This 1783-1784 house is an example of Greek Revival style architecture. It was built fifteen years after the style was little used in Maine. The house was the residence of George Franklin Clifford, son of the U.S. Supreme Court Justice Nathan Clifford who had begun his career in nearby Newfield. The home is adjacent both to George Clifford's small, Greek Revival style law office and to his uncle and law partner Caleb R. Ayer's home, another in the Greek Revival style.*
Odd Fellows-Rebekah Hall
[High Street]  The 1902 Odd Fellows-Rebekah Hall is a remarkable statement in local architecture. It is the most dramatic and ornate rural lodge hall in the state and as such recalls an era when fraternal organizations were at the very core of community life. Built by local craftsmen, the building, with its ornate interior, contains a large clock by George M. Stevens of Boston and a bell made by Henry R. Hooper Company also of Boston. Actively used by the Odd Fellows until the 1940's, it continued to be a meeting place for the Rebekahs until the 1960s when it was sold to the town.*