| Year | Population |
| --- | --- |
| 1970 | 1,971 |
| 1980 | 2,696 |
| 1990 | 3,332 |
| 2000 | 3,340 |
| 2010 | 3,486 |
Geographic Data
N. Latitude
44:30:48
W. Latitude
69:26:08
Maine House
District 106
Maine Senate
District 16
Congress
District 2
Area sq. mi.
(total) 44.8
Area sq. mi.
(land) 43.9
Population/sq.mi.
(land) 79.4
County: Kennebec

Total=land+water; Land=land only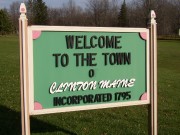 [KLIN-tun] is a town in Kennebec County, incorporated under the name Maine on August 7, 1848 from Jarvis Gore. The following year, the confusing address "Maine, Maine" was changed apparently in honor of DeWitt Clinton, builder of the Eire Canal and New York U.S. Senator, Governor, and Mayor of New York City.
Part of the Plymouth Patent, the area was settled about 1775 and became known as Hancock Plantation in 1970.
About halfway between Fairfield and Burnham, the village lies at a hairpin bend in the Sebasticook River on combined Maine Routes 11 and 100. The Morrison's Corner area was settled early, with its 1812 cemetery still use. A large collection of horses inhabit a farm near the Corner.
To the north and west, across the Kennebec River from Hinckley lies the Pishon Ferry area in Clinton, now served by a modern bridge. A small white church overlooks the river.
---
Form of Government: Town Meeting-Select Board-Manager.
Additional resources
Fisher, Carleton Edward. History of Clinton, Maine. Augusta, Me. Printed by KJ Printing. 1970.
Fisher, Colonel Carleton Edward. Vital Records Of Clinton, Maine, To The Year 1892 : Births, Marriages, And Deaths. The Maine Historical society. 1967.
Mills, James. Index to families in Clinton, Maine 1799. Contributed by Ruth Gray. 1984.
Old Home Week, Clinton, Maine August 7-14, 1921. Clinton, Me. The Clinton Old Home Week Association. 1921.
Some facts about the history of the town of Clinton. The seventh and eighth grades of Clinton Grammar School, 1926-1927. 1927. (Special Collections, Fogler Library, University of Maine. Orono.)
Town of Clinton. New York. H. W. Blake & Co. 1892.
Town of Clinton 1795-1970: 175th anniversary Sept. 8-13, 1970. 1970.
*United States. Department of the Interior. National Park Service. "Brown Memorial Library.  https://npgallery.nps.gov/NRHP/GetAsset/45f366b6-0782-4631-acc0-191e5d42dc96?branding=NRHP (accessed February 21, 2017)
Winn, Japheth. Records, 1826-1839. (Cataloger Note: Records of a blacksmith in Clinton, Maine. Collection includes two daybooks, dating from 1826-1829 and 1832-1839, that record work done for customers and the costs. Also includes a ledger dating from 1832 that records financial transactions by customer name. [Orono. University of Maine. Raymond H. Fogler Library. Special Collections.]
National Register of Historic Places – Listings
Brown Memorial Library
[Downtown Clinton] The 1900 Brown Memorial Library, Clinton's first, is an unusually late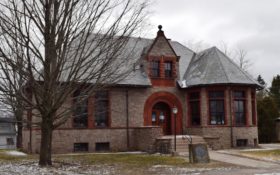 example of the Romanesque Revival architecture first made popular by Henry Hobson Richardson two decades earlier. It is one of several small Richardsonian-type libraries in the vicinity, including the Lawrence in Fairfield and the Lithgow in Augusta. Unlike these, the Brown Memorial is a purer example of the Richardsonian ideal with an exterior of warm hues and contrasting colors in stone walls and trim. It is distinguished from the almost monochromatic use of granite and slate in the examples above.
The Library, though symmetry is implied, is basically an asymmetrical composition, truer to Richardson's buildings of the same type than either the Lithgow or the Lawrence, which reflect contemporary Beaux Arts symmetry clothed in a Richardson-derived exterior. It is the most exemplary structure of its kind in Maine and is unusually large and elegant for a small, rural community. John Calvin Stevens was the architect. His work was deeply influenced by Richardson and his innovations, including the Shingle Style and the Romanesque Revival. Stevens designed libraries for the communities of Houlton and Rumford.
The Brown Memorial Library was a gift to the people of Clinton by William W. Brown of Portland, a native of the town. Brown purchased the lot and provided funds for construction plus $5,000 as an endowment. Much of the library's collection of books, furnishings and pictures was the gift of Brown, including his large portrait in the reading room. In 1902, Orrin Learned gave the Library 100 volumes of the official records of the Union and Confederate Armies.*