| Year | Population |
| --- | --- |
| 1970 | 771 |
| 1980 | 983 |
| 1990 | 1,183 |
| 2000 | 1,157 |
| 2010 | 1,232 |
Geographic Data
N. Latitude
44:37:58
W. Latitude
67:56:54
Maine House
District 138
Maine Senate
District 6
Congress
District 2
Area sq. mi.
(total) 44.3
Area sq. mi.
(land) 43.7
Population/sq.mi.
(land) 28.2
County: Washington

Total=land+water; Land=land onl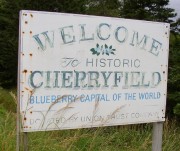 [CHERRY-field]a town in Washington County, was incorporated on February 9, 1816 from Plantation 11 SD, BPP. It later annexed land from Steuben (1826) and Columbia (1881).
Cherryfield was settled originally in 1757 by Ichabod Willey and Samuel Colson. In the 19th century, Cherryfield was on the stage coach line between Machias and Bangor.
According to George Varney,
The first meeting-house was built on the east side of the [Narraguagus] river, near the Campbell mill. Cherryfield Academy was incorporated in 1829, and present [1881] Academy building was erected in 1850. . . . The town has ten public schoolhouses.
Encompassing both sides of the Narraguagus River, joined by its West Branch just west of the Village, Cherryfield was once a favorite spot for catching the now endangered Atlantic Salmon. The Narraguagus Wildlife Management Area lies between the West Branch and the main stream of the river.
Formerly a shipbuilding community, it produced the bark Belgrade, which rounded Cape Horn with 56 local men in the days of the California gold rush. Varney notes, "Vessels ascend to Millbridge, within 5½ miles of Cherryfield Village, and lumber is floated to that point in scows and rafts. The river is open to navigation eight and one-half months of the year."
As the family farm lost self-sufficiency by 1900, specialization in poultry and dairy farming occurred on a limited basis. By 1920, many family farms and fallow lands were consolidated by large landholders and put into blueberry production. Take a brief tour of 1938 Cherryfield with this home movie clip, courtesy of Northeast Historic Film.
Cherryfield's claim to be " The Blueberry Capital of the World" is based upon its extensive blueberry barrens, which also support the canning facilities operated, by Cherryfield Foods and Jasper Wyman and Son, located on Main Street. Both factories also receive and process berries from other parts of the county and the state.
The main village lies at the intersection of U.S. Route 1 and Maine Routes 182 and 193 (Main Street)  in the heart of blueberry country.
Carleton Carl Willey was born here in 1931 and went on to play baseball for the Milwaukee Braves (1958-1962) and the New York Mets (1963-1965).  As a pitcher he won 38 and lost 58, with an earned run average of 3.76.
Form of Government: Town Meeting-Select Board-Administrative Assistant. Additional resources
Cherryfield, Town of. Cherryfield Comprehensive Plan. Cherryfield, Me. 2004. http://www.wccog.net/cherryfield-comprehensive-plan.htm (accessed March 5, 2014)
Dedication of the Soldiers' Monument at Cherryfield, Maine, July 4, 1874. Portland, Bailey & Noyes, 1874.
First Congregational Church, Cherryfield, Me. 150th anniversary, 1833-1983. Cherryfield, Me. The Church. 1983
Harriman, Phil. Mills of the Narraguagus. Cherryfield, Me. Cherryfield-Narraguagus Historical Society. 1977.
Milliken, James A. The Narraguagus Valley: Some Account of its Early Settlement and Settlers. Machias, Me. A. J. Huston. 1886.
Mitchell, H. E. The Cherryfield Register, 1905, by Mitchell and Campbell. Brunswick, Me. The H. E. Mitchell Co. 1905.
Tyler, Earl S. Sr. Cherryfield – Territorial Boundaries. 1981.
Varney, George J. A Gazetteer of the State of Maine. 1886. pp. 172-173.
Willey, A. S. Historical Sketch of Cherryfield and Harrington as Taken from the Records Together with the Intentions of Marriage from 1814-1842. Machias, Me. C. O. Furbush. 1893.
National Register of Historic Places – Listings
The Archibald-Adams House on Main Street (Route 193)
Campbell, Col., Samuel, House, U.S. Route 1
Campbell, David W., House, Main Street
Campbell, Frank, House, US Route 1
Campbell, Gen. Alexander, House, Campbell Hill
Cherryfield Academy, Main Street
Cherryfield Historic District, roughly bounded by Church, Main, Park, New and High Streets, as well as River Road properties
Nash, William M., House, River Road
Patten Building, Main Street