| Year | Population |
| --- | --- |
| 1970 | 132 |
| 1980 | 175 |
| 1990 | 185 |
| 2000 | 144 |
| 2010 | 153 |
Geographic Data
N. Latitude
45:24:52
W. Latitude
68:02:19
Maine House
District 141
Maine Senate
District 2
Congress
District 2
Area sq. mi.
(total) 44.4
Area sq. mi.
(land) 44.2
Population/sq.mi.
(land) 3.5
County: Penobscot

Total=land+water; Land=land only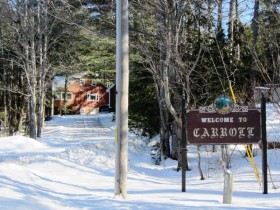 [KAR-rel] a plantation in Penobscot County, was organized for election purposes in 1844. It was incorporated on March 2, 1845 as a town from Plantation Number Six R2 NBPP, then essentially an unorganized township. In 1937, in the depths of the Great Depression, Carroll surrendered its status as a town but reorganized as a plantation.
The first settler, Luke Hastings, arrived about 1830. The town was named for Daniel Carroll, a member of the Continental Congress and signer of the Articles of Confederation and of the Constitution.
In 1886, George Varney, in his Gazetteer, noted that Carroll's "surface is hilly, but mostly susceptible of cultivation, and the soil is generally fertile." At the time the town had three sawmills, a grist mill, a lime quarry and seven schoolhouses.  The population was 632 in 1870, and 625 in 1880.
By "hilly" Varney meant the handful of mountains in the east of the township: Tolman Hill (985 feet) in the northeast, and Bowers Mountain (1127 feet), Getchell Mountain (1041 feet) and Vinegar Hill (950 feet), all in the southeast. Given the rural and sparsely populated nature of the town, some roads are left not plowed in winter.  The "Bagley Mountain Road" and a mountain by that name do not appear on the 2011 Delorme's Maine Atlas and Gazetteer, nor on Google Maps in 2014.  The road may a be a short private way.
Carroll lies on the old stage line from Lincoln, through Lee, Springfield to Princeton in Washington County, now served by Maine Route 6, then by U.S. Route 1. An extensive maple sugar harvesting operation, using tubing leading directly to a shed for storage or processing, is visible along Route 6 in Carroll.
Near what may have been a town hall or grange hall, a relatively new town office is located on Brown Road off Route 6.
Form of Government: Assessors-Annual Meeting.
Additional resources
Chadbourne, Ava Harriet. Maine Place Names and The Peopling of its Towns.
Thompson, Jane Oliver. The Carroll Hills: The Way Life Used To Be. 1995. [Bangor Public Library; and University of Maine, Raymond H. Fogler Library, Special Collections]
Varney, George J. A Gazetteer of the State of Maine. 1886. pp. 163-164.