| Year | Population |
| --- | --- |
| 1970 | n.a. |
| 1980 | 132 |
| 1990 | 325 |
| 2000 | 399 |
| 2010 | 781 |
Geographic Data
N. Latitude
45:03:58
W. Latitude
70:16:26
Maine House
District 112
Maine Senate
District 17
Congress
District 2
Area sq. mi.
(total) 77.5
Area sq. mi.
(land) 77.4
Population/sq.mi.
(land) 10.1
County: Franklin

Total=land+water; Land=land only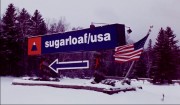 [Kar-ah-BASS-iht VAL-ee] is a town in Franklin County, incorporated on October 26, 1971 from township T3 R2 BKP, WKR. The area, part of William Bingham's Kennebec Purchase, had been variously known as Jerusalem Township, Sugarloaf Township, and Carrabassett Plantation.
Home to Sugarloaf Mountain and its Sugarloaf USA ski area, the town has more houses than the population might suggest, many being seasonal for winter recreation. The resident population has exploded, having almost doubled in the ten years prior to the 2010 U.S. Census, and is nearly six times its 1980 count.
A "ski academy" and an active small airport are only two of the enterprises that have emerged from the skiing economy. See more on Carrabassett Village.
The Appalachian Trail passes north-south through the western end of this "double township" community along the western side of North and South Crocker Mountains. One branch crosses Sugarloaf, a point of controversy for several years as hikers and developers have asserted their competing interests.
The separate Sugarloaf and Spaulding Mountain Trail spans both sides of Sugarloaf and joins the Appalachian Trail in about two miles south of Sugarloaf peak.
Double topped Crocker Mountain has a glacial cirque* between them on the east side, with a reflective pool at its base.
*a circular valley in the side of a mountain, walled around by high precipices
Appalachian Trail photos courtesy of Brady G. Williams 2007.
---
Form of Government: Town Meeting-Select Board-Manager.
Additional resources
Carrabassett Valley (Me.) Annual Report of the Municipal Officers of the Town of Carrabassett Valley. [1972+] Carrabassett Valley, Me. The Town.

<= South       Appalachian Trail – click a boot      North

=>