| Year | Population |
| --- | --- |
| 1970 | 1,301 |
| 1980 | 1,695 |
| 1990 | 1,906 |
| 2000 | 2,416 |
| 2010 | 2,794 |
Geographic Data
N. Latitude
44:48:07
W. Latitude
69:02:15
Maine House
District 103
Maine Senate
District 10
Congress
District 2
Area sq. mi.
(total) 37.0
Area sq. mi.
(land) 36.5
Population/sq.mi.
(land) 76.6
County: Penobscot

Total=land+water; Land=land only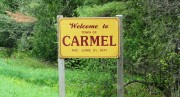 [KAHR-ml]is a town in Penobscot County, incorporated on June 21, 1811 from the township of T3 R2 NWP, annexed additional land from Etna in 1866.
The township was purchased from Massachusetts by Martin Kingsley of Hampden in 1795. Paul Ruggles, arriving in 1798 with his wife, and Abel Ruggles were the first settlers.
Chadbourne speculates   ". . . the name of Carmel was doubtless suggested by the Reverend Paul Ruggles who delighted in preaching from prophecy and using figurative and quaint passages such as are found in the prophetic books. The dramatic experience of Elijah at Mount Carmel probably inspired his choice." (p. 17)
The Simpson Memorial Library and the Carmel Historical Society are conveniently located side-by-side on Plymouth Road in the village.
Complementing the biblical roots is the village name of Damascus just northwest of the main village which lies at the junctions of Maine Routes 2, 69, and 100.
Located near Interstate 95 and an easy commute to Bangor, Carmel sustained a substantial population growth of 19 percent in the 1990-2000 decade, and nearly 16 percent in the ten years ending in 2010.
Form of Government: Town Meeting-Select Board-Manager.
Additional resources
Chadbourne, Ava Harriet. Maine Place Names and The Peopling of its Towns.
Bradford, Peleg. Letters 1862 Aug. 28-1865 Apr. 7. [University of Maine. Orono. Fogler Library. Special Collections.]
Bradford, Peleg. No place for little boys: Civil War letters of a Union soldier. Edited by Melissa MacCrae and Maureen Bradford. Brewer, Me. Goddess Publications. c1997.
Graves, Constance Ann. A History of Carmel: 1798 … 36 Square Miles … and Thus it Began … Carmel. Carmel, Me. Carmel Historical Society, 2003.
Mitchell, H. E. The Carmel and Hermon Town Register. Kent's Hill, Me. H.E. Mitchell Publishing Company. 1904.